Reviews of your favorite movies on DVD and Blu-Ray!
Click on the title to order - huge discounts
and free shipping through Amazon.com!
---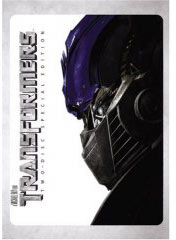 Transformers (Two-Disc Special Edition) (2007)
Take a Saturday morning cartoon from two decades ago and turn it into a movie that grosses hundreds of millions of dollars? Remarkable!
Transformers is a metal on metal grinding adventure epic that sparks on all cylinders, not relying on a nostalgia factor to fill the seats. The DVD release? Even better - this deluxe 2 disc edition contains loads of extras in addition to one heck of an exciting film.
The special effects are nothing short of phenomenal, a seamless CGI transformation of cartoon madness to big screen glory.
True, some of the acting could have been better, but for robot on robot gladiator action Transformers can't be beat. A blockbuster in every sense of the word, not to be missed.
From the product description: From director Michael Bay and executive producer Steven Spielberg comes a thrilling battle between the heroic Autobots® and the evil Decepticons®. When their epic struggle comes to Earth, all that stands between the Decepticons® and ultimate power is a clue held by young Sam Witwicky (Shia LaBeouf). Unaware that he is mankind's last chance for survival, Sam and Bumblebee, his robot disguised as a car, are in a heart-pounding race against an enemy unlike anything anyone has seen before. It's the incredible, breath-taking film spectacular that USA Today says "will appeal to the kid in all of us."
Fans of the film are sure to be pleased with this new DVD collection, this is one you'll want to own.