Reviews of your favorite movies on DVD and Blu-Ray!
Click on the title to order - huge discounts
and free shipping through Amazon.com!
---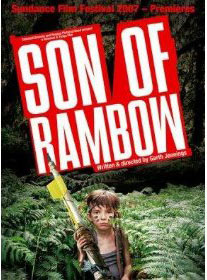 Son of Rambow
Basically, this is the story of a couple of kids, one a wide-eyed innocent the other an incessant troublemaker, who decide to make a home made sequel to the Rambo movies.
Exciting and adorable, dark and disturbing, Son of Rambow is far and away superior to the Jack Black movie Be Kind Rewind; this is a fast moving, imaginative wild ride, a cinematic triumph on every level. The script, the direction, the '80s music (this film is set in the 1980s), the art direction are all top notch.
Sterling performances from the young lead actors makes this is not just a riotously funny film but a true nail biter; a near flawless gem that will leave you dazed and amazed at how good a film about middle school aged kids can be.
It's the equivalent of Shaun of the Dead, About A Boy, or 28 Days Later, every bit as good as those three movies but with charm and good humor to spare.
For extras there is an audio commentary by writer/director Garth Jennings, producer Nick Goldsmith, and actors Bill Milner and Will Poulter; a featurette "Boys Will Be Boys: The Making of Son of Rambow;" a short directed by Garth Jennings; and more.
This superb film, both heartbreaking and life affirming, is not to be missed!
(This DVD is only available through Best Buy..)
---
The Rolling Stones
Directors: Martin Scorsese
Format: AC-3, Color, Dolby, DTS Surround Sound, Dubbed, Subtitled, Widescreen
Language: English
Subtitles: English, French, Spanish
Region: Region 1 (U.S. and Canada only. Read more about DVD formats.)
Aspect Ratio: 2.35:1
Number of discs: 1
Studio: Paramount
DVD Release Date: July 29, 2008
Run Time: 121 minutes

---
Movies on DVD Reviews: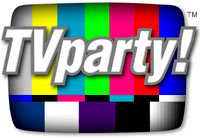 TVparty! for TV Shows on DVD!
Reviews by Billy Ingram, as seen on VH1, Trio and Bravo.

Watch for Billy Ingram on BRAVO this month!
---
You May LikeThis One Too: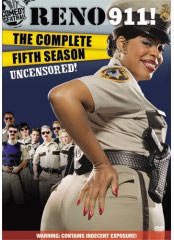 Reno 911 - The Complete Fifth Season
Product Description:
The officers of Reno 911! are back with their most ridiculous season yet with sixteen episodes that ll leave you stewed screwed and tattooed. In this fifth season Wiegel meets her real daddy the department hires an ex-sex slave worker and the team takes on a badass bounty hunter. With their failed stings and constant drinking problems they ll prove to you that they have exactly what it takes to be cops: badges.System Requirements:Running Time: 352 minutes
Reno 911 on DVD
Format: Box set, Color, Dolby, DVD-Video, Full Screen, NTSC
Language: English
Region: Region 1 (U.S. and Canada only. Read more about DVD formats.)
Aspect Ratio: 1.33:1
Number of discs: 3
Studio: Comedy Central
DVD Release Date: July 15, 2008
Run Time: 352 minutes
Everything you're looking for is here: