Reviews of your favorite movies on DVD and Blu-Ray!
Click on the title to order - huge discounts
and free shipping through Amazon.com!
---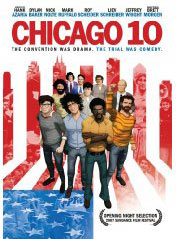 Chicago 10
1968 - they just don't make years like that anymore.
Chicago 10 is the story of the defendants known as the Chicago 8 or Chicago 7, depending (Bobby Seale was dropped from the trial and never should have been part of the fiasco - they get to 10 because the defendant's lawyers were persecuted as well).
From the product description: From Brett Morgen director of The Kid Stays in the Picture comes a highly-stylized and wildly original documentary film chronicling the real-life events surrounding the anti-war protest of the 1968 Democratic National Convention held in Chicago and the charismatic protest organizers brought to trial by the city. Told through a visually-arresting animation style and a bold use of archival footage and music Chicago 10 channels yesterday s voices for peace in a manner that speaks peace for today.
Chicago 10 is a weird little documentary, using animation and actor's voices to bring to life the actual shocking court transcripts.
Few people in America would have believed that something like this abomination of a trial could happen here but I doubt many today would find it as shocking as it was to the 1960's sensibilities.At first the animation is a bit off putting but it works quite well thanks to voice actors like Roy Scheider, Jeffrey Wright, Hank Azaria, and Nick Nolte.
Thrilling and devastating, the animation is intercut with a wealth of rich, colorful historic footage, a lot of which I've never seen before.
Fresh and original, Chicago 10 brilliantly captures the tumultuous times and colorful nature of the defendants and provides insight into one of the most infamous, most egregious trials of the last century.
Great for history buffs and anyone interested in the wild and wooly 1960s.

---
Movies on DVD Reviews: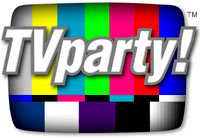 TVparty! for TV Shows on DVD!
Reviews by Billy Ingram, as seen on VH1, Trio and Bravo.

Watch for Billy Ingram on BRAVO this month!
---
Chicago 10
Actors: Leonard Weinglass, Debra Eisenstadt, Daniel Hagen, Megan Armitage, William Kunstler
Directors: Brett Morgen
Format: AC-3, Animated, Color, Dolby, DVD-Video, Subtitled, Widescreen, NTSC
Language: English
Subtitles: English
Region: Region 1 (U.S. and Canada only. Read more about DVD formats.)
Aspect Ratio: 2.35:1
Number of discs: 1
Studio: Paramount
DVD Release Date: August 26, 2008
Run Time: 90 minutes
Superman on DVD!
Batman on DVD!
The Flash on DVD!
Super Friends on DVD!
All New Super Friends on DVD!
Superman Doomsday on DVD!
Smallville on DVD!
Justice League: New Frontier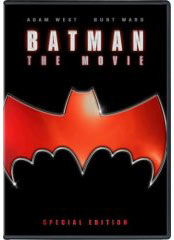 Original Batman Movie!
New Release!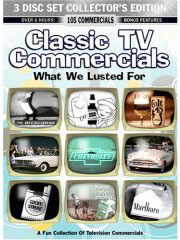 Everything you're looking for is here: