Reviews of your favorite movies on DVD and Blu-Ray!
Click on the title to order - huge discounts
and free shipping through Amazon.com!
---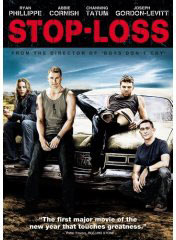 Stop Loss
A war film that aims to be the story of this generation's war.
Story
In this film Ryan Philippe plays the role of Brandon King. Brandon is a small town boy from Texas leading his soldiers as an army sergeant in Iraq. After serving his tours of duty, he returns home with his friends Steve (Channing Tatum) and Tommy (Joseph Gordon-Levitt) intending to get out.
That is until he gets his stop-loss notice. Instead of getting to stay home, he finds out that he's being shipped back to Iraq. Not wanting to go, Brandon starts exercising every option he can think of to get out of it even a road trip to Washington DC to speak with a senator while seeing the after effects of the war on troops and families along the way.
Good and the Bad
From moment one this film will grab your attention. Opening in Iraq, the audience is embedded in with the troops as they go about their daily inspections. Within moments, the film moves into a scene with soldiers taking heavy fire. Bullets will fly, blood will spill and there will be graphic injuries to the human body. Those who are squeamish about blood are instantly going to be turned away by these opening scenes. Shot on location in Morocco, the opening battle scene never lacked in realism. I became lost in the action and frantic nature.
The atmosphere in these first moments are very tense and before long, very moving. Until the movie reminds you that it was made by MTV Films by using the exact same style of on screen captioning as they do on the network itself. Despite this, the opening minutes of the film will remain the most powerful all the way through. Much of these early scenes were filmed on hand held cameras. Accomplishing the goal of putting the audience right in the setting from a soldier's point of view. It is a very real look at Iraq.
All too quickly afterwards, the film shifts to the next primary location in the heart of Texas where Brandon and his friends that served with him are getting their big homecoming. Brandon is set to get out and get married, Tommy wants to be with his wife except she threw him out and Steve can't seem to adjust to civilian life again. Despite some early problems, things are going well otherwise until Brandon goes to turn in his things and finds out that he has been stop-lossed and ships back out to Iraq at the end of the month.
So far everything seems to be good. The set up to this film has been placed very well with a good location for an emotional drama filled with personal angst. Where men who would never normally share things like feelings, these men will find a bond as brothers in arms to help Brandon fight his fight. It's rare when someone can sit in front of a movie and actually see the exact moment that a film derails but this film presents that moment with such crystal clarity that everyone will see it: the moment Brandon decides to head to Washington DC to see the senator and his field trips along the way that spotlight some of the effects felt at home from this war.
The film takes on a whole new light as soon as this begins to play. The pacing is more of an action film. The lighting is much darker and the scenes that deal with Brandon's own personal demons have a surreal feel to them. The only time the film moves back to its slowed down pace is when the film shifts back to Texas to deal with Tommy and Steve.
While the field trips that Brandon goes on show some very ill effects of the war that don't get as much press coverage. The way that they are laid out, plot point by plot point, make them predictable by the time the second one begins. Back in Texas however, Joseph Gordon-Levitt turns in a very gritty performance as Tommy. While the character is never truly sympathetic, the affect that he has on the film is very real and impossible to ignore.
Music
The musical selection in this film ran a very eclectic gauntlet. While most of the music from this film is orchestral and plays well in the background, many of the scenes that featured the soldiers in Iraq are modern music including some Hip-Hop and rock. One scene even featured a soldier looking at footage from the war on his computer back home while "Bodies" by Drowning Pool played. Besides some odd choices here and there, the music blended well into the background but heightened scenes where needed.
Extras
There are quite a few extras available for audience members on this release and most include commentary. The first on the menu is a full length commentary from Director Kimberly Peirce and Co-Writer Mark Richard. Moving onward quickly is the standard making of featurette. In this twenty minute feature, the creators talk about their early research and experiences with speaking with soldiers personally to get their stories and perspectives on the war. What I find interesting about this feature though is that the entire time spent with the creators and actors, they only speak about the early portion of the film that takes place in Iraq. There is hardly any mention of anything that happens after that.
In the second extra, a ten minute feature titled 'A Day In Boot Camp' features the actors going through an actual five day boot camp to prepare for filming. The boot camp included PT before sunrise, drills, MREs for food (or something resembling food) and real urban training simulations.
Finally there are eleven deleted scenes featuring optional commentary from director Kimberly Pierce. The deleted scenes are very interesting since there were so many options shown on where the story could have gone instead of where it ended up and the added commentary is concise and informative.
Overall
The movie tries so hard to be appealing to so many people and on some levels they succeed. When the film was originally released to theaters, I remember seeing trailers for the film on television and got the impression that it was going to be an emotional war drama. Instead, I viewed a semi emotional drama that tries very hard to be political without being political. While the film might entertain some, it's hard to deny that the film never quite pulls it back together past the first act to make this film more than just merely forgettable.
Final Grade: C-