Reviews of your favorite movies on DVD and Blu-Ray!
Click on the title to order - huge discounts
and free shipping through Amazon.com!
---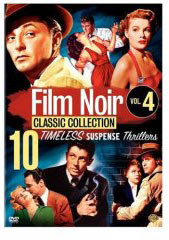 Film Noir Classic Collection, Vol. 4 (Act of Violence / Mystery Street / Crime Wave / Decoy / Illegal / The Big Steal / They Live By Night / Side Street / Where Danger Lives / Tension)
This collection is just incredible on so many levels. Is every film a classic? Depends on your criteria but I thoroughly enjoyed every one I watched, these are some of the finest early-fifties' B-movies ever made with compelling storylines involving wildly flawed characters. Some of these movies are so good they're great and some are so bad they're good but they're all a fantastic journey into shadowy worlds with top directors at the helm.
What better way to escape from modern woes? With this collection you'll find yourself transported to another era, a time when I guy could say "thank you doll" to a nurse and not get a cursory glance, where domineering women seek brutal revenge and everyone's stays as a cucumber as the world collapses around them.
Film Noir Classic Collection, Vol. 4 delivers 10 movies in a five volume set, this is the first time for all of these films on DVD, some of the lesser known film noir movies starring the giants of the genre like Claude Reins, Edward G. Robinson and Jane Greer including two RKO classics with the king of Noir, Robert Mitchum.
These rarely seen black & white gems shimmer; freshly restored they're a feast for the eyes. You can practically smell the sweat and desperation that emanates from these unfortunate characters and their crime-ridden surroundings, where dusty roads and filthy border towns provide the backdrop, where it never seems to be daylight even in the bright sunshine.
Each disc is a dark and deadly double feature, with audio commentary on every film, retrospective featurettes for each and original theatrical trailers to boot.
The Big Steal, Tension, and Illegal, along with other classics of the genre like Crime Wave and Decoy are represented, restored and uncut (Noir lovers have waited a long time for The Big Steal to show up on DVD). This is a spectacular package that you will definitely want for your extended library.
The commentaries are provided by a who's who of the Noir world, historians, screenwriters and stars of the films. For instance, author Eddie Muller and the movie's star Farley Granger narrate They Live By Night and a stunning commentary with James Elroy & Eddie Muller on Crime Wave that reveals how and where the film was shot on location in Los Angeles. If only all commentaries were this fact packed.
For film students this spectacular package is a must-have, the extensive commentaries are like a graduate study in film history and technique A fabulous value, this beautifully designed package is something you'll treasure for years to come.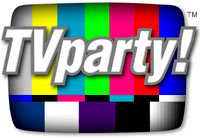 TVparty! for TV Shows on DVD!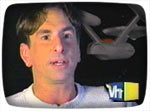 Reviews by Billy Ingram,
as seen on VH1, Trio and Bravo.
On BRAVO'S 100 Funniest Movies this month!
---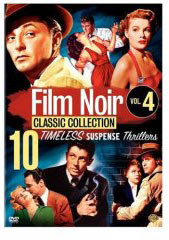 Film Noir on DVD
From the back cover:
Film Noir Classic Collection vol. 4: More film noir classics now on double-feature discs! Each movie digitally remastered. Accessories to crime: Extras to investigate!
Commentaries and featurettes on all titles.
Act of Violence (1948): Ex-GIs are on a collision course in a crisp tale directed by Fred Zinnemann (The Day of the Jackal).
Mystery Street (1950): CSI Noir: John Sturges (The Great Escape) helms a procedural whodunit in Boston environs.
Crime Wave (1954): A hardboiled cop: Sterling Hayden (The Asphalt Jungle) heads an L.A. manhunt.
Decoy (1946): A drop-dead dame: femme fatale Jean Gille revives her hunk from the dead (!) because he knows where the loot is buried.
Illegal (1955): D.A. Edward G. Robinson turns to defending lowlifes in a snappy remake of The Mouthpiece.
The Big Steal (1949): On the lam, down Mexico way: Out of the Past's Robert Mitchum and Jane Greer reteam, Don Siegel directs.
They Live by Night (1948): In love... in danger. Thugs force lovebirds Farley Granger and Cathy O'Donnell to be accomplices.
Side Street (1950): The duo returns as struggling Manhattan marrieds who unwittingly get their hands on mob dough.
Where Danger Lives (1950): a corpse behind. A dead end ahead. Woozy Robert Mitchum and Faith Domergue are on the run.
Tension (1950): Genre icon Audrey Totter is bad to the bone. But milquetoast hubby Richard Basehart may be worse!
Product Description:
Ex-World War II pilot Frank Enley (Van Heflin) is a respected contractor and family man. Then his troubled, gimp-legged bombardier (Robert Ryan) shows up with a gun and a score to settle. Perhaps neither man is what he seems to be as director Fred Zinnemann (The Day of the Jackal) guides a searing Act of Violence, "the first postwar noir to take a challenging look at the ethics of men in combat" (Eddie Muller, Dark City: The Lost World of Film Noir).
Murder lives on Mystery Street. John Sturges (The Great Escape) directs a revealing-for-the-era procedural about a Boston cop (Ricardo Montalban) solving a whodunit with the help of a Harvard forsensic expert (Bruce Bennett). Welcome to CSI Noir.
Everything you're looking for is here: