Reviews of the newest DVD collections
of your favorite classic TV shows!
Click on the title to order - huge discounts and free shipping through Amazon.com!

---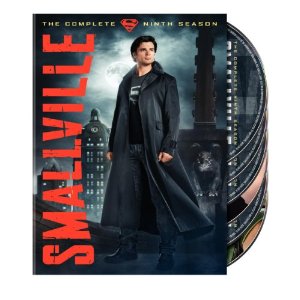 Smallville: Season 9
Kandorians, Wonder Twins, and Warrior Angel oh my
The blu-ray and DVDs releases of the fifth season of "Supernatural" and the ninth season of "Smallville" allow a great chance to prepare for the upcoming new seasons of these entertaining lore-laden programs. "Smallville" in particular is becoming almost as complex as "Lost" and is worth the same effort as that creative and cerebral series.
Watching the entire blu-ray set of "Smallville" over a recent weekend helped me understand last season's events and was a nice treat after watching the show which, despite being filmed in hi-def, did not look nearly as good over cable. The increased clarity and brightness of the blu-ray images really shows the comic book aspects of the series and the darker tone of some episodes, and the enhanced sound adds a great deal to watching these episodes.
These largely entertaining episodes also passed the "one more" test that sent me to bed with an eye strain that caused a blur on a couple of night.
One factor behind the marathons is another reason to get at least the DVD set. The series is MUCH harder to follow with excessive commercials, pop up ads, and gaps of several weeks between new episodes. Despite watching groups of episodes on Tivo, I understood the plots much better on BD and was amazed at how many points that I missed. I suspect that I will find that the same is true regarding "Supernatural."
The season itself is notable for its significant progress in the long transition of Clark Kent from Superboy to Superman and even makes references to that transition by bring up high school memories that include him getting strung up in a cornfield in the pilot. It is clear too that gal pal Chloe Sullivan is over her crush on her favorite farm boy.
Hints of things to come include a scene in which Kent wears glasses, two glimpses of the traditional Superman outfit, Clark learning to work with his super friends, and a flashforward to an era in which the transition to Superman is complete.
This season also follows the recent pattern of "Smallville" and similar shows by having a season-long story arc. In this case, Kent's enemy Major Zod and his Kandorian army arrive in Metropolis with an intent to rule over "inferior" humans rather than protect them as Kent has vowed to do.
This development presents Kent with the related challenges of trying to assimilate the Kandorians and getting them to play nice with us muggles and deciding how strongly to oppose the Kandorians. Kent must also make a tough choice regarding the best way to protect humanity.
In apparent recognition of the upcoming 10th season being "Smallville's" last and star Tom Welling entering his 30s, two episodes focus on early 20-somethings as Wonder Twin Zan, played by "7th Heaven's" David Gallagher and a character who is magically transformed from being 12 to the "Smallville" fictional superhero "Warrior Angel" without a corresponding boost in maturity.
Both young actors have the bright eyed enthusiasm as Welling first brought to Kent and likely helped keep tween girls interested in the show. I would not be surprised to see Gallagher in a Wonder Twins series in 2011.
Heating up the romance between Kent and his co-reporter Lois Lane in a PG manner is another apparent effort to keep the tweens watching. This provides some of the best humor of the season, including a weekend getaway in which a leaking pipe and a supernatural threat interfere with Lois' and Clark's efforts to sleep together.
It is worth noting as well that this season includes the January 2010 two-hour episode in which the aging superheroes from the Justice Society of America team up with Kent, Green Arrow Oliver Queen, and the other kids to battle a villain who is picking off the veterans and has also targeted the rookies. Blending the new and old provided a particularly interesting story and better conflict than most episodes.
Fans of the show or "Superman" in general are encouraged to e-mail their thought regarding the ninth season to tvdvdguy@gmail.com.
---
TV on DVD Reviews: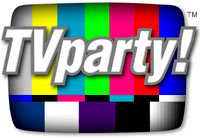 TVparty! for TV Shows on DVD!
Patrick Duffy of Dallas Interview
---
Review by John Stahl

John Stahl is a freelance legal writer who is also a fan of classic and cult television programs. He can be reached at
tvdvdguy@gmail.com
.
---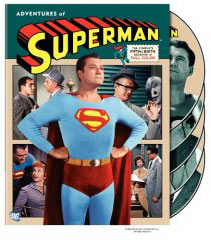 Batman on DVD
The Flash on DVD
Super Friends on DVD
All New Super Friends on DVD
Superman Doomsday on DVD
Smallville on DVD
Superman Batman - Public Enemies
---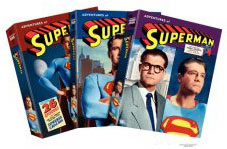 YOU MAY ALSO LIKE: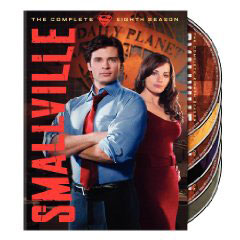 Smallville: The Complete Eighth Season
Product Details
Actors: Tom Welling, Erica Durance, Allison Mack, Justin Hartley, Cassidy Freeman
Format: AC-3, Box set, Color, Dolby, Dubbed, DVD, Subtitled, Widescreen, NTSC
Language: English
Subtitles: Chinese, French, Portuguese, Spanish, English, Thai
Region: Region 1 (U.S. and Canada only. Read more about DVD formats.)
Aspect Ratio: 1.78:1
Number of discs: 6
Rating: Unrated
Studio: Warner
DVD Release Date: August 25, 2009
Run Time: 1012 minutes

Product Description
There s a new reporter at the Daily Planet: Clark Kent, who shares a workspace with Lois Lane. There s a new hero in Metropolis, too. No one knows who he is. But Jimmy Olsen was on the scene of one of the do-gooder s exploits, and he snapped a blurred photo of the hero in superspeed action a hero everyone now calls the Red-Blue Blur. Red-jacketed, blue-shirted Clark Kent draws closer to his Superman destiny in the exciting 22-episode, 6-disc Season 8 of Smallville. Another Kryptonian destiny also takes shape. Davis Bloome begins to realize he is Doomsday. His mission on Earth: kill Clark Kent. So many new events (will Jimmy and Chloe s marriage last?), so many new faces (Tess Mercer, Saturn Girl and Cosmic Boy among them!), so many state-of-the-art effects so don t miss a single thrill-packed moment!

Format: DVD MOVIE
Genre: TELEVISION
Rating: NR
Age: 883929077519
UPC: 883929077519
Manufacturer No: 1000101136
Actors in North Carolina / Southern Actors
PR4 & PR5 Pages for ads - CHEAP!
Carol Burnett Show on DVD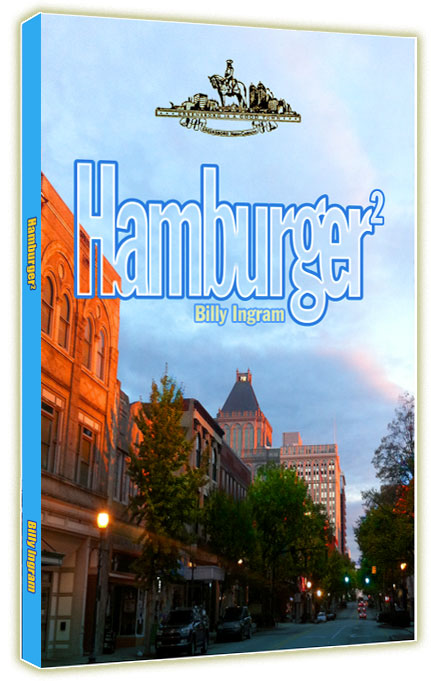 The focus is on Greensboro, NC!
---
Everything you're looking for is here:
Shop Amazon's New Kindle Fire