Reviews of the newest DVD collections
of your favorite classic TV shows!
Click on the title to order - huge discounts and free shipping through Amazon.com!

---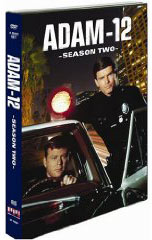 Adam-12: Season Two
Shot on the streets of Los Angeles and the San Fernando Valley, Adam-12 offers a sunny glimpse into what America looked like 40 years ago.
Adam-12 is one show I never really expected to find on DVD - a comic book-ish, idealized representation of police work. Oh so earnest, unapologetically straight forward; only on TV in the 1960s could there have been a show like Adam-12, a superficial police drama with absolutely none of the flawed characters or conflicted psyches you'll find on modern law enforcement programs.
You'll find no Vic Mackeys here, no duplicitous officers or crooked police work; these are simple morality plays devoid of irony or self-reflection. Reed & Malloy are the kind of dedicated cops who get called away from a double date because a Jazz festival in the West Valley gets out of hand.
Most of the cases stem from senile old folks calling the cops, dirty hippies seducing young girls, drunks causing a public nuisance, upset spouses, snoopy maids, nosy neighbors, and the occasional pervert. There are lots more shootouts, snipers, and other random violent acts than was present in season 1 which, in a way, makes season 2 somewhat less interesting (the action sequences are all shot on a backlot).
Dotting the landscape are familiar TV character actors like J. Pat O'Malley, Ellen Corby, and a pre-Partridge David Cassidy as a strung out teen.
Americans found this type of program very attractive, reinforcing the conservative notion of right vs. wrong, a world of moral certainty where things are just as they appear on the surface. That's the charm of Adam-12, it never promises to be more than a colorful caricature of life in 1969, neatly sanitized with that Jack Webb perspective where it's a given that the cops are always the good guys.
One clever feature found on this DVD collection is the commentary track by actual LAPD officers who were on the job during the time this series was filmed. They offer insights into how police work differs today from 40 years ago and on how close the show was to reality.
Loads of fun and a real trip back in time.
---
TV on DVD Reviews: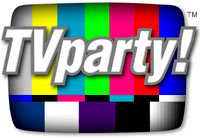 TVparty! for TV Shows on DVD!
Patrick Duffy of Dallas Interview
---
| | |
| --- | --- |
| | Reviews by Billy Ingram, as seen on VH1, Trio and Bravo. |
| | |
| --- | --- |
| FEATURES YOU MIGHT ENJOY: | |
---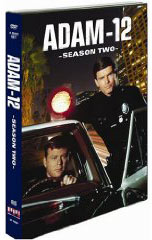 Adam-12: Season Two

Product Description
A spin-off of the popular NBC-TV series Dragnet that was created and produced by that series Jack Webb, Adam-12 chronicled in striking
detail and accuracy events from real LAPD cases. The show presented actual department-issue badges, vehicles and Los Angeles patrol stations, and its compelling realism gave the program a seven-season run on NBC from 1968 1975. Patrol the streets of Los Angeles circa 1969 with Officers Malloy (Martin Milner) and Reed (Kent McCord) in Season 2 of the memorable police drama Adam-12.Actors: Martin Milner, Kent McCord, William Boyett
Directors: Hollingsworth Morse
Format: Box set, Color, DVD-Video, Full Screen, NTSC
Language: English
Region: Region 1 (U.S. and Canada only. Read more about DVD formats.)
Aspect Ratio: 1.33:1
Number of discs: 4
Studio: Shout! Factory
DVD Release Date: September 30, 2008
Run Time: 660 minutes