Reviews of the newest DVD collections
of your favorite classic TV shows!
Click on the title to order - huge discounts and free shipping through Amazon.com!

---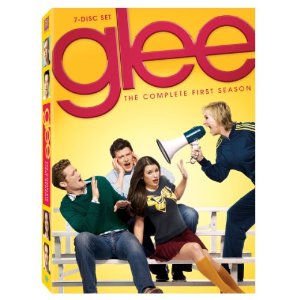 Glee: The Complete First Season
The gleeks shall inherit the earth
The DVD set of the first season of the phenomenal Fox dramedy "Glee," which is being released tomorrow, furthers my theory that many of the best sets in my collection have arrived unexpectedly on Fridays.
Watching several episodes kept me well entertained over the weekend and provided a interesting perspective on a Saturday night class reunion that a friendly but dumb-as-dirt jock and his Jewish princess former girlfriend hosted. We also had the loud theater geek and his a/v nerd friend, and I served the role as the neatly dressed bitter but caring guy with the sarcastic wit who is not unduly Kurt.
This series was extraordinary enough to attract Broadway stars Kristen Chenoweth and Neil Patrick Harris in its premiere season, and moving it to Tuesday night at 8:00 Eastern is very appropriate. This is the slot that "Happy Days" held for years.
"Happy Days" was arguably THE high school show during its Ron Howard era 35 years ago, and I will be shocked if the same does not become true for "Glee."
Further, wonderfully vile and cruel supporting character cheerleading coach Sue Sylvester is no doubt the Fonzie of the current generation as indicated by Jane Lynch winning an Emmy for the role. This unapologetic shover and berater of students, faulty, and administrators is the most entertaining character on television. She also reflects the lesson that "Happy Days" learned regarding Fonzie by showing regularly that she is caring and vulnerable.
Matthew Morrison also deserves credit for his role as caring Spanish teacher/glee coach Will Schuster. He does want to get through to those kids and support them but keeps the drama in check. Additionally, he shows that he is human by framing and blackmailing a student in the pilot, by striking back at Sylvester, and by standing up to his manipulative wife.
Rewatching the early episodes on DVD emphasized that, with the exception of Sylvester, most of the faculty and students at William McKinley High in Ohio accept that they are losers. One particularly good scene has even the popular kids talking about their shortcomings with big smiles on their faces. It is nice too that the gleeks express their positive and negative emotions through song, especially in the outstanding "Ballad" episode, instead of harmful means.
The show simply gets it right by striking a good balance between comedy and drama in is slightly exaggerated depiction of high school life and the bonds that students form with their teammates, co-gleeks, or fellow theater geeks.
I do hope that football players do not really toss gay students in the dumpster or douse theater geeks with Slushees but have experienced an obviously gay student being harassed and word spreading quickly when the school slut was "trapped" in the hockey team's locker room.
The show also pulls off the tough trick of working Broadway classics, 70s rock, 80s new wave, and hip hop in the same episodes and finding young performers who can pull it off. Highlights include diva Rachel paying great homage to her idol Barbara Streisand and the boys in the band showing the range of Kiss and working a Kiss title into one of the main season-long story arcs.
Along these lines, Mike "the other Asian" deserves special credit for seemingly accepting background status despite being by far the best dancer on the show. If a lack of singing ability is keeping him out of the spotlight, get that boy some voice lessons and let him shine in the second season.
The numerous special features include an interview with Lynch, amusing tidbits about the younger cast members, "Glee" sing-along karaoke, and footage of auditions.
Before Sylvester tells me to shut my Tasty Kake hole and get my prom dress from the dry cleaner, I will wrap things up by inviting "Glee" fans or those who need more convincing to add the DVD set to their collection to e-mail me at tvdvdguy@gmail.com.
---
TV on DVD Reviews: