Reviews of the newest DVD collections
of your favorite classic TV shows!
Click on the title to order - huge discounts and free shipping through Amazon.com!

---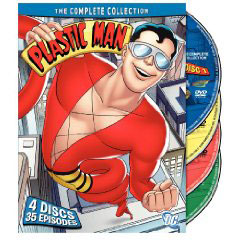 Plastic Man: The Complete Collection
Would you believe that Maxwell Smart inspired a superhero
The October 20 DVD release of all 35 "Plastic Man" cartoons is part of Warner Brothers' release of 1960s and 1970s animation; upcoming reviews will discuss the other cartoon collections.
Plastic Man's superpower is his ability to stretch and manipulate his body into virtually any form. He often reaches out his arms to grab the super villain du jour and then morphs his body into a cage to contain the big bad. His only vulnerabilities are extreme heat, which melts him, and extreme cold that prevents shape-shifting.
Plastic Man also uses his flexibility to help his posse, which consists of female admirer Penny and bad-luck prone sidekick Hula Hula. He regularly swoops in to whisk them away from danger or molds himself into a speedboat or other needed form of transportation.
I vaguely recall watching "Plastic Man" after "The Super Friends" but did not remember the great humor from the show or the fact that Plastic Man was essentially Maxwell Smart from the classic sitcom "Get Smart." He has the same nasal intonations, reports to a superior known as "The Chief" who has little regard for his abilities, and even stole bits from "Get Smart." Examples including referring to the "old X in the Y trick" and the "I asked you not to tell me that" gag.
Also like Smart, Plastic Man fought bizarre villains that often threatened the world. Examples include the plant creature The Weed who used a stolen super-growth formula to create a plant monster and a group of tiny gangsters who plotted to kidnap a wealthy Sultan. Like Smart, Plastic Man was constantly in danger and loving it.
Although this four-disc set has good extras, the packaging states mistakenly that they are on the fourth disc. The informative and comprehensive documentary on the history of Plastic Man from his creation in the 1940s to his current role on the Cartoon Network series "Batman: The Bold and the Brave" is on Disc One. The amusing unaired pilot for the failed modern Plastic Man series is on the second disc.
The bottom line is that the good news is that set provides a good introduction to a lesser-known super hero with a wide appeal. The bad news is that there are not more episodes of this great character.
As a relative Plastic Man newbie, I am very eager to hear from fans of any his incarnations; my e-mail is tvdvdguy@gmail.com.
---
TV on DVD Reviews: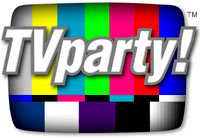 TVparty! for TV Shows on DVD!
Patrick Duffy of Dallas Interview
---
Review by John Stahl

John Stahl is a freelance legal writer who is also a fan of classic and cult television programs. He can be reached at
tvdvdguy@gmail.com
.
---
---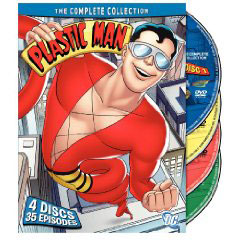 Plastic Man: The Complete Collection

Studio: Warner Home Video
DVD Release Date: October 20, 2009
Run Time: 564 minutes
Average Customer Review: 4.0 out of 5 stars See all reviews (8 customer reviews)

From the Back Cover
Supple super hero Plastic Man bends criminals to justice in these 35 exciting animated adventures from the vintage TV series. Jetsetting around the world in the Plastijet with girlfriend Penny and sidekick Hula Hula, the cool, confident Plas wraps up evil villains like Solex, Weed, Half-Ape, The Clam, Computerhead, and Disco Mummy. With the power to conform to any shape or size, Plas can grow, shrink, or flex his way out of any situation--except Penny's jealous grip. Never yielding under pressure, the only cracks in his super hero style are the quips he throws at his nemeses while turning the tables on them. When danger calls, this is the only four-disc collector's set--including elastically exciting extras--with enough twists to showcase Plastic Man! Features: retrospective featurette and Plastic Man animated series unaired pilot episode.

Product Description
Studio: Hanna Barbera Release Date: 09/01/2009 Run time: 583 minutes Rating: Nr
Here's Lucy: Lucille Ball Behind the Scenes
Lucille Ball Specials on DVD Review
PR4 & PR5 Pages for ads - CHEAP!
Carol Burnett Show on DVD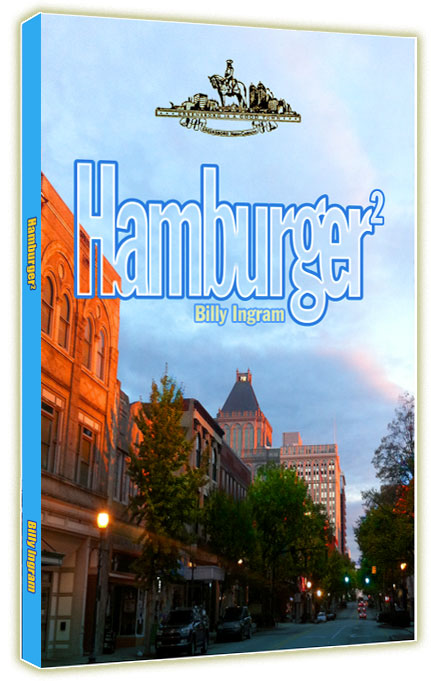 The focus is on Greensboro, NC!
---
Everything you're looking for is here:
Shop Amazon's New Kindle Fire
Shop Amazon's New Kindle Fire