Reviews of the newest DVD collections
of your favorite classic TV shows!
Click on the title to order - huge discounts and free shipping through Amazon.com!
(Ordering TV shows on DVD from the United Kingdom? Click here! )
---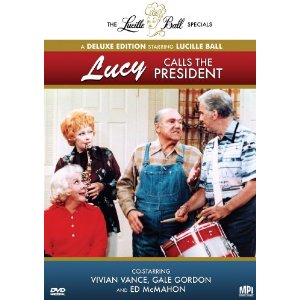 Lucy Calls the President
Lucy splains to Jimmy Carter
The 1977 TV special "Lucy Calls the President," which was released recently on DVD, is typical of both the reunion-style specials and the sitcoms of that era. I vaguely remember this one, especially a scene in which Lucille Ball steps in a bowl of potato salad; the ones that I recall best are those that starred Jackie Gleason and Art Carney of "The Honeymooners," which are also being released soon on DVD.
'President' follows the clichéd sitcom plot of a planned visit by the president of the United States to the program's main character causing chaos.
In this case, Lucille Ball as Indiana housewife Lucy Whittaker calls Jimmy Carter to complain that a planned low-income housing development will require closing a summer camp for underprivileged children. Carter tells her that he would like to discuss the matter at her home during his trip to the area the next day.
"I Love Lucy" writers Madelyn Davis and Bob Carroll, Jr., do a good job with the script about Lucy frantically preparing for the visit and dealing with friends and neighbors who keep adding to the number of people who want to meet Carter. It is nice too that we get to see Ball engage in slapstick that is appropriate for her age and persona and is not too vigorous. Ball fans will recall that the physical comedy on Ball's 1986 series "Life With Lucy" was simply too much for someone of her age.
"President" additionally provides the fun of seeing Ball perform with her long-time friends and co-stars Vivian Vance and Gale Gordon. Vance plays an Ethel Mertz like neighbor who shares Mertz's over-eating problem. It is notable that this is the final time that Ball and Vance performed together.
Gordon does a good job as Ball's father-in-law, who lives with her and her husband played by Johnny Carson sidekick Ed McMahon. However, the role is a bit insulting because Gordon is only five years older than Ball. This is symptomatic of Ball's ego that often required making her look much better than her co-stars. Pairing Vance with a much older husband and requiring that she remain overweight on "I Love Lucy" are well-known examples of this.
The extras on the DVD were also fun; I particularly liked rehearsal footage of "President" and another feature that showed Ball's appearance on "The Tonight Show" soon after Carson and McMahon filmed a guest shot on "Here's Lucy," which is also available on DVD.
Overall, the special earns a B; any production that involves Lucy and her on and off-screen collaborators is a treat, and the program held my interest and included amusing moments. The predictable segments are forgivable because Ball is responsible for them being so familiar.
I do wish that the humor would have been strong and would have preferred a presentation that involved either Lucy Ricardo of "I Love Lucy" or Lucy Carter of "The Lucy Show." Having either character stage a community production or take a trip would have been more nostalgic and should have been feasible given the talent that Ball recruited for the special.
I do appreciate Lucy fans sharing their thoughts when I write about one of her productions, and I look forward to hearing from you again. My e-mail is tvdvdguy@gmail.com.
---
TV on DVD Reviews: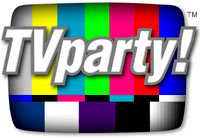 TVparty! for TV Shows on DVD!
Auto huren makes it possible to compare all car rental companies all over the world!
Compare the top sellers of Instagram followers on Buy instagram followers reviews!
An overwiew of guides and gutscheincode with the best tips and tricks to save money! on Ebookers.
Patrick Duffy of Dallas Interview
---
Review by John Stahl

John Stahl is a freelance legal writer who is also a fan of classic and cult television programs. He can be reached at
tvdvdguy@gmail.com
.
---
Product Description
I LOVE LUCY CO-STAR VIVIAN VANCE REUNITES WITH LUCY Following the long-running success of her Here's Lucy series, the inimitable Lucille Ball returned to television with a series of special programs, pairing her with other legendary performers and friends.
When Indiana housewife Lucy Whittaker (LUCILLE BALL) calls the White House to complain about a housing project, she soon discovers the President accepting an invitation to visit her home for dinner.
Calamity and comedy follows as Lucy frantically prepares for the special event with the befuddled help of her family, friends and even Secret Service agents. Includes a surprise cameo appearance.
---
Product Details
Actors: Lucille Ball, Dean Martin, Jackie Gleason
Directors: na
Format: Color, DVD-Video, NTSC
Language: English
Subtitles: English
Region: Region 1 (U.S. and Canada only. Read more about DVD formats.)
Number of discs: 1
Rating: NR (Not Rated)
Studio: MPI HOME VIDEO
DVD Release Date: June 30, 2009
Run Time: 150 minutes

Product Description
A Double Feature Starring Lucille Ball with Dean Martin and Jackie Gleason
Following the long-running success of her Here s Lucy series, the inimitable Lucille Ball returned to television with a series of special programs, pairing her with other legendary performers.
LUCY GETS LUCKY finds the wacky redhead pulling out all the stops in Las Vegas to see her favorite entertainer, Dean Martin. Lucy gets a job working at the MGM Grand casino and high stakes hi-jinks follow.
THREE FOR TWO presents Lucy with the Great One, Jackie Gleason - combining their comedic talents for the first time - in a trio of comedy-dramas centered on the various aspects of marriage.
Bonus features include: LET S TALK TO LUCY, long-lost radio interviews with Dean Martin, bloopers, featurette with guest actor Gino Conforti, and rare Lucy footage.
Actors in North Carolina / Southern Actors
PR4 & PR5 Pages for ads - CHEAP!
Carol Burnett Show on DVD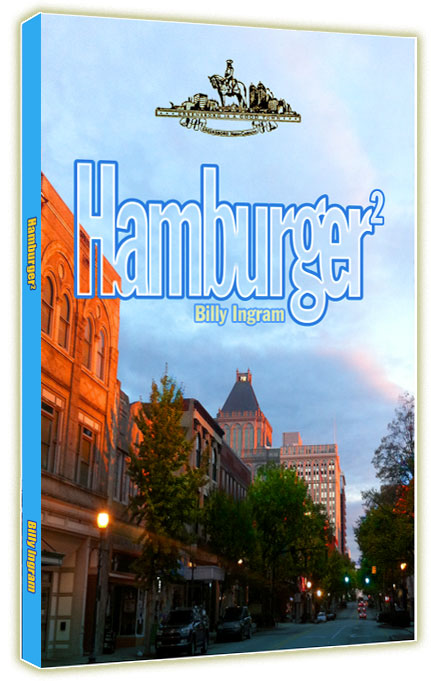 The focus is on Greensboro, NC!
---
Everything you're looking for is here:
Shop Amazon's New Kindle Fire