Reviews of the newest DVD collections
of your favorite classic TV shows!
Click on the title to order - huge discounts and free shipping through Amazon.com!

---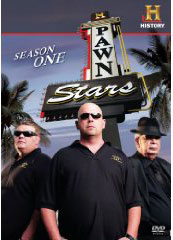 Pawn Stars: The Complete Season 1
Blue-collar 'Antiques Roadshow'
The DVD set, which is being released next Tuesday, of the History Channel reality series Pawn Stars created mixed feelings. The combination of the circumstances that prompt people to bring items to pawn or sell at a pawn shop, the items that these people bring to the shop, having three generations of the men of a family running a business, and having that business operate in Las Vegas provide a very interesting concept for a show.
The elements described above work well; the items that I saw brought to the Gold & Silver Pawn Shop that the Harrison family operates ranged from a 16th century jousting helmet to the '80s classic items a Pac-Man arcade game and a Chris Craft speedboat.
The middle Harrison, Rick, seemed to have the most knowledge of the value of the items and also seemed more grounded than his elderly father Richard and highly emotional 20-something son Corey. Seeing Rick discuss the history of the items and factors, such as repairs and thorough cleanings, that affected what he would pay for an item was reminiscent of similar segments on the superior PBS series Antiques Roadshow.
I could also relate to Richard's frustration regarding the eccentricities of his father and his father's failing eyesight and the frustration of Corey feeling that his opinions were not given due regard. These circumstances are a common reason that a family business typically does not survive beyond a generation or two.
The problems with the program relate primarily to it being a reality show, which is a genre that I dislike. The undue repetition is most annoying factor.
Virtually every bargaining session with a customer is followed by footage of Rick repeating the outcome of that negotiation. I also literally screamed at the screen when the show immediately repeated a scene in which Corey stormed out of the office area of the show after an argument with his father. My memory is not great, but even I can remember what I just saw on a program.
I believe that the scene with Corey, and most of the other segments, are genuine but also think that this program lacks much of the reality that this genre claims to represent. The Harrisons seem to be more crude and colorful than I imagine that they are off-camera.
There is additionally no doubt that the dim-witted elements of their employee Chumley are exaggerated. All of this is entertaining to an extent but becomes tiresome.
I also expected to get more of a history of the pawn business itself. Richard provided a little background of the industry in one episode, but did not get into much depth. I further would have liked to have learned if the Harrisons found buyers for any of the featured items and the amounts that they received for them.
The features in the DVD set did like interesting, but I did not get a chance to watch them. One provided profiles of the Harrisons and another discussed how to appraise items. A third segment offered unaired footage from the episodes.
Anyone who wants to share their thoughts regarding Stars or reality shows is encouraged to e-mail me at tvdvdguy@gmail.com.
---
TV on DVD Reviews: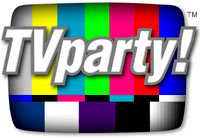 TVparty! for TV Shows on DVD!
Patrick Duffy of Dallas Interview
---
Review by John Stahl

John Stahl is a freelance legal writer who is also a fan of classic and cult television programs. He can be reached at
tvdvdguy@gmail.com
.
---
---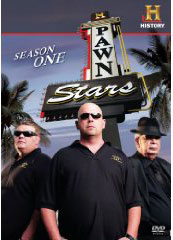 Pawn Stars:
The Complete Season 1
Product Details
Actors: Corey Harrison, Richard Harrison, Rick Harrison
Directors: History
Format: Color, DVD, NTSC
Language: English
Region: Region 1
Number of discs: 2
Rating: PG (Parental Guidance Suggested)
Studio: A&E HOME VIDEO
DVD Release Date: January 26, 2010
Run Time: 160 minutes

Product Description
It s one of the oldest forms of banking, and until the 1950s, it was the leading form of consumer credit in the U.S. See the fascinating past and present of the pawning business in Pawn Stars, an inside look at the only family-run pawn shop in Las Vegas, where three generations of men grandfather, father and son use their sharp-eyed skills to carefully assess the value of items ranging from the obscure to the historic. From a 15th-century samurai sword to a Picasso painting, there isn t much the Harrison family hasn t seen or heard, inevitably making Richard, Rick and Corey experts in rare collectables and negotiating. Each episode of Pawn Stars features an array of quirky characters attempting to sell, purchase or pawn items that the Harrisons must carefully appraise, determine if they re real or fake and then reveal the often surprising answer to What s it worth? Everything and everyone has a story and it s the Harrisons job to decipher fact from fiction, because in this business the customer isn t always right.
PR4 & PR5 Pages for ads - CHEAP!
Carol Burnett Show on DVD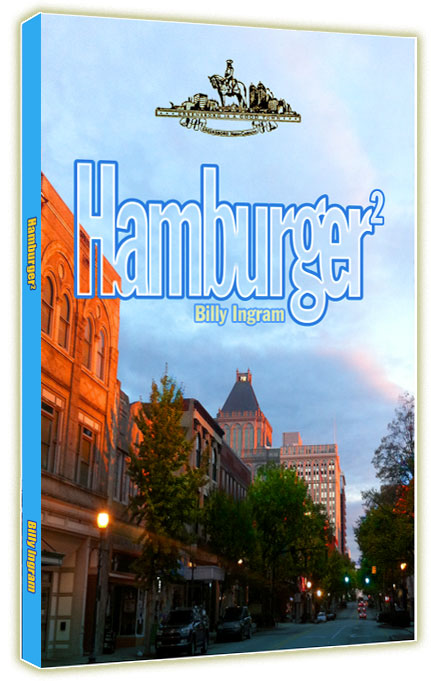 The focus is on Greensboro, NC!
---