Reviews of the newest DVD collections
of your favorite classic TV shows!
Click on the title to order - huge discounts and free shipping through Amazon.com!
(Ordering TV shows on DVD from the United Kingdom? Click here! )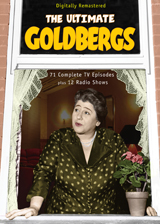 The Ultimate Goldbergs
I've really been looking forward to this one - every single known surviving episode of The Goldbergs (71 in all) has been collected into a deluxe package that includes 12 radio episodes, and a booklet with two fantastic essays relating to the importance of the show and writer/creator/ producer/star Gertrude Berg.
A massive hit on radio since 1921, Gertrude Berg enthusiastically embraced TV at a time when most radio stars were extremely reluctant to make the jump. As a result, in 1950 Gertrude Berg won the first ever Emmy for Best Actress in a TV Series for her portrayal of Molly Goldberg. Success and a long run were assured until the actor that played Molly's husband Jake (Philip Loeb) was named as a Communist during the McCarthy witch hunts of the fifties. Ratings quickly started to erode because of the bad publicity while Gertrude Berg, virtually the only woman with any power in show business at that time, stood by her co-star - and went down with him when CBS cancelled her now controversial show.
The Goldbergs bounced from networks to syndication but was never able to get the spark back. This collection is mostly made up of those last ditch efforts, most of the original run with Loeb no longer exists as they were broadcast live, only a 5 kinescopes survive. You can read more about The Goldbergs here.

The Goldbergs harkens back to the dialect humor of the vaudeville days, where performers exaggerated 'foreign' accents for comical effect. With most dialectical comedy the scenarios and jokes are overly broad, not so here. There isn't even a studio audience, although every other aspect of the production is structured like a theatrical play.
Despite the fact that she made millions from this franchise, somehow Gertrude Berg kept the common man touch, her comedy is rooted in everyday activities and relationships. The humor here is subtle, and I mean suuuuuuuubtle. It has a lot more in common with modern comedies like The Royal Tannebaums or Little Miss Sunshine than it does with the vaudeville Catskills type of Jewish humor.
That might be one reason why The Goldbergs had such a hard time on television - in 1949 TV was so new people would sit in rapt attention to what was on the screen, paying close attention to the proceeding just as they did with network radio programs. After a few years of Milton Berle and Your Show of Shows, where the humor was more fast-paced and the laugh tracks rang out, suddenly The Goldbergs were too antiquated for the nifty-fifties, modern world. It's also true that ethnic shows (Amos 'n' Andy, Life With Luigi) fell rapidly out of favor as the white bread sitcoms like Ozzie & Harriet ruled the roost for the next couple of decades.
This led to the last Goldbergs incarnation, a 1955 syndicated show (at first called The Goldbergs, later Molly) that took the characters previously existing in a world of New York City tenements and neighbors so close you could converse out the kitchen window to a life in the sunny suburbs.
This format change was insisted on by the syndicator, an attempt to make The Goldbergs more like Father Knows Best - but 'Jewish Mother Knows Best' never really caught on despite being a darn fine show. To Berg's credit the series retained its old world charm, the characters didn't change significantly just the circumstances. And there was still no soundtrack. The 1955 version of The Goldbergs is a straight up 1950's sitcom and Gertrude Berg commands the screen with every bit of the verve and liveliness that made Lucy and Eve Arden so popular.
This re-invented series is a joy to watch as Molly confronts a whole new world inhabited by situations and folks she's not used to dealing with. In the poignantly funny second episode Molly goes around trying to make friends in the neighborhood but instead gets everyone riled up with her overly-friendly ways. There's generally no hilarity in these programs, no Lucy-stomping-grapes moments, but it's a pleasant time wallowing in the past none the less.

All 38 episodes of the syndicated series exist, and in wonderful condition because they were shot on film, and they're all found in this DVD collection.

Also included, and this is what I wanted to watch most, is the pilot episode of Mrs. G Goes To College, Gertrude Berg's attempt at a comeback on CBS in 1961. That show co-starred Sir Sedwick Hardwick - sadly college sitcoms never were able to take hold on TV, no matter how good they were (see also: Hank). This ended the queen of all media's TV career.
The Goldbergs is a remarkable look back at the 1950s via Berg's 1930's sensibility; a tremendous achievement when you consider every storyline was written by Ms. Berg herself, along with her son Cherney.
The only drawback - TV on DVD buyers that are used to hefty discounts from Amazon or Wal-Mart will have to get used to paying full price for Shout! Factory exclusives. My Two Dads Season 2, the animated C.O.P.S., and The Bill Cosby Show Season 2 are also being released in this exclusive manner.
ShoutFactoryHomePage
---
TV on DVD Reviews: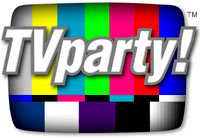 TVparty! for TV Shows on DVD!
| | |
| --- | --- |
| | Reviews by Billy Ingram, as seen on VH1, Trio and Bravo. |
---
Product Description:
A Shout! Factory Online EXCLUSIVE!
Meet the Goldbergs, a lively Jewish family living in NYC. There are the dutiful children, Rosie and Sammy; Jake, the hot-tempered husband; old-world Uncle David; and, of course, the ever-cheerful and gracious matriarch Molly (Gertrude Berg). With lots of extended family and neighbors, the Goldberg home is always overflowing with joy, laughter and love. The Goldbergs was created and written by Gertrude Berg, a radio and television pioneer who achieved national celebrity and influenced American popular culture with her beloved character Molly Goldberg.
All 71 episodes of The Goldbergs known to exist + 12 radio shows + a 24-pg. book. Digitally restored!!
ShoutFactoryHomePage
PR4 & PR5 Pages for ads - CHEAP!
Carol Burnett Show on DVD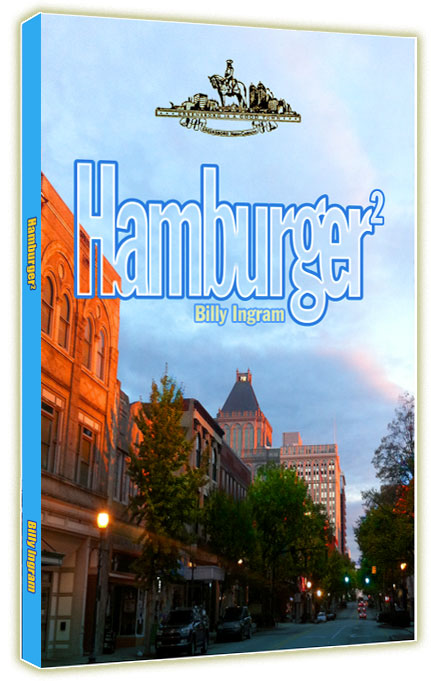 The focus is on Greensboro, NC!
North Carolina Actors / Southern Actors
Everything you're looking for is here:

---
Everything you're looking for is here:
Shop Amazon's New Kindle Fire