---
Review by John Stahl

John Stahl is a freelance legal writer who is also a fan of classic and cult television programs. He can be reached at
tvdvdguy@gmail.com
.
---
---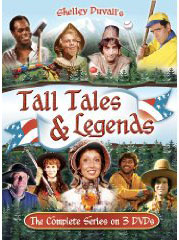 Shelley Duvall's Tall Tales & Legends
David McCharen, Shelley Duvall, Stewart Duvall, Michael McKean, Lewis Arquette
Directors: Christopher Guest, Howard Storm, Ray Danton, Sheldon Larry
Writers: Gary Jacobs, Mark Curtiss, Nancy Steen, Neil Thompson
Format: Box set, Color, Dolby, DVD, NTSC
Language: English
Aspect Ratio: 1.33:1
Number of discs: 3
Rating: NR (Not Rated)
Studio: E1 Entertainment
DVD Release Date: September 15, 2009
Run Time: 458 minutes


Product Description
Weaving American folk heroes into "larger than life" stories, Shelley Duvall's Tall Tales & Legends is the award-winning, live-action series that is perfect for the entire family to enjoy together. This ultimate collector's collection includes all nine, music-filled, star-studded episodes!
The Legend of Sleepy Hollow – Ed Begley, Jr. stars as Ichabod Crane, the superstitious new schoolmaster who finds himself competing for the heart of Katrina (Beverly D'Angelo) and comes face-to-face with Sleepy Hollow's most famous resident, the Headless Horseman.
Pecos Bill – Steve Guttenberg portrays Pecos Bill, the "King of the Cowboys," in this rootin' tootin' epic. When his rowdy behavior gets him run out of town, he heads for Mexico and saves the state of Texas from drought. Also stars Rebecca De Mornay, Martin Mull and Megan Mullally.
Casey at the Bat – Elliott Gould stars as Casey Frank, a down-on-his-luck baseball player who follows his dreams to become the biggest star in the game. Carol Kane, Bob Uecker and Howard Cosell co-star in this spirited salute to America's pastime.
Darlin' Clementine – Shelley Duvall portrays Clementine, a lonely woman who takes care of everyone around her until her selfish father learns a valuable lesson. Ed Asner, David Dukes and Michael Richards also star in this tale based on the legendary folk song.
Johnny Appleseed – Johnny Appleseed (Martin Short) travels across the land with a cooking pot on his head and his pockets filled with apple seeds and shows that there's nothing wrong with being different. Also stars Molly Ringwald and Rob Reiner.
Ponce de Leon – The search for youth has never been so much fun as Ponce (Michael York) teams up with Lucy (Sally Kellerman), the Lady Pirate, in the ultimate adventure.
John Henry – "On the night John Henry was born, lightning bolts shaped like nine-pound hammers filled the sky," and from that day on, John Henry (Danny Glover) was known as the extraordinary boy who became an extraordinary man.
Davy Crockett – The multi-talented Mac Davis brings the story of America's coonskin-capped pioneer to life. On the wild frontier, Davy Crockett earns a reputation for bravery and courage and proves that anything is possible.
Annie Oakley – Jamie Lee Curtis stars as the famous Annie Oakley "Little Miss Sure Shot" in this charming portrayal of the legendary markswoman. This enchanting tale also stars Brian Dennehy as Buffalo Bill Cody.
.
I Love Lucy / Lucy Show
Here's Lucy / Life With Lucy
Here's Lucy: Lucille Ball Behind the Scenes
Lucille Ball Specials on DVD Review
PR4 & PR5 Pages for ads - CHEAP!
Carol Burnett Show on DVD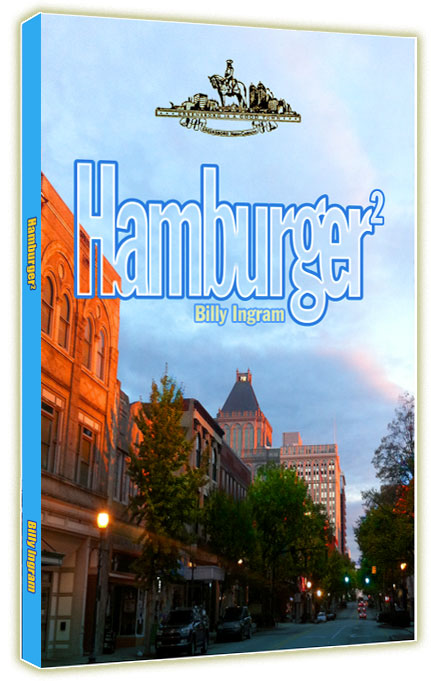 The focus is on Greensboro, NC!