Reviews of the newest DVD collections
of your favorite classic TV shows!
Click on the title to order - huge discounts and free shipping through Amazon.com!
(Ordering TV shows on DVD from the United Kingdom? Click here! )
---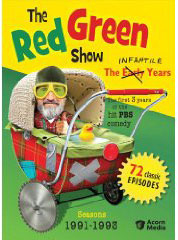 The Red Green Show: The Infantile Years
A good marriage of 'Home Improvement' and Garrison Keillor
The DVD set, which is being released January 26, of the 72 episodes in the first 3 of the 15 seasons of "The Red Green Show" provided a chance to check out a show that PBS aired about which I had heard a great deal but never watched. I had been curious about the show but had an inaccurate sense of it.
Similar to the sitcom "Home Improvement," which also premiered in 1991, "Green" focuses on a low-budget show set in rural Canada by an incompetent handyman who incorporates stories from his life and those of his brothers from the possum lodge into his program. One difference is that both Red Green and his sidekick, who is Green's nephew Harold, both wear flannel shirts.
"Green" also has regular features including "The Winter of our Discount Tent," which involves Green reading humorous poems while sitting in icy woods," and "Adventures with Bill" that involve Green and his friend Bill doing things like hunt and sled.
Both shows also have common themes, but the difference is that "Green" does not use them to death. "Home Improvement" is one of a handful of shows that I will never add to my collection, and I recall getting sick of Tim Allen grunting and overusing the expression "more power" early in the series.
Green injects some variety into his gimmick of using duct tape for everything and has clever ways of referring to this wonder material. Using it to attach a high-powered outboard motor to a boat was one of my favorites.
As the segments described above, Green also has folksy charm that is reminiscent of Garrison Keillor. Other examples of this include storylines that include sightings of UFOs and Elvis, accidentally draining the local lake, and turning a mine into a parking lot.
Green takes the rural charm element further by stating every week that women should find you handy if they do not find you handsome. I confess that that one became tiresome quickly.
The extras include a segment on the show by series star Steve Smith and profiles of characters and the actors who play them.
Fans of "Green" are welcome to submit comments to tvdvdguy@gmail.com.
---
TV on DVD Reviews: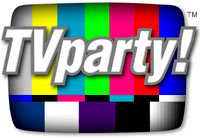 TVparty! for TV Shows on DVD!
Auto huren makes it possible to compare all car rental companies all over the world!
Compare the top sellers of Instagram followers on Buy instagram followers reviews!
An overwiew of guides and gutscheincode with the best tips and tricks to save money! on Ebookers.
Patrick Duffy of Dallas Interview
---
Review by John Stahl

John Stahl is a freelance legal writer who is also a fan of classic and cult television programs. He can be reached at
tvdvdguy@gmail.com
.
---
---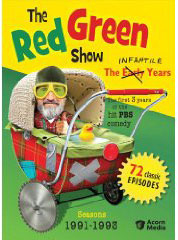 The Red Green Show: The Infantile Years

Number of discs: 9
Rating: Unrated
Studio: Acorn Media
DVD Release Date: January 26, 2010
Run Time: 1740 minutes
Average Customer Review: 5.0 out of 5 stars See all reviews (3 customer reviews)
ASIN: B002UXYCYU
Amazon.com Sales Rank: #8,661 in Movies & TV (See Bestsellers in Movies & TV)
Popular in this category: (What's this?)
#1 in Movies & TV > Television > Funny Families > The Red Green Show
Would you like to update product info or give feedback on images?
Editorial Reviews
Product Description
1991-1993 Seasons
"Age doesn't always bring wisdom. Sometimes age comes alone." So says Red Green, master of all things Canadian, manly, and duct taped. In this collection of The Red Green Show's first three seasons, Red and the gang are in their youth prime early middle age--but you'd never know it. It was only the beginning of the half-baked ideas, crazy contraptions, and unintended consequences that seemed like they would never end, but did, after 15 hilarious years.
These 72 episodes introduce series regulars Ranger Gord, Bill Smith, Hap Shaughnessy, and, of course, Red's beleaguered but beloved nephew, Harold.
For more laughs than you can shake a hockey stick at, join Red, Harold, and all the guys at Possum Lodge for their first three years of doing what men do when women aren't around—and some things that are even worse. "Effectively and magnificently spoofs the male ego" --The Detroit News.
EXTRA JUNK: Introduction by star and creator Steve Smith, Red and Harold character profiles, and biographies of stars Steve Smith and Patrick McKenna.
PR4 & PR5 Pages for ads - CHEAP!
Carol Burnett Show on DVD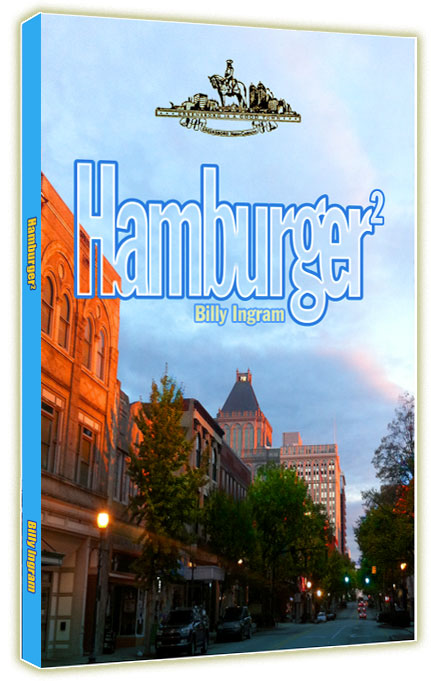 The focus is on Greensboro, NC!
---
Everything you're looking for is here:
Shop Amazon's New Kindle Fire
Shop Amazon's New Kindle Fire