Reviews of the newest DVD collections
of your favorite classic TV shows!
Click on the title to order - huge discounts and free shipping through Amazon.com!

---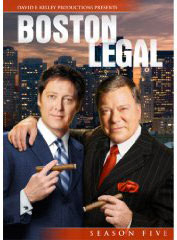 Boston Legal - Season 5
Good legal drama that suffers from excessive excesses
I did not watch "The Practice," from which "Boston Legal" spun off, but am a big fan of "Picket Fences" and other David E. Kelley legal dramas and feel hometown pride regarding Boston-based shows. These elements add to the appeal of the fifth and final season of "Boston Legal," which was released on DVD on May 5.
"Legal" depicts the personal and professional lives of the litigation (i.e. the lawyers who argue in court) department of the Boston law firm Crane, Poole & Schmidt. The firm could also be considered the TV Land law firm because James Spader co-stars with veteran TV stars William Shatner, Candice Bergen, and John Larroquette.
"Legal" has the exceptional elements of a Kelley show of clever humor, interesting legal issues, entertainingly quirky characters, and good writing. The more thought-provoking lawsuits involved voting requirements, the parental consent restriction on abortions, protection against medical malpractice that military doctors enjoy, and the proper means for executing death-row prisoners.
A scene in which Shatner, as the conservative Denny Poole, reconciles the apparent inconsistency between Republicans opposing abortion and supporting the death penalty is typical of the tone and humor of the show. Shatner remarks that Republicans favor killing criminals but not children.
Shatner also represents the excess that hurts what could be a better legal drama if Kelly had stuck to the formula that worked so well for him. Odd sexual and personality quirks would be entertaining and Shatneresque, but the show takes things much too far regarding his character.
Poole is very sexually aggressive towards virtually every woman, has a disgustingly strong sexual interest in sheep, gleefully and very excessively shoots off several types of weapons, takes his bromance with co-star Spader much too far, and indulges in Kirk-like cathartic over-emotive monologues.
The second worse excess is the undue whining about the cancellation of the show; roughly the last half of the season made numerous clear references to things such as the cancellation of the show, the lack of programs geared to people over 50, the main characters starting a spin-off law firm, the network not promoting the show, and even speculation that Shatner's character would ending up doing Priceline commercials.
The show has the additional flaw of some really bad legal errors. It has senior and highly compensated attorneys seek a same-sex marriage to obtain federal tax benefits. Every first-semester law student should know that entering a same-sex marriage does not affect federal tax liability in any way because the federal government does not recognize such marriages.
Once again, it is depressing that the bad elements of "Legal" dragged down an otherwise above-average show that addressed current and compelling legal issues well.
Please do share your thoughts regarding this show as e-mail to tvdvdguy@gmail.com.
---
TV on DVD Reviews: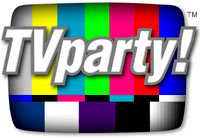 TVparty! for TV Shows on DVD!
Patrick Duffy of Dallas Interview
---
Review by John Stahl

John Stahl is a freelance legal writer who is also a fan of classic and cult television programs. He can be reached at
tvdvdguy@gmail.com
.
---
---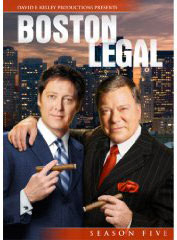 Boston Legal - Season 5
Product Details
Actors: James Spader, John Larroquette, Christian Clemenson, Tara Summers, Candice Bergen
Directors: Bill D'Elia, James R. Bagdonas, Michael Lohmann, Mike Listo, Robert Yannetti
Writers: Amanda Johns, Corinne Brinkerhoff
Format: Box set, Color, Dolby, DVD-Video, Widescreen, NTSC
Language: English
Region: Region 1 (U.S. and Canada only.)
Aspect Ratio: 1.78:1
Number of discs: 4
Studio: 20th Century Fox
DVD Release Date: May 5, 2009
Run Time: 607 minutes
ASIN: B001SMC9IU
---