Reviews of the newest DVD collections
of your favorite classic TV shows!
Click on the title to order - huge discounts and free shipping through Amazon.com!

---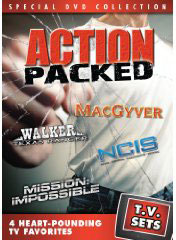 T.V. Sets: Action Packed
Testosterone Theater
One nice thing about compilation DVD sets such as "T.V. Sets: Action Packed," which was released on May 26, is that it allows sampling shows and seeing if you want to buy more episodes. "T.V. Sets: Holiday Treats" and "T.V. Sets: Forever Funny" inspired me to start buying DVD sets of "I Love Lucy" and "Frasier" after seeing how well "Lucy" was remastered and remembering how witty "Frasier" was written.
In the case of "Action Packed," I plan to start collecting "NCIS," which I have never even watched on television. This show depicts a team of investigators for the Naval Criminal Investigative Service and has the intelligence, wit, and quirky characters that make this type of show fun.
"Action Packed" includes the pilot episode of "NCIS" and of the other three shows in the collection. The plot of the "NCIS" pilot (no pun intended involves the death of a naval officer on Air Force One, which is the private plane of the president of the United States. The references to, and relevance of, the Harrison Ford film "Air Force One" added a nice element.
The George Bush, Jr. impersonator in the "NCIS" episode does a good job, and the best line from the episode has an investigator stating that "NCIS" is the same as "CSI" only if you are dyslexic; this is an obvious reference to another show about crime scene investigators.
The pilot episode of the 1960s spy series "Mission: Impossible" was also very good. This one had a typical plot of trying to recover nuclear weapons from a Latin American dictator. It had the gadgets, disguises, and suspense that made this show a classic.
The 1980s action show "MacGyver" was the third program on the disc and is the only one that has contributed a term to our slang. Using household items to solve challenging programs is known as "Macgyvering" and also describes the premise of the show.
One of many examples of "MacGyvering" from the pilot, which provided an early fable about the importance of the ozone layer, is using chocolate bars to avert an environmental disaster.
The fourth show of the set, "Walker, Texas Ranger," was the weakest of the four. This one was more about series star martial arts expert Chuck Norris pummeling bad guys and tossing them in the back of his pick-up truck than doing actual detecting.
"Walker" also had elements of Norris having seeming having super-human fighting skills and losing his parents in a senseless crime that occurred when he was young than are more typical of a super hero program than a straightforward action show; I expected Norris to say "I am Walker" at one point in the episode.
I understand that the set tried to include action shows from different eras and expect that "Walker" was the best choice from the 1990s.
Please share your thoughts regarding this selection and any programs that you think that the set should have included. My e-mail address is tvdvdguy@gmail.com.
---
TV on DVD Reviews: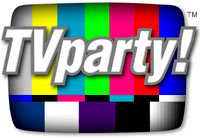 TVparty! for TV Shows on DVD!
Patrick Duffy of Dallas Interview
---
Review by John Stahl

John Stahl is a freelance legal writer who is also a fan of classic and cult television programs. He can be reached at
tvdvdguy@gmail.com
.
---
---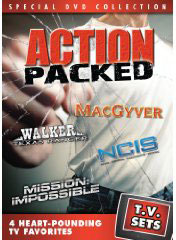 T.V. Sets: Action Packed
Product Details
Actors: Richard Anderson, Peter Graves, Mark Harmon, Chuck Norris
Format: Color, DVD-Video, Full Screen, Widescreen, NTSC
Language: English
Aspect Ratio: 2.35:1
Number of discs: 1
Rating: NR (Not Rated)
Studio: Paramount
DVD Release Date: May 26, 2009
Run Time: 236 minutes
ASIN: B001TWT09U


Product Description
Studio: Paramount Home Video Release Date: 05/26/2009 Run time: 236 minutes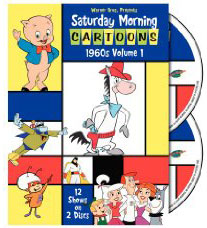 PR4 & PR5 Pages for ads - CHEAP!
Carol Burnett Show on DVD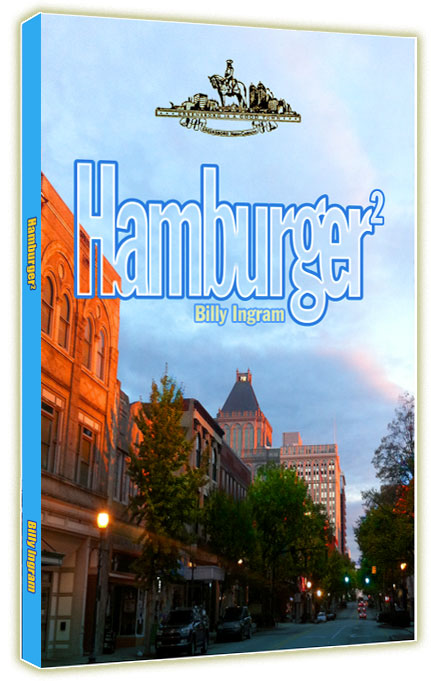 The focus is on Greensboro, NC!
---
Shop Amazon's New Kindle Fire