Reviews of the newest DVD collections
of your favorite classic TV shows!
Click on the title to order - huge discounts
and free shipping through Amazon.com
---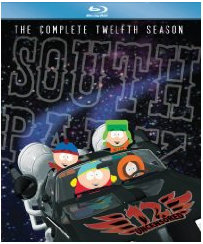 South Park: The Complete Twelfth Season [Blu-ray]
The Twelfth Season of South Park is here on DVD and Blu-Ray and it's another great year for TV's most ireverant comedy.
Some people argue that South Park is not as laugh out loud funny as it was a few years ago. I think that has a lot to do with the shocking nature of the humor, they've lobbed so many cherry bombs at our brains over the course of more than a decade that the shock value has worn off somewhat. That's not to say the quality of the show has diminished with me, I enjoy these characters and situations so much that, even when I'm not laughing, I'm enjoying myself immensely.
Then again, this year contains some of my favorite episodes: 'Super Fun Time' follows the boys as they visit Pioneer Village, an historical theme park recreation of 1864 Colorado where the staff refuses to break character despite a terrorist attack on the grounds.
'Elementary School Musical' is another killer show, Matt & Trey's musical episodes are always stellar, they somehow manage to mix a tender sweetness with their sarcastic, dead on spoofs.
'EEk, A Penis' will have you rolling on the floor as Mr./Ms. Garrison grows a penis using stem cells in order to get his / her manhood back.
In 'The Ungroundable,' Butters joins a vampiric goth kid cliche in a twisted foray that takes him to the gates of Hell - the Hot Topic store at the mall.
'Breast Cancer Show Ever' promises the ultimate showdown between Wendy and Cartman as the foul mouth fifth grader goes too far and finds himself challenged to a fight with a girl he knows he can't beat. The extent he'll go to to avoid the confrontation is classic Cartman.
'Major Boobage' has Kenny getting high off of cat piss and entering a seductive dream world, naturally the town overreacts by banning all cats.
This collection also features the two-parter 'Pandemic,' a parody of post apocalyptic movies and a blistering attack on Britney Spears, the kind of polemic only these guys can deliver. Pow, right in the kisser. And the takeoff on the last Indiana Jones movie is right on.
In all, 14 episodes of hilarity and misguided adventure. The cool thing about South Park is that you can watch these over and over and find something new to laugh at.
In addition to the mini-commentaries there are some fascinating behind the scenes documentaries that give you major insight how the show is put together.
Making Boobage: Behind The Scenes Of "Major Boobage"
Six Days to South Park, A Day By Day: Making of South Park
Behind The Scenes: "About Last Night"
All in all, this season 12 collection is a winner all the way and this Blu-Ray edition offers a level of clarity never before seen. You wouldn't think that matters so much for a collection of simplistically designed cartoons like these but you can see every texture in the clothing, posters and backgrounds, stuff I missed before. Episodes are presented in 1080i high definition and framed in their original 1.78:1 aspect ratios. and Dolby TrueHD 5.1 That's as good as it gets my friends.
Even if South Park becomes what The Simpsons was in the middle of that show's run I'm fine with that, the standout episodes are better than what almost anybody else is doing in television today. But South Park continues to
Product Description: All fourteen uncensored episodes from South Park's twelfth season are now available in this exclusive three-disc set. In this collection, South Park follows the new President-elect from his acceptance speech to his first official day of duty as Commander in Chief. The boys keep busy helping a pop-princess who's down on her luck, negotiating a truce for striking Canadians, and preventing giant rodents from destroying the world. For them, it's all part of growing up in South Park.
Trey Parker, Matt Stone, Mona Marshall, April Stewart
¥ Directors: Trey Parker
¥ Writers: Trey Parker, Matt Stone, Brian Graden, John Frank Rosenblum, Rachel Powell
¥ Producers: Adrien Beard
¥ Format: AC-3, Animated, Color, Dolby, Full Screen
¥ Language: English
¥ Aspect Ratio: 1.78:1
¥ Number of discs: 3
¥ Rating:
¥ Studio: Comedy Central
¥ DVD Release Date: March 10, 2009
¥ Run Time: 308 minutes
---
TV on DVD Reviews: