Reviews of the newest DVD collections of your favorite classic TV shows!
Click on the title to order - huge discounts and free shipping through Amazon.com!
(Ordering TV shows on DVD from the United Kingdom? Click here! )
---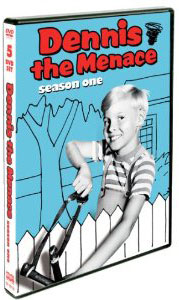 Dennis the Menace
The Complete First Season (1959-1960)
Another of those seminal classic TV sitcoms that I watched growing up is now on DVD - Dennis the Menace.
I'm not sure how I feel about Dennis. Sure, I tuned in the syndicated afternoon reruns during my obviously misspent youth but then a TV lovin' kid like myself gravitated to whatever was coming in over the airways at the time - not much! So I found myself watching shows I didn't particularly enjoy, for example, F Troop.
So that's why I'm conflicted. Watching Dennis the Menace now is pleasant enough, although I'm not crazy about Jay North, who I felt was pushing too hard.
The neighborhood children - like Jeannie Russell as Margaret, spitting venom with her whirling curls like a mini Joan Collins, and Billy Booth as Tommy, bumbling along in that wide-eyed, innocent way - are archetypical fifties cookie cutter kids. That's why this monochromatic sitcom worked so well. The casting was spot on and the scripts rarely stretched the one dimensional characters a bit, although there are some surprisingly tender moments between Herbert Anderson and Gloria Henry as Dennis' parents.
I'm crazy about Joseph Kearns' growling portrayal of Mr. Wilson and enjoy watching Sylvia Field as his demure wife Martha even more, What an iconic grandparent types they were; Sylvia Field was one of the most under-appreciated classic TV actresses.
There's no lack of charm in the small town values reflected in the lightweight scripts set along the quaint, neatly trimmed city streets (a backlot, natch). Boomers are reminded of what life was supposed to be like in the early-sixties. It was like that on TV, anyway!
For my money the first season of Dennis the Menace was the best, they had the mix right practically from the start. As much as I enjoyed Gale Gordon, who took over when Joseph Kearns died unexpectedly during year 3, Sylvia Field was the series only believable character; when she was let go that year the show became too cartoony. Odd criticism for a production based on a comic strip panel, I know, but Hank Ketcham's daily droppings were never funny to me either.
In this 5 DVD set get all 32 episodes of the first season and lively extras like The Donna Reed Show episode where Dennis and Mr. Wilson appeared and original network promos.
The bonus I really digged was the new interview with series' stars Gloria Henry and Jeannie Russell, that was very revealing. They discuss the events surrounding Joseph Kearns' death, sending the highly-rated production into turmoil; why the adorable Sylvia Field had to be fired; and other assorted backstage business.
Of course, if you're one of the many fans of Dennis the Menace this new collection is a no-brainer. As far as the quality of the DVD release - it's from Shout! Factory so that's all that needs to be said. For the lesser informed, that means the highest quality with the best possible picture and sound for a great price.

Dennis the Menace The Complete First Season (1959-1960) is a stuck clock set to simpler time, a modern television antidote. Great Scott!

Product Details
* Actors: Jay North, Herbert Anderson, Gloria Henry, Joseph Kearns
* Directors: Charles Barton
* Format: Box set, Black & White, DVD, NTSC
* Language: English
* Region: Region 1 (U.S. and Canada only. Read more about DVD formats.)
* Number of discs: 5
* Rated: NR (Not Rated)
* Studio: Shout! Factory
* DVD Release Date: March 29, 2011
* Run Time: 820 minutes
Sunday, March 6, 2011 - 10:00am
WOULD YOU LIKE TO RESPOND?
---
TV on DVD Reviews: