Reviews of the newest DVD collections
of your favorite classic TV shows!
Click on the title to order - huge discounts and free shipping through Amazon.com!

---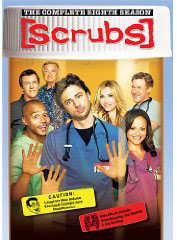 Scrubs: The Complete Eighth Season
The Secret Life of John Dorian
The always amusing and often hilarious eighth season, which was released on DVD on August 25, of the surreal medical comedy "Scrubs" is noteworthy for several reasons. It was the first season of the show on ABC and is also the last season in which Zach Braff, who plays the day-dream prone lead character Dr. John "J.D." Dorian, appeared regularly. This season is also the first one in which Braff did not appear at all and seemingly literally phoned in his performance in one episode.
I think of the ninth season, which will likely focus on the intern characters that were introduced in the eighth season, can be thought as "Saved by the Mouse: The New Class." A friend has dubbed it "Scrubs: The College Years."
The eighth season could be thought of as well as "The Love Boat" season not because the show brought on a plethora of B-level celebrities but because all but one major character strengthened an existing a romantic relationship or began a new one.
In the case of the janitor, who reveals an actual name this season, his romantic development is his Bahamas wedding in a two-part episode that is shot on location on a true island paradise that is five miles long and one-fourth a mile wide. This episode and the very interesting special feature on the fun and logistics of filming it make me want to hop the next plane there.
The aforementioned interns were peripheral to the plots and did not get much screen time; the tough and abrasive Denise was my favorite of the group. Her rudeness to the patients and her habit of lusting after overweight men are interesting character traits that should provide chief of medicine Perry "Mr. Belding" Cox good material for hilarious rants next season.
The interns got more of the spotlight in three webisodes, which came complete with opening credits and a theme song, that are included as a special feature in the DVD set. The segments about the orientation of the interns to life at Sacred Heart Hospital were interesting but did not produce more than a smile.
All in all, "Scrubs" retained its exceptional elements of being a well-written show that mixes comedy and drama well and tells good stories about wonderfully quirky highly-flawed characters and a rich fantasy life that is embraced and shared.
Fans of "Scrubs" and those with predictions regarding the ninth season, which will likely have Ted the lawyer being the Screech of the show, are welcome to e-mail me at tvdvdguy@gmail.com.
---
TV on DVD Reviews: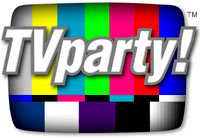 TVparty! for TV Shows on DVD!
Patrick Duffy of Dallas Interview
---
Review by John Stahl

John Stahl is a freelance legal writer who is also a fan of classic and cult television programs. He can be reached at
tvdvdguy@gmail.com
.
---
---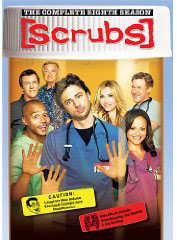 Scrubs: The Complete Eighth Season
Product Details
Actors: Zach Braff, Donald Faison, Sarah Chalke
Format: Box set, Color, DVD, NTSC
Language: English
Region: Region 1 (U.S. and Canada only. Read more about DVD formats.)
Aspect Ratio: 1.33:1
Number of discs: 3
Rating: PG (Parental Guidance Suggested)
Studio: ABC Video
DVD Release Date: August 25, 2009
Run Time: 414 minutes

Product Description
This half hour comedy focuses on the bizarre experiences of fresh faced medical intern John JD Dorian as he embarks on his healing career in a surreal hospital crammed full of unpredictable staffers and patients, where humor and tragedy can merge paths at any time.
Bonus Features Include: My Bahamas trip, Bill Lawrence answers fans' questions, deleted scenes, bloopers alternate lines, webisodes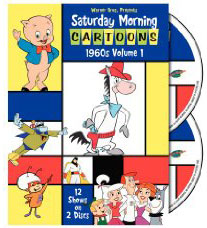 PR4 & PR5 Pages for ads - CHEAP!
Carol Burnett Show on DVD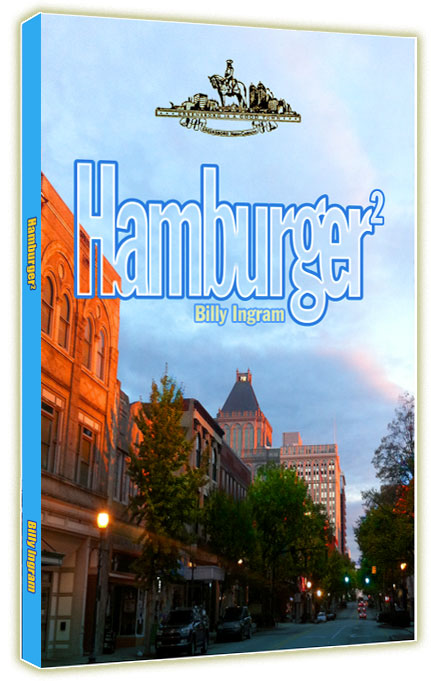 The focus is on Greensboro, NC!
---
Shop Amazon's New Kindle Fire