Reviews of the newest DVD collections
of your favorite classic TV shows!
Click on the title to order - huge discounts and free shipping through Amazon.com!

---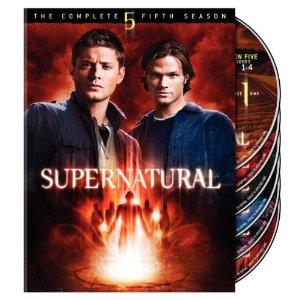 Supernatural - Season 5
Apocalypse for now
In the new American tradition of doing things half-heartedly, I will share that my general observations regarding the blu-ray release of "Smallville" S9 two weeks ago apply to the equally good blu-ray release of the fifth season of its companion show "Supernatural." This series rejoins "Smallville" by taking the slot after it on Friday nights beginning September 24.
I will reiterate that these releases, which also came out on DVD, are a good way to catch up on last season before watching the new one.
Like "Smallville," "Supernatural" is increasingly lore-laden and has season-long story arcs that are coming close to "Lost" in complexity and share that series' emphasis on Bible themes that include the element of "good" and "evil" brothers battling. Les frères Winchester fighting to avert the apocalypse that "bad" brother Sam facilitated at the end of the fourth season season-long arc provides many good opportunities to discuss the struggle between Heaven and Hell and do not present either side particularly well. The angels are even more devious than the demons and relish their cruel acts more.
Aside from raising compelling theological issues, this season is a good one because it gives viewers nice breaks from the gloom-and-doom of the impending end of the world by interspersing several humorous episodes that make great use of the dry humor of series stars Jared Padalecki and Jensen Ackles into the season. It is worth mentioning as well that Padalecki and Ackles make a great team that I hope continue working together after "Supernatural" ends its run.
An episode in which an aspiring teen-age warlock forces a body-switch on Dean is one of the best of the season; seeing this character enthusiastically order a drink at a bar and get in over his head with a woman who invites him to have "the sex" is as hilarious as seeing Padalecki's awkwardness as the teen geek and his attitude that the boy should impolitely tell his demanding parents to back off.
However, the best moment of the season has Ackles as Dean who describes himself as "a guy with a GED and a give 'em Hell attitude" wearing a toddler's t-shirt that has a teddy bear with "I wuv hugs" printed on its chest. This occurs in an episode in which the guys find themselves in Heaven on a mission to confab with a largely disinterested God.
The BD set and presumably the DVD version also include good extras that consist of videos on Apocalyptic themes, the full run of "The Ghostfacers" web series that is based on an episode from an earlier season, and a gag reel that shows Jensen and Ackles making goofy faces and Snoopy dancing. Using a very annoying car horn to bleep the seven dirty words is the only negative aspect of this feature and is HONK ridiculous.
"Supernatural" fans or those with questions regarding the series are welcome to e-mail me at tvdvdguy@gmail.com.
---
TV on DVD Reviews: