Reviews of the newest DVD collections
of your favorite classic TV shows!
Click on the title to order - huge discounts and free shipping through Amazon.com!

---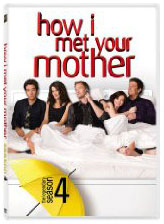 How I Met Your Mother: Season Four
'Mother' and 'Sunny' reflect raunchy nature of modern sitcoms
"How I Met Your Mother" (HIMYM) is one of the few current sitcoms that I enjoy. Much of the good humor, as the September 29 blu-ray and DVD release of the fourth season of this show will demonstrate, comes from the raunchy dialogue and plots regarding sexual promiscuity. I want to stress too that my criticism regarding the time slot of the show is a separate issue than my appreciation of the quality of the writing and the acting.
I also enjoy the even raunchier sitcom "It's Always Sunny in Philadelphia" (Sunny), the fourth season of which was released on DVD on September 15. I am pairing this show with HIMYM because of their similar natures.
Seeing the truly unbridled glee with which highly randy ladies man Barney Stinson of HIMYM spouts PG-13 puns and concocts clever schemes for sexual conquests that will not even last an entire night is hilarious. Having the uber-talented Neil Patrick Harris, who is known for playing innocent young Doogie Howser, in the role is a great bonus.
I would love to see Barney talk a character played by one of "The Facts of Life" girls into bed and make a joke about her having taken the good and having to take the bad of being kicked out of his bed now that he was done with her.
My primary criticism of HIMYM, which has always aired at 8:00 or 8:30 p.m., is that it should not be on before 9:00 p.m. As old-fashioned as it sounds, the tradition of not having sexually explicit programs on during the "family hour" makes sense. It seems inappropriate that these shows be on when young children are still watching TV. I realize that DVRs and the availability of shows online greatly undermines my argument, but the principle is still the same.
The preview disc, which had eight episodes from the fourth season, of HIMYM that was provided for this review show the raunchy elements of the program and how this New York City-based hybrid of "Seinfeld" and "Friends" has taken the format of these shows to the next level.
An episode in which former lovers and current roommates Ted the adorkable sincere architect and Robin the gorgeous gun-toting Canadian tomboy and former teen pop star try having meaningless sex to avoid arguing about things such as leaving dirty dishes in the sink and not buying milk is perhaps the best example of the tone of HIMYM.
This plot was similar to Jerry and Elaine of "Seinfeld" attempting having a friendship with benefits. However, HIMYM went one step further by having naive attorney Marshall walk in on Robin and Ted in bed twice.
Additionally, Ted and Robin entertained their buds with stories about the trivial incidents that prompted their couplings. Robin even commented that she will always leave the empty pizza box on the floor if that leads to sex.
The b-story in this episode supports my thesis even better. Marshall admits to George Costanza-style anxieties regarding "making number two" in his office bathroom and uses the euphemism "reading a magazine" in reference to the activity. Barney responds that he "reads a magazine" at the office every day because he has to do it even though it is not pretty. Barney next remarks explicitly that he is referring to masturbation; this is a far cry from the famous reference to "Master of your Domain" in "Seinfeld."
Another "Seinfeld" esques element of the fourth season of HIMYM is the "naked man" technique of stripping naked during a first date while the other person is out of the room. HIMYM describes this as a desperate ploy for sex if a date is going badly. Three of the five HIMYM characters attempt this and achieve varying success.
As Johnny Carson would say, HIMYM is "good stuff." Sunny is equally good stuff but is on at a more appropriate time. It airs at 10:00 p.m. on the FX network, and I do not think that FX airs reruns any earlier than that.
Sunny is about four friends, including brothers Dennis and Dee, with a fraction of the intelligence, education, and income of the HIMYM gang. This blue-collar group owns a dive bar in Philadelphia that largely just gives them a place to hang out. They are joined by Frank, who is the father of Dennis and Dee, played by the hilarious Danny Devito.
Episodes from the fourth season included one entitled "Who Pooped the Bed." This involved a mystery surrounding who kept leaving a "present" in the bed that Frank shared with Charlie, who is described as the "wild card" of his quartet. Another fairly explicit episode had Mac tricking models who were auditioning to appear on a billboard for the bar have sex with him and each other to get the job. Dennis kept busy prancing around in his tightie whities to land the job as the billboard's male model.
The funniest episode of the season had the gang appear in the hilariously awful low-budget musical "The Nightman Cometh" that Charlie had written. Highlights of this episode include the song lyric "You have to pay the troll toll if you want inside this boy's hole," siblings Dennis and Dee playing love scenes, and simulated homosexual anal rape.
The extras on the DVD set include a hilarious live performance of "The Nightman Cometh" by the Sunny cast. The enthusiasm of the audience for the musical and the series was infectious.
Anyone with thoughts regarding HIMYM, Sunny, or raunchy shows in general is welcome to e-mail me at tvdvdguy@gmail.com.
Please do share your thoughts regarding this show as e-mail to tvdvdguy@gmail.com.
---
TV on DVD Reviews: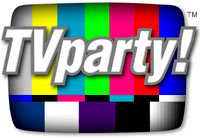 TVparty! for TV Shows on DVD!
Patrick Duffy of Dallas Interview
---
Review by John Stahl

John Stahl is a freelance legal writer who is also a fan of classic and cult television programs. He can be reached at
tvdvdguy@gmail.com
.
---
---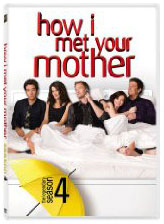 How I Met Your Mother: Season Four
Product Details
Actors: Josh Radnor, Jason Segel, Cobie Smulders, Neil Patrick Harris, Alyson Hannigan
Directors: Michael Shea, Pamela Fryman, Rob Greenberg
Writers: Carter Bays, Chris Harris, Chuck Tatham, Craig Gerard, Craig Thomas
Format: AC-3, Box set, Color, Dolby, DVD, Subtitled, Widescreen, NTSC
Language: English
Subtitles: English, French, Spanish
Number of discs: 3
Rating: NR (Not Rated)
Studio: Twentieth Century Fox
DVD Release Date: September 29, 2009
Run Time: 678 minutes

Product Description
Loaded with irresistible laughter and filled with outrageous fun, there's just one word for the hit comedy How I Met Your Mother: Awesomeness!
From dating dilemmas to career conundrums, the recently engaged Ted and his feisty friends find themselves at the crossroads of young adult life. While newlyweds Marshall and Lily contemplate parenthood, single gal Robin explores the advantages of having "friends with benefits." Meanwhile, the irrepressible, opinionated Barney continues his hilariously dogged pursuit of the fairer sex. As for Ted, his Miss Right is out there, but amid bar brawls, blizzards, and buck-naked strangers, how will he ever find her?
Disc 1: 179 Minutes - **Do I Know You? (Season Premiere)
**The Best Burger In New York
**I Love NJ
**Intervention
**Shelter Island
**Happily Ever After
**Not A Father's Day
**Woooo!
**Commentaries
**Season 3 Recap
Disc 2: 186 Minutes - **The Naked Man
**The Fight
**Little Minnesota
**Benefits
**Three Days of Snow
**The Possimpible
**The Stinsons
**Sorry, Bro
**Commentaries
**Gag Reel
**Barney Stinson: That Guy's Awesome Music Video
**Eriksen's Fight Club

Disc 3: 196 Minutes - **The Front Porch
**Old King Clancy
**Murtaugh
**Mosbius Designs
**The Three Days Rule
**Right Place Right Time
**As Fast as She Can
**The Leap
**A Night With Your Mother (Academy of Television Arts & Sciences Panel Discussion)
PR4 & PR5 Pages for ads - CHEAP!
Carol Burnett Show on DVD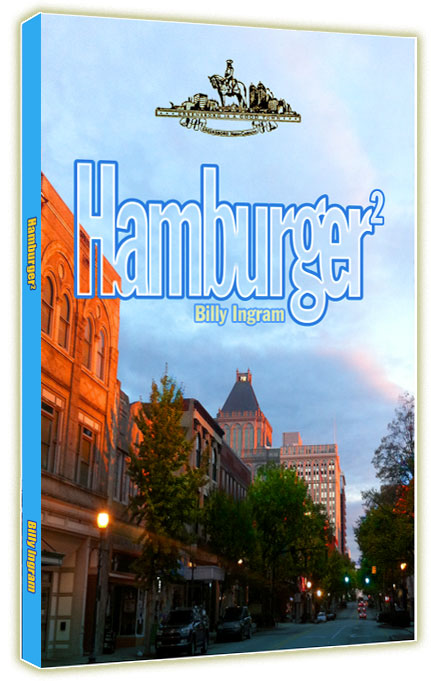 The focus is on Greensboro, NC!
---
Everything you're looking for is here:
Shop Amazon's New Kindle Fire
Shop Amazon's New Kindle Fire