Reviews of the newest DVD collections
of your favorite classic TV shows!
Click on the title to order - huge discounts and free shipping through Amazon.com!

---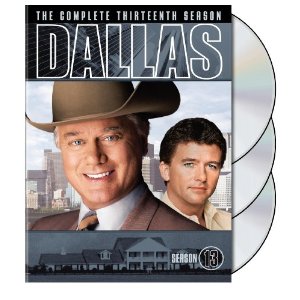 Dallas - The Complete Thirteenth Season
Deserves a Texas toast
The recent DVD release of the 13th season of the classic primetime soap "Dallas" is another reminder of the important role of older programs in our cultural heritage. As shown below, this series was an entertaining reflection of the greed of the '80s and the changing attitude of the '90s. Additionally, evil oil tycoon J.R. Ewing is almost as classic a character as Lucy Ricardo and Ralph Kramden.
Before sharing my thoughts on these good episodes from this groundbreaking series, I want to share a fun coincidence. My review copy of the first season of "Falcon Crest," which was "Dallas'" companion program on CBS' Friday night lineup, arrived as I was sitting down to write this review. This is very much in the spirit of "Crest" matriarch Angela Channing, and I will share my thoughts on her and her show next week.
The 13th season of "Dallas" is one of its most interesting for many reasons; first, it shifted from the entertaining but cartoonish qualities of the 12th season that partially turned me off the show when these episodes aired.
A ripped from the headlines plot about an oil tanker dumping massive amounts of water in the ocean and generally realistic storylines regarding J.R.'s extra-marital affairs, which were finally limited to age-appropriate women, replaced the prior season's stories regarding J.R.'s "Deliverance" style nightmare and ex-wife Sue Ellen's made-for-TV quality tell-all feature film. Additionally, Sue Ellen's portrayer Linda Gray followed co-star Victoria Principal's exit from the series.
The 13th season is notable as well for adding the Cousin Oliveresque pretty boy airhead 20-something James Richard, a.k.a. J.R., Beaumont to the cast. This entertaining puppy is cocky both in his arrogance and habit of cocking his head when he is concentrating.
In addition to providing comic relief in stumbling around and trying to keep up with the much older power players in the series, Beaumont plays the good role of providing the voice of conscious that reflected the '90s rejection of the less moral deregulated business environment of the '80s. Beaumont challenges J.R.'s methods of sleeping with women to obtain a business advantage and engaging in other questionable tactics. Sasha Mitchell as Beaumont also does a great impression of a cocker spaniel to communicate his disapproval and sadness.
The 13th season further increases the tension and animosity between J.R. and brother Bobby and Weststar Oil's Carter McKay. In many ways, McKay has become the new Cliff Barnes, whose 12th season truce with the Ewings becomes strained but not broken.
I found it interesting as well that the writers of "Dallas" added a strong "Murder She Wrote" element to the show by involving the late-60s Ellie Farlow, who was the widow of family head Jock Ewing, and her second husband Clayton Farlow in two mysteries. I believe that Barbara Bel Geddes, who played Miss Ellie, was offered the lead in "Murder" but could not confirm this.
The 13th season additionally sets the stage for the series' 14th and final season, which has one of my favorite series finales. I am eagerly awaiting the release of this one and would consider selling my soul to the devil to get it now. (Head cock.)
I would like to once again invite "Dallas" fans or others with thoughts and questions regarding this series to e-mail me at tvdvdguy@gmail.com.
---
TV on DVD Reviews: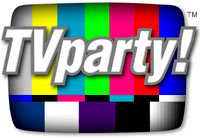 TVparty! for TV Shows on DVD!
---
Review by John Stahl

John Stahl is a freelance legal writer who is also a fan of classic and cult television programs. He can be reached at
tvdvdguy@gmail.com
.
---
---
Dallas - The Complete
Twelfth Season
Product Details
Actors: Larry Hagman, Patrick Duffy, Ken Kercheval, Linda Gray, Barbara Bel Geddes
Directors: Irving J. Moore, Michael Preece, Russ Mayberry
Writers: Arthur Bernard Lewis
Format: Color, DVD, Full Screen, NTSC
Language: English
Region: Region 1
Aspect Ratio: 1.33:1
Number of discs: 3
Rating: NR (Not Rated)
Studio: Warner Home Video
DVD Release Date: January 19, 2010
Run Time: 1378 minutes

Product Description
J.R. has always been a hound dog with the ladies and in Season 12 it all comes back to bite him. A dalliance with an Arkansas cutie leads J.R. to the wrong end of a shotgun, 10 years of hard labor, a prison break and the altar. And that's just the start of 26 episodes of commotion and emotion that also include a tell-all movie (bankrolled by the first Mrs. J.R. Ewing) that threatens to unveil every low-down trick J.R. ever pulled and a rival oil man scheming to destroy the Ewing empire, taking the clan from Southfork all the way to Austria and Russia!
---