Reviews of the newest DVD collections
of your favorite classic TV shows!
Click on the title to order - huge discounts and free shipping through Amazon.com!

---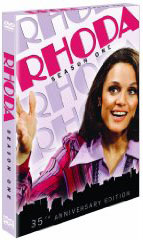 Rhoda: Season Two
The second season of the "The Mary Tyler Moore Show" spin-off "Rhoda," which is being released on DVD on March 30, is a good early example of the modern urban sitcoms that networks introduced in the '70s. It is also simply a relatively funny show about a woman and her friends and family dealing with crime, garbage strikes, and other elements of life in New York.
The numerous modern elements include Rhoda owning her window-dressing business, enjoying a reasonably happy marriage with a previously married man, discussing her sex life and being assertive but not slutty about enjoying sex, and not having or wanting children. One particularly relevant scene in the final episode of the season had a bank denying Rhoda a business loan because her husband could afford to lend her the money.
The entire series has this modern look, but the second season has a special place in TV history because it revealed that the audience liked Rhoda much more as a middle-aged woman dealing with the single life than a relatively happily married woman. As a hint of things to come, I will share that David Groh, who played Rhoda's husband Joe, does not appear often in later seasons.
The fact that this set is being released two weeks after a DVD collection of the 71 remaining episodes of "The Goldbergs," which was a 1950s sitcom about a Jewish family in New York and which I will review, prompted thoughts about how "Rhoda" depicted a Jewish family in 1970s New York. Those of us who are already familiar with "Rhoda" know that Nancy Walker's terrific portrayal of stereotypical Jewish mother Ida Morgenstern provides much of the humor.
Beyond Ida's obsessive cleaning and undue butting into the lives of Rhoda and her sister Brenda, played by "The Simpsons" Julie Kavner," "Rhoda" depicted Ida's husband Martin the accountant as a stereotypical very warm and friendly upper middle-aged Jewish man with a great deal of tolerance for Ida's irksome traits.
The audience was treated as well to the strong support and care that the Morgensterns felt for each other and assertively imposed regardless of whether it was welcome. Seeing that someone was always there with a loan, advice, or needed criticism was very nice.
I appreciate hearing from those of you who take the time to e-mail me at tvdvdguy@gmail.com and welcome your thoughts on "Rhoda." However, you should feel guilty about taking the time to write me if you have not called your poor lonely mother yet today.
---
TV on DVD Reviews: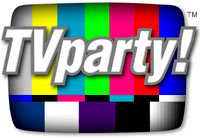 TVparty! for TV Shows on DVD!
Patrick Duffy of Dallas Interview
---
Review by John Stahl

John Stahl is a freelance legal writer who is also a fan of classic and cult television programs. He can be reached at
tvdvdguy@gmail.com
.
---
---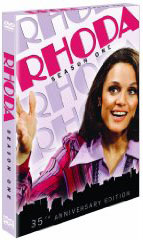 Rhoda: Season Two
Product Details
Actors: Valerie Harper, Julie Kavner, Nancy Walker
Directors: Tony Mordente
Format: Box set, Color, DVD, Full Screen, NTSC
Language: English
Region: Region 1 (U.S. and Canada only. Read more about DVD formats.)
Number of discs: 4
Rating: NR (Not Rated)
Studio: Shout! Factory
DVD Release Date: March 30, 2010
Run Time: 570 minutes

Everyones favorite New York daughter returns for the second incredible season of RHODA, the popular Mary Tyler Moore Show spin-off created by James L. Brooks and Allan Burns!
On a visit to her childhood home, spunky window dresser Rhoda Morgenstern (Valerie Harper) had no idea she would meet the man of her dreams, a handsome divorcé named Joe Gerard (David Groh). But soon she was back living in New York City and married to Joe. Now their marriage just has to survive Rhoda s hectic career and relationships with her overbearing mother Ida (Nancy Walker), beleaguered father Martin (Harold Gould) and neurotic sister Brenda (Julie Kavner).
RHODA aired for five seasons on the CBS network from 1974 1978, garnering an astounding 17 Emmy nominations and two wins for its cast and crew. Now you can see why with the next 24 episodes in the hilarious life of RHODA.
Actors in North Carolina / Southern Actors
PR4 & PR5 Pages for ads - CHEAP!
Carol Burnett Show on DVD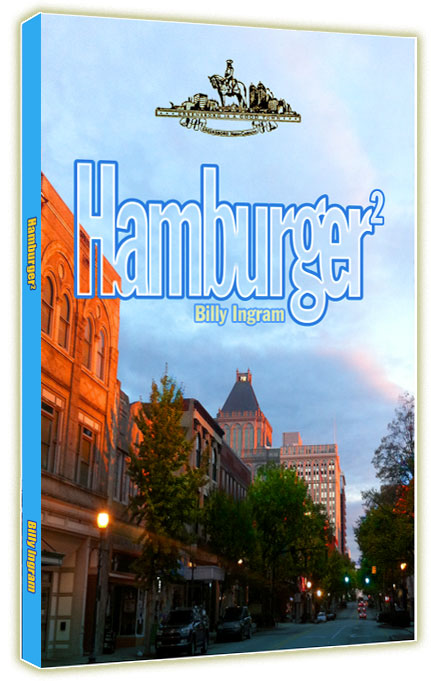 The focus is on Greensboro, NC!
---
Everything you're looking for is here:
Shop Amazon's New Kindle Fire