Reviews of the newest DVD collections
of your favorite classic TV shows!
Click on the title to order - huge discounts and free shipping through Amazon.com!

---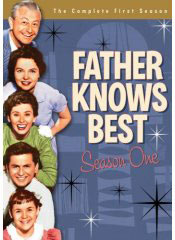 Father Knows Best
Offering a preposterous glimpse into what life was never like in the 1950s, Father Knows Best set the mold for family sitcoms that followed, cheerful morality plays where all life's problems are neatly wrapped up in a half-hour.
It's a cliche to say that shows like this provided a template for white anglo saxon American families to live by in the 1950s but it is also the case that several generations have grown up with this program thanks to syndication in the 1960s & '70s and reruns on Nick At Nite in the 1980s & '90s.
The 1954-55 season of Father Knows Best has all the charm but lacks the wit of Ozzie & Harriet. It's a pleasant enough diversion from our modern reality, cute if archaic. For instance, in the very first episode, Bud is learning to waltz for the Jr. High School dance. Can you imagine that kind of face-to-face close dancing today? (Granted, today's teens still dance close, they just do it doggy style.)
WATCH THIS TRAILER FROM FATHER KNOWS BEST ON DVD
Quicktime / Windows Media
The highlight of this DVD collection are the extras, including interviews with Elinor Donahue and Lauren Chapin, the actresses who played the daughters. It's informative and cleanly produced, not overbearing like so many of these features can be.
You also get the hilarious US Treasury Department short subject 24 Hours in Tyrantland, a public service film shown in schools and churches extolling the virtues of Savings Bonds; some very nice home movies narrated by the Young's grandson; and the too-awful-for-words pilot episode of Robert Young's first series after Father left the air, Window on Main Street.
Fans of Father Knows Best will be undoubtedly thrilled with this new DVD collection.
---
TV on DVD Reviews: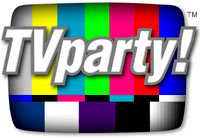 TVparty! for TV Shows on DVD!
Patrick Duffy of Dallas Interview
| | |
| --- | --- |
| | Reviews by Billy Ingram, as seen on VH1, Trio and Bravo. |




Carol Burnett Show on DVD
| | |
| --- | --- |
| FEATURES YOU MIGHT ENJOY: | |
---
Format: Box set, Color, DVD-Video, Full Screen, NTSC
Language: English
Region: All Regions
Aspect Ratio: 1.33:1
Number of discs: 4

Studio: Shout Factory
DVD Release Date: April 1, 2008
Run Time: 660 minutes

Product Description:
Maybe he didn't always know best, but insurance salesman Jim Anderson (Robert Young) of Springfield, Ohio, was America's favorite head of household. Father Knows Best premiered on CBS in October 1954 and has been part of the American cultural fabric ever since. Every week families gathered around the television set to join Jim, Margaret, Princess, Bud and Kitten in their very first year as everyone's favorite 50's family.

On DVD for the first time ever, this 4-disc set contains the Complete first season.

BONUS FEATURES *New cast interviews *Robert Young's home movies *Rare behind the scenes color footage *24 Hours In Tyrantland, special episode created for the U.S. government. *Window On Main Street pilot episode, Robert Young's very next TV series.
TV Shows on DVD
Holiday Specials on DVD
TV Commercials on DVD
Amazon Prime - unlimited streaming
of your fave TV shows and movies!
Get your FREE 30 Day Trial!
Everything you're looking for is here:
Shop Amazon's New Kindle Fire
Everything you're looking for is here: