---
Review by John Stahl

John Stahl is a freelance legal writer who is also a fan of classic and cult television programs. He can be reached at
tvdvdguy@gmail.com
.
---
---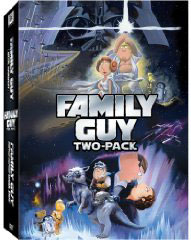 Family Guy: Something, Something, Something, Darkside
Product Details
Actors: Seth MacFarlane, Alex Borstein, Seth Green, Mila Kunis, Mike Henry
Directors: Dominic Polcino
Writers: Seth MacFarlane, Alec Sulkin, David Zuckerman, Kirker Butler
Producers: Alex Borstein, David Hemingson, Kim Fertman
Format: Animated, Color, Dolby, DVD, Full Screen, Subtitled, NTSC
Language: English
Subtitles: English, French, Spanish
Aspect Ratio: 1.33:1
Number of discs: 2
Rating: Unrated
Studio: 20th Century Fox
DVD Release Date: December 22, 2009
Run Time: 92 minutes


Product Description
Family Guy Presents: Something Something Something Dark Side:
The story of The Empire Strikes Back is retold. Darth Vader (Stewie) is hunting the rebel Luke Skywalker (Chris) and his troops relentlessly across the galaxy. On the ice planet Hoth, Luke has a vision of his late mentor Obi-Wan Kenobi (Herbert), telling him to go to the Dagobah system to learn the ways of the Force under Jedi Master Yoda (Carl). Meanwhile Princess Leia (Lois) finds herself taking a shine to the scruffy pilot Han Solo (Peter) and, against all odds, the two soon fall in love. But an encounter with Han's old friend Lando Calrissian (Mort) lands them in the clutches of the Empire. Envisioning this, Luke chooses to forgo his Jedi training to save his friends. It all comes to a head in a climactic confrontation with Darth Vader himself…

The Family Guy: Something, Something, Something, Darkside DVD is presented in full screen aspect ratio featuring English 5.1 Dolby Surround, Line 21, English for the Deaf and Hard of Hearing, English, Spanish, French, and Brazilian stereo and subtitles. Special features include:
? Audio Commentary
? Deleted Scenes
? Behind-The-Scenes Featurette – "The Darkside of Poster Art"
? Animatics
? Pop-Up Video
Family Guy - Blue Harvest:
What better way to launch Family Guy's sixth season and commemorate Star Wars' 30th anniversary than with this double-length Very Special Episode, a full-scale, awesomely animated spoof that recasts George Lucas' saga with Family Guy's galaxy of characters: Chris (Seth Green) is Luke; Lois (Alex Borstein) is Princess Leia; Peter (Seth McFarlane) is Han Solo, but not, as expected, Jabba the Hut; Brian (Seth, again) is Chewbacca; Quagmire (and again, Seth) is C3PO; Cleveland is R2D2; Herbert, the creepy senior pedophile, is Obi-Wan (both voiced by Mike Henry); and, of course, Stewie (Seth, already) is Darth Vader ("My diapers have gone over to the dark side"). Poor Meg is reduced to a cameo as the hideous reptilian creature that haunts the garbage compactor. Blue Harvest is reverently faithful to A New Hope, while engaging in typical Family Guy pop-culture references (everything from those old Grey Poupon commercials to Doctor Who, Airplane, Dirty Dancing, and Deal or No Deal) and bizarre digressions (the iconic opening crawl detours into an appreciation of a "way naked" Angelina Jolie in Gia). Along for the wild ride are Judd Nelson, who contributes a voice cameo as John Bender for a Breakfast Club gag, Rush Limbaugh railing against futuristic affirmative action on Tatooine talk radio, and Beverly D'Angelo and Chevy Chase as the vacationing Griswolds observing the rebellion from their orbiting station wagon. A Star Wars spoof in 2007 isn't exactly uncharted territory. As Chris Griffin notes in this episode's final moments, Robot Chicken brilliantly did it months earlier (and let us not forget Mel Brooks' Spaceballs from 1987; or, on second thought...). But the Force is strong with Family Guy, and who could resist the opportunity to hear the Muzak playing in a Death Star elevator? --Donald Liebenson
PR4 & PR5 Pages for ads - CHEAP!
Carol Burnett Show on DVD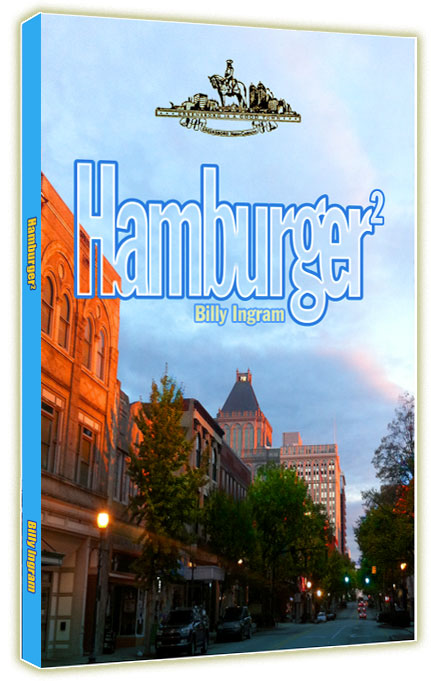 The focus is on Greensboro, NC!