Reviews of the newest DVD collections
of your favorite classic TV shows!
Click on the title to order - huge discounts and free shipping through Amazon.com!

---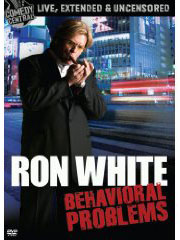 Ron White: Behavioral Problems (2009)
Good southern-fried humor
Reading the interesting observations of TVparty host Billy regarding the recently released DVD of the "Behavioral Problems" stand-up performance of redneck comedian Ron White that aired on Comedy Central on April 19 prompted me to get a copy. I agree with everything that Billy wrote about this production with one exception.
Billy commented that the portly White had no business making fun of fat people. I disagree only because White, who could easily drop 75 pounds, was talking about morbidly obese people who ooze Jabba the Hutt style from their airplane seats into yours.
The large size of White, the stench on his clothes from the cigars that he chain smokes, and the smell on his breath from the scotch that he downs that way other comedians drink bottled water would make him an unpleasant "temporary friend" during a flight. I suspect as well that trying to use some of our common armrest would jeopardize my wrist. However, I do not think that White's flab would invade my area.
White made his comments about the morbidly obese in an amusing segment regarding how he wished that the same software program that allows passengers to select seats from a diagram of the plane would also provide a photo and brief description of the person who would sit next to you. I would pay extra for that service.
As funny as White's remarks were regarding airline travel and his other topics, I was disappointed that most segments were too short and ended abruptly. He seemed to get bored with a topic, down a good portion of a glass of scotch, and move onto another subject.
The scotch also seemed to be a factor in several minor flubs that White made on stage. One that I recall involved referring to a USO tour in which he participated as a UFO tour.
I would like to comment as well regarding White's overall style, which he stated that he was told would not play well in Connecticut. I confess to being a native New England preppie whose taste in southern-fried humor runs to "The Beverly Hillbillies" and "Green Acres."
I was having dinner with friends whose families came over to New England on ships that arrived here a few years after the Mayflower. I was surprised when my friends, who did not know that I was reviewing White's DVD, referred to a joke that he made in the performance. This indicated to me that White's humor has a broader appeal than I thought.
My more general observation is that watching these performances on DVD is far superior to viewing them on Comedy Central; the ones that I have watched on that network have done a very sloppy job editing out "the seven dirty words you can't say on television" by cutting them out abruptly. My other complaint is that the network also tends to place commercial breaks in the middle of segments and start up jarringly at the end of the break.
The additional content that a DVD provides is another benefit to watching these stand-up performances on DVD. In the case of "Behavioral Problems," 40 minutes is added to the version that Comedy Central aired. DVD viewers also get four short segments that were edited out of both presentations.
Product Details
• Actors: Ron White
• Directors: Michael Drumm
• Writers: Ron White
• Producers: Ron White, Michael Drumm, El Armstrong, Andrea Allen, J.P. Williams
• Format: AC-3, Color, Dolby, DVD-Video, Subtitled, Widescreen, NTSC
• Language: English
• Subtitles: English
• Number of discs: 1
• NR (Not Rated)
• Studio: Comedy Central
• DVD Release Date: April 21, 2009
• Run Time: 71 minutes
---
TV on DVD Reviews: