Reviews of the newest DVD collections
of your favorite classic TV shows!
Click on the title to order - huge discounts and free shipping through Amazon.com!
(Ordering TV shows on DVD from the United Kingdom? Click here! )
---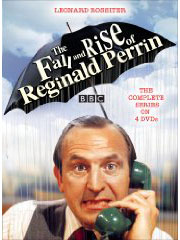 The Fall and Rise of Reginald Perrin
Good classic British comedy
The DVD set, which was released on May 5, of the three series (my people call them seasons) of the mid-1970s Britcom "The Fall and Rise of Reginald Perrin" is an amusing fable about the futility of seeking happiness. Perrin, who is the character seeking this bliss, is a suburban middle-aged, middle-class, middle manager.
On a broad level, the show has many similarities with "Monty Python's Flying Circus" in that it has a bizarre tone, clever writing, and some very fast dialogue. The show also adds in a touch of bedroom farce.
Each season is a distinct chapter in Perrin's life. He is stuck in a rut regarding his life and his job at a failing dessert manufacturer when we meet him and endures absurd situations that include a 24-hour maintenance department being closed and learning that his coat rack has more hooks than the company has authorized.
This season has a handful of Walter Mitty-like fantasy sequences in which Perrin daydreams about a better life, and an ongoing joke regarding office chairs that emit flatulence-like sounds is one of the Pythonesque elements of these episodes.
Season two begins with Perrin getting to experience the common fantasy of restarting his life with a new identity, finding that that has not solved his problems, and starting a new company that profits from selling people absolutely worthless items for ridiculously high prices. Silent record albums turn out to be a popular product.
Perrin then spends most of the third season trying to counsel other people who are seeking the same fulfillment that eludes him. The therapy includes non-competitive sports such as boxing matches in which each opponent hits himself instead of the other person.
The DVD also has an entertaining documentary on the career of British star Leonard Rossiter who plays Perrin. Learning more about a star who is not known well in the colonies was a nice treat.
A Christmas sketch that was filmed three years after the program ended fell more flat. Several minutes of this short presentation involved the same joke about colleagues and relatives of Perrin dropping in uninvited on Christmas morning and expressing concern for his welfare. Hearing more about the lives of the characters in the years since the show ended would have been more interesting.
Please do share your thoughts regarding this show as e-mail to tvdvdguy@gmail.com.
---
TV on DVD Reviews: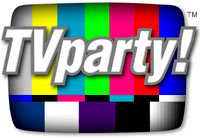 TVparty! for TV Shows on DVD!
Auto huren makes it possible to compare all car rental companies all over the world!
Compare the top sellers of Instagram followers on Buy instagram followers reviews!
An overwiew of guides and gutscheincode with the best tips and tricks to save money! on Ebookers.
Patrick Duffy of Dallas Interview
---
Review by John Stahl

John Stahl is a freelance legal writer who is also a fan of classic and cult television programs. He can be reached at
tvdvdguy@gmail.com
.
---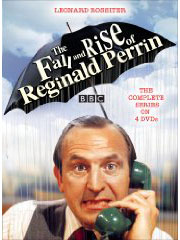 The Fall and Rise of Reginald Perrin
Product Description
Have you tried turning it on and off again?
In the gleaming high-rise offices of Reynholm Industries, powerful executives oversee billion dollar business deals. But in the dark and shabby basement, the company s IT Support Team bitter slacker Roy (Chris O Dowd), socially inept Moss (Richard Ayoade), and their new boss, computer illiterate Jen (Katherine Parkinson) rule their own domain of professional irresponsibility, mega-nerd ecstasy, and random acts of personal insanity.
Producer Ash Atalla (THE OFFICE) and writer/director Graham Linehan (FATHER TED), present the most critically acclaimed comedy series of the fall television season and a 2008 International Emmy Award winner for Best Comedy, now featuring deleted footage, audio commentaries, a behind-the-scenes documentary and much more.
"Kick Arse Comedy!" -Aubry D'Arminio, Entertainment Weekly
Actors: Chris O'Dowd, Richard Ayoade, Katherine Parkisnon, Christopher Morris
Directors: Graham Linehan
Format: Color, DVD-Video, NTSC, Widescreen
Language: English
Region: Region 1
Aspect Ratio: 1.78:1
Number of discs: 1
Rating: NR (Not Rated)
Studio: MPI HOME VIDEO
DVD Release Date: March 31, 2009
Run Time: 144 minutes
ASIN: B001NOMOS8
---
Shop Amazon's New Kindle Fire