* Classic & Current Television Blog *
FIRST RUDOLPH SIGHTING
Patrick writes: Last night, during (I think) House, I saw a commercial for Verizon, with a cell phone smack dab in the middle of the Island of Misfit Toys. I don't remember much about it, except that "Charlie In The Box" and the "Misfit Girl Doll" are prominently featured. I don't remember Rudolph or Santa making an appearance; I'll need more viewings before the ad burns itself into my memory. The ad itself looks like it could have been shot in 1964; the film grain matches what we see in the "Rudolph" special. Keep an eye out for it, and the "Aflac" ad with Rudolph and Santa from last year (although I have yet to see the second one. It still is early, isn't it?)
Tuesday, November 10, 2009 10:30pm
WOULD YOU LIKE TO RESPOND?
50 YEARS AGO
Kevin Butler points out an historical milestone: Thursday, November 26, 2009 marks the 50th anniversary of the network TV debut of the CBS All-American Thanksgiving Day Parade Jubilees. On that date half a century ago the network execs at CBS and producer Mike Gargugilo broadcast four different parades from four different locales.

Featured on that first broadcast: The Gimbel's Thanksgiving Day Parade from Philadelphia; The J. L. Hudson Parade from Detroit; The Macy's Thanksgiving Day Parade from NYC; and The Eaton's Santa Claus Parade from Toronto, Canada. (Eaton's Parade was always pre-taped in advance for later broadcast).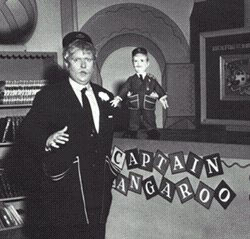 The first main MCs for the parade's early telecasts were Captain Kangaroo (Bob Keeshan), Mr. Green Jeans (Hugh Lumpy Brannum) Gus (Cosmo) Allegretti's puppets Mr. Moose and Bunny Rabbit. The group would view the parades via a giant TV monitor which The Captain called "The Magic Picture Window Screen."
On the last broadcast of the parades that he would MC in November of 1965, Captain Kangaroo's co-host was ventriloquist and entertainer Shari Lewis.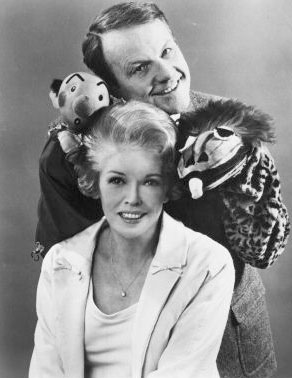 The other main hosts for the later parade telecasts were Peter Graves (who was just beginning his stint as Jim Phelps on "Mission Impossible"); Bob Barker; Kukla, Fran (Allison) and Ollie with The Kuklapolitan Player Puppets, The Bil Baird Puppets, William Conrad and Larry Hagman.

With the exception of Kuklapolitans, Mr. Barker and The Bil Baird Puppets, the other main hosts / narrators worked against the backdrop of a living room in a private house. This was done to give the viewers at home the feeling that they were sharing their holidays with warm and caring friends.
Many well-known performers and personalities served as the on location commentators for the parade broadcasts: CBS TV newsmen Jack Whitaker and Gene Crane (who also hosted two CBS kid's talent shows in the 1950s - "Grand Chance Round Up" and "M&M Candy Carnival"/"Contest Carnival"), Valerie Bertinelli ("One Day At A Time"), Danielle Brisebois ("All In The Family" and "Archie Bunker's Place"), Sorrell Booke ("The Dukes Of Hazard"), The Hudson Brothers, Isabel Sanford and Sherman Hemsley, and Kevin Frasier ("Kojak") commented on The Gimbel's Thanksgiving Day Parades from Philly.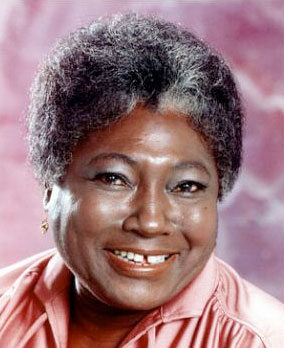 Esther Rolle & John Amos ("Good Times"), Linda Lavin ("Alice"), Ned Beatty, and Captain Kangaroo (Mr. Keeshan) and Kathy Garver ("Family Affair") commented on the J. L. Hudson Parades; Bob Barker and Rob Reiner commented on the Macy's Thanksgiving Day Parades" from NYC and Michael Lerned , Art & Jack Linkletter and Bob Denver, Herschel Bernardi, Jim Backus ("Gilligan's Island") commented on the Eaton's Santa Claus Parades from Toronto.

When the Eaton's Santa Claus Parades were dropped from the broadcasts, CBS TV acquired the rights to telecast "The Hawaiian Floral Parades" from the city of Honolulu. Loretta Swit ("M*A*S*H") and Gregory Harrison ("Trapper John, MD") hosted one parade telecast with the intros pre-filmed by actor Jack Lord (who was still playing Police Lt. Steve McGarrett on "Hawaii Five O").

Many well known performers and personalities served as The Grand Marshals for The J. l. Hudson, Gimbel's and Macy's Parades - actor Van Williams (ABC/20 Century Fox TV's "Green Hornet") and children's book author and artist Teddy Geisel ("Dr. Seuss) appeared in The J. l. Hudson Parades; American Bandstand's Dick Clark, actress and singer Andrea McArdell (who was appearing on Broadway as "Annie"), musician and television MC Ted Mack (the second host of CBS TV's "Original Amateur Hour") and Captain Kangaroo were the Grand Marshals for The Gimbels Parades; Captain Kangaroo was the Grand Marshall for The Macy's Parade.

The late Soupy Sales appeared in The Macy's Parades in NYC in November,1964, November,1965 and again in November,1966.
'Captain Bob' Cottle (the second and last host/performer and instructor of NBC TV's and Hanna/Barbera's "Ruff & Reddy Show"), Gene London (who played "Tinker Tom The Toymaker" on WJZ/WABC 7's "Tinker's Workshop"), Shari Lewis, and Herb Sheldon (the MC of many popular NYC based kid's TV shows) played a lion tamer in the NYC Macy's Parades.
Gene London and Mark Ritts' puppet Flam Flamingo (both appearing on Mr. London's last kid's show "The Gene London Show" on WCAU TV 10 in Philly) appeared on the Gimbel's Parade from The City Of Brotherly Love. Gene London also appeared as Tinker Tom the Toymaker at the NYC Macy's Thanksgiving Day Parade back in the late-1950s.
CBS TV even broadcast "The Mummers Parade" one year.
Eventually, the Gimbel's, J. L. Hudson and Hawaiian Floral Parades were dropped and CBS began broadcasting the NYC Macy's Thanksgiving Day Parade in its entirety with the hosts/interviewers of "The CBS TV Early Show" serving as the commentators.
Here's a Thanksgiving Day Parade moment from the past - a commercial break from 1989.
Tuesday, November 10, 2009 8:38am
WOULD YOU LIKE TO RESPOND?
INTERESTING
Why not enjoy this free excerpt from the book 'The Laughmakers' by former Bob Hope writer Bob Mills - The Night We Thought Bob Hope Suffered a Heart Attack.
Here's another just uploaded - "We Have Liz and Dick! Who Needs Cleopatra?"
Saturday, November 7, 2009 11:38am
WOULD YOU LIKE TO RESPOND?
YOU TUBING
Difficult as it is, I'm having a blast filming the movie I'm working on. It's been a while since I was serious about acting so I was thinking about some of the great scenes in classic movies I saw as a younger person, some of the rawest moments captured on film. This scene from I Could Go On Singing with Dirk Bogarde, Judy Garland and Jack Klugman is a super example. The film itself is so-so but the hospital scene alone makes it all worthwhile.

Less serious but just as riveting is the scene in The Star - another mediocre film with lots of wow moments - like when Bette Davis goes off on her leeching relatives. That one always makes me laugh. That's not on You Tube, darn it, but these scenes with Natalie Wood and Miriam Hopkins are a treat - watch as Bette explains why she's still as star despite being washed up. That scene comes about 5 minutes in.

Because my character is somewhat of a charlatan I've been re-watching the best W. C. Fields and Mae West movies, I think they're my very favorite of all. Klondike Annie is one of my faves, again the best scenes are AWOL on You Tube but there is this nicely rendered version of 'Deep Blue Sea' by Mae West.
Which reminds me of the Rock Hudson / Mae West pairing from a 1957 awards show.
Now you've had you daily dose of divas.
Saturday, November 7, 2009 10:46am
WOULD YOU LIKE TO RESPOND
Read more Blog entries here!