* Classic & Current Television Blog *
STILL FUNNY
The Holy Grail for TV lovers in the 1970s were the Star Trek blooper reels assembled after each season of the original 1960's series. Unless you saw it at one of the few conventions where it was screened there was no real opportunity to view it. Maybe if you knew a plugged in collector who had a copy, but I didn't know such people.
In the 1980's they turned up on VHS compilations and, of course, they popped up on You Tube early on. Here's a third season mix up of mix ups. Notice DeForest Kelley (Dr. McCoy) is doing his scene with a cigarette in his hand, just out of camera range.
Sunday, February 7, 2010 10:26am
WOULD YOU LIKE TO RESPOND?
MORE COMICS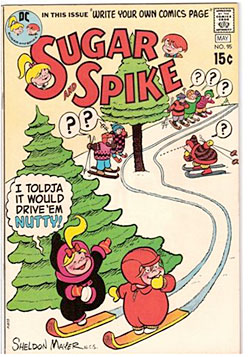 I mentioned earlier that I collected comics when I was a kid, by the time I quit in 1977 I had practically every Marvel & DC superhero comic from 1965-1975 along with a bunch of other publishers. I wasn't a fan of the humor books which were most unfunny but I did buy Sugar and Spike by the great Sheldon Mayer, he was in a league of his own.
But there was a humor comic I bought one time only that I thought was delightful - but I never saw another issue. I couldn't exactly rememer what it was, I knew it was about a monster and that a Stanley had something to do with it. I would occasionally purchase a copy of DC's Stanley & His Monster but that clearly wasn't it. I came to learn later that it was Dell Comics' Melvin Monster that I had been searching for.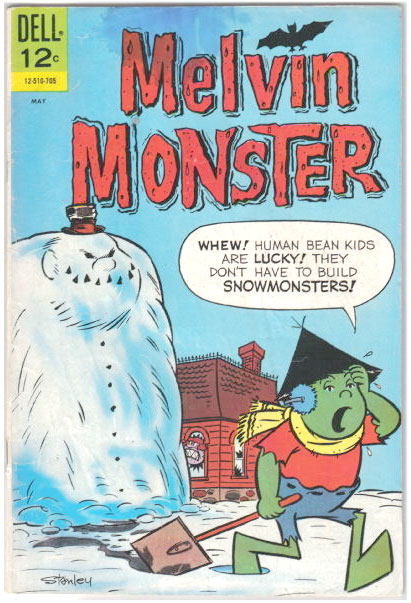 Melvin Monster, written and drawn by John Stanley, ran for 10 issues from 1965 - 1969 (the last issue was a reprint of #1). 10 issues in 4 years is a pretty spotty run for a comic book, so it's no wonder I never ran into another issue.
Unbelievably, there's a new hardback reprinting the series and I recently bought the first edition just to see if my youthful longing was justified. It was, in spades! What a delightful read this is, a lusciously designed book who's only flaw is that the covers aren't reprinted for some reason that isn't explained. I didn't know I could still enjoy comics as much as I am reading these gems.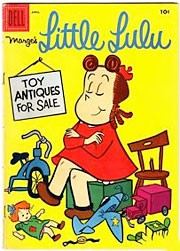 Stanley was best known for his Little LuLu comics that began in the 1940s; they are also a delight and are reprinted in paperbacks for your modern reading pleasure. Stanley wrote and drew the early issues and later wrote the stories for Irving Tripp to illustrate through the 1950s while continuing to draw the covers himself.
Stanley also wrote and drew many of the classic Nancy and Sluggo comic books although he didn't do the lame newspaper comic strip. Those strips are collected in a new hardback as well.
Some artists do their best work in later years and I think that was the case with John Stanley. See more Melvin Monster covers here.
Sunday, February 7, 2010 9:12am
WOULD YOU LIKE TO RESPOND?
ANOTHER LOCAL TV LOSS
Kevin Butler writes: David Dedrick, a former TV weatherman at station KELO TV 11 in Sioux Falls, South Dakota who became a popular kid's TV host, died recently. He was 81 years old.
He joined KELO TV on May 19, 1953 and did the weather reports, served as an announcer and MC'd other programming at the station.

It was not until 1955 when the Channel 11 station execs began creating a daily kid's series and were in need of a host. They approached Mr. Dedrick with the offer to host the program.
At first he was reluctant but tossed a coin and the decision was made. Basing the character and the concept on a local program was that already on the air on a local station in the Twin Cities and featuring future TV game show host Jim Lange, Mr. Dedrick became a futuristic superhero who donned a blue jumpsuit, cap and headphones.
Captain 11 would feature a studio audience of kids engaged his
crew (the kids in the studio) in games, interviews, contests and informational segments between reruns of old movie and TV cartoons.
In the beginning Captain 11 reran the Popeye movie cartoons but feeling that they were not appropriate for his viewers, Dedrick asked the station management to replace the films with more friendly viewer fare.
Popeye was replaced by the Hanna/Barbera cartoon package, other cartoons would be seen on the series. The films were chosen via "The Time Converter," a machine that had flashing lights that appeared on the set.
Kids would be invited to go up to the device, push the buttons and the cartoon would appear.

"The Captain 11 Show" remained a popular series in the midwest until 1996 when Mr. Dedrick decided to retire. His retirement became front page news on many newspapers throughout the USA.

On his very last show (which was broadcast live from the KELO TV Studios in December 1996 and taped for rebroadcast) Mr. Dedrick donned the uniform and cap one last time as he screened some cartoons and entertained his fans both young and old and gave a farewell speech.

Prior to his retirement Dedrick wrote his memoirs "It Ain't All Cartoons" which was published by a local vanity press The book was reprinted and sold again in 2005 to help celebrate the show's 50th anniversary.
He made two last public appearances in 1997 and Dedrick was inducted into The South Dakota Broadcasters Hall Of Fame and was the guest commencement speaker at Dakota State University's graduation.

His "Time Converter" and other memorabilia are on permanent display at the Museum Of The South Dakota State Historical Society At The Cultural Heritage Center In Pierre.
I was lucky enough to do a phone interview with Mr. Dedrick at the time of his retirement and he was kind enough to give me information about his career.
Sunday, February 7, 2010 7:40am
WOULD YOU LIKE TO RESPOND?
THIS 'N' THAT
Former teen heartthrob Leif Garrett was busted again for heroin possession. I actually met the guy a few times in the mid-1980s, once at a party for the new wave band Missing Persons. He was a nice guy and this is a shame.

Ken Reid is up for Boston's favorite comedian in a Boston Phoenix poll. Won't you jump over and vote for him?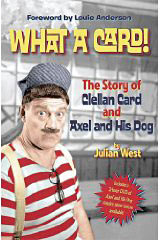 Julian West sent me a copy of his book 'What A Card' and it's a wonderful read even if, like myself, you didn't grow up in the Twin Cities and have no clue about the local kiddie shows in that area. That's because at it's heart, like any great book, it's about people. And the persons at the core of this story - Clellan Card and Mary Davies ('Axel and His Dog') - crafted a captivating children's universe on their small television stage. This book brings these personalities to vivid life and left me with a nostalgic pang as I reflected back on the local heroes I grew up with. Add to that the 2 hour DVD of Axel and his Dog programs and you've got a home run between two covers. This is the best book ever produced on local kid shows of TV's golden age, I can't recommend this book highly enough. No wonder it's earned a five star rating at Amazon and it's a best-seller through TVparty as well.

For some reason I Netflixed the last season of Frazier, I hadn't realized how funny the show still was when it left the air. Martin Crane gets a girlfriend and there's a cool guest star (like Patrick Stewart and Jennifer Tilly) every week that makes the show even more fun.
Friday, February 5, 2010 7:29am
WOULD YOU LIKE TO RESPOND?
Read more Blog entries here!