FALL OF '75
Here's a page from a 1975 TV Guide (Central NC edition), notice how many celebrity laden game shows there were crowding the mornings.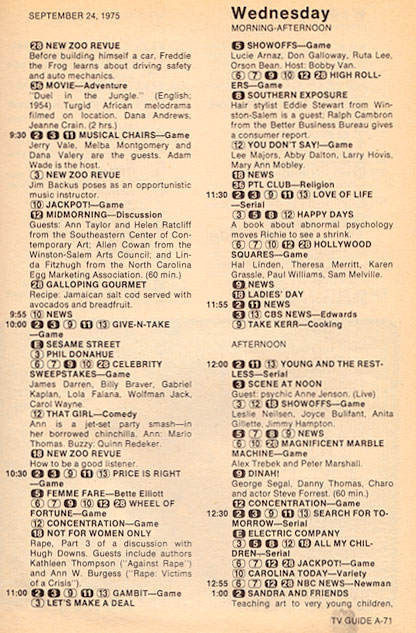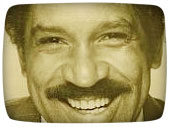 A game show resurgence was under way led by ratings blockbusters The Price Is Right in the mornings and Match Game in the afternoons. One of those shows, Musical Chairs, was hosted by Adam Wade, the first black game show host in America. That show was interesting in that they booked musical stars rather than the TV-centric guests on other AM shows.
I attended a taping back in '75 when the musical guests were Sister Sledge. Unfortunately the game was too convoluted, there was a musical number involved as I recall, and they had fallen behind on the game so each episode opened with what was supposed to be the final round from the day before. I don't know if they ever got back on schedule before the game was cancelled after only four months.
Wednesday, October 20, 2010 - 11:27am
WOULD YOU LIKE TO RESPOND?
ANOTHER?!?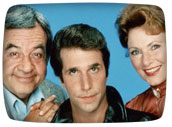 Every time one of these classic TV greats passes it makes me feel older. Kevin Butler writes: Sadly, TV sitcoms and cartoons has suffered another loss.
Actor/singer and cartoon voice over performer Tom Bosley yesterday at his home in Palm Springs, Cal. He was 83 years old and he had been suffering from a Staph Infection.
Born in Chicago on October 1, 1927 Bosley began his career as a stage performer, singing and acting in local productions.
He would later come to NYC where he appeared in some stage shows until 1959 when he made his Broadway debut in the musical "Fiorello" (based upon the life and career of former NYC mayor Fiorello H. Laguardia).
"Fiorello", which also starred Nathaniel Frey, Howard Da Silva and actor/singer Bob Holiday (who would star in the original Broadway production of "It's A Bird, It's A Plane, It's Superman" a decade later) became a hit and went onto win the Pulitzer prize for Best Broadway Musical.
Mr. Bosley also appeared in many films Including "Yours,Mine & Ours" (The Lucille Ball/ Henry Fonda version) and "Divorce American Style" with Dick Van Dyke, Debbie Reynolds, Jason Robards, Shelly Berman and Joe Flynn.
He also did voice overs for cartoons "David The Gnome", "Wait Till Your Father Gets Home" with Jack Burns, "Pinocchio & The Emperor Of The Night" (in which Mr. Bosley was the voice of Pinocchio's father Gepetto) and the animated remake of the 1950's live action musical version of "A Christmas Carol / The Stingiest Man In Town" for NBC TV and Rankin/Bass in 1978 (Mr. Bosley was the voice of the show's narrator "I.A.M.Humbug")
Tom Bosley also appeared as Debbie Reynolds' next door neighbor on "The Debbie Reynolds Show" but he is best remembered for his role as Howard Cunningham, the hardware store owner and patriarch of the Cunningham family on the Gary Marshall/ABC sitcom "Happy Days".
Mr. Bosley also served as the off camera host/narrator of the old movies documentary series "That's Hollywood" in 1977.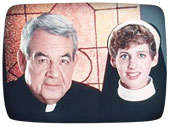 After "Happy Days" went off the air he starred in one more TV series "The Father Dowling Mysteries" where he played a Chicago based priest who, with the aide of nun "Sister Steve" (Tracy Nelson), solved baffling murders.
After the cancellation of "The Father Dowling Mysteries" Mr. Bosley's TV appearances were mostly limited to appearing on talk shows, nostalgia specials, TV Movies and Award Shows. He hosted the CBS TV educational kid's special "Make Em' Laugh, A Young People's Comedy Concert" which was taped at Santa Monica's "Mayfair Music Hall" and featured performances by mime Bob Shields, The Hudson Brothers, Soupy Sales, Rip Taylor, Pamela Myers and Jim MacGeorge & Chuck McCann)
His last TV appearance was on this year's "TV Land Awards" with Marion Ross (who played his wife on "Happy Days").
Wednesday, October 20, 2010 - 7:49am
WOULD YOU LIKE TO RESPOND?
THE HOLIDAYS ARE JUST AROUND THE CORNER...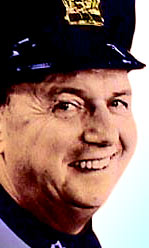 Someone wrote me recently and asked why there were so many TV specials for every imaginable holiday but very little centered around Thanksgiving. I have no idea, but Kevin Butler has a rundown on the live Turkey Day TV broadcasts in New York City: November 24, 2010 will mark the 50th anniversary of the debut of one of New York City's most popular and enduring holiday TV traditions, WPIX 11's Thanksgiving Day Jamboree.
Unlike WNEW TV 5's "Wonderama Thanksgiving Day Parties," which were impersonal, the setting for Channel 11's Thanksgiving Day celebrations were set in the pretend living room of a private house.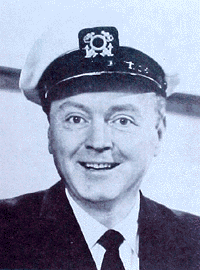 The atmosphere was fun, light and engaging as WPIX's two top kid's show performers Officer Joe Bolton and Captain Jack McCarthy invited the children from St. Barnabas House (a foster home on Manhattan's lower East side) to participate in sing-a-longs, story time, craft making, informational segments.
They also had contests where the kids played the games from the show's sponsors, the Louis J. Marx and Deluxe Redding/Topper Toys Companies.
These segments were wrapped around the Popeye movie cartoon "Pilgrim Popeye", The Three Stooges film comedy "Back To The Woods", TV shows "Jeff's Collie" ("Lassie") and "Casey Jones" among others.
At the end of the program Officer Joe and Captain Jack would invite the children to sit down and enjoy a turkey dinner with them.
Read all about the NYC Thanksgiving Day TV Specials!
Tuesday, October 19, 2010 - 8:02am
WOULD YOU LIKE TO RESPOND?
NEWS OF THE WHIRLED
Conservative idiot Jonah Goldberg put together a panel of feeble minded young writers for a C-Span discussion that went off the rails when Todd Seavey - who used to date a woman on the panel - went on the attack. Of course, because his thinking is warped like a melted LP it comes across like that annoying guy at the comic book convention who asks a 'question' that's really meant to show how intelligent he is but inadvertently exposes his inner loon. Spending a few minutes with goofballs like these could make you squirrelly.
The road to comeback - Mel Gibson will play a small role in Hangover 2.
Teachers are getting fired for flirting with students on Facebook. What?!?!?

Progress on the social justice front - men in the United Arab Emirates can legally beat their wives and kids as long as they don't leave marks. What's wrong with people? When your idea of marriage is a scene from Oz maybe you should do some rethinking.
Tuesday, October 19, 2010 - 7:08am
WOULD YOU LIKE TO RESPOND?
SMOTHERS MONDAY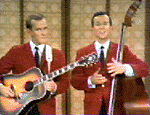 I've been a big fan of the Smothers Brothers since I was in knee pants. Biting political humor got the Smothers fired from CBS back in the sixties, their abrupt ouster no doubt sent a chill through any comic who thought taking potshots at the powerful might be a good career move. Their comedy act thrived over the decades until the duo announced they were retiring from touring after 51 years on May 16, 2010 following a gig in Vegas.
Dick Cavett sat down with the guys on his ABC talk show in the 1970s, I believe at the time the act was broken up. All humor comes from truth, Tommy Smothers did have a drinking problem at the time - what was he on here?
Here are the Smothers Brothers back when David Letterman started his new CBS show in 1992.
Craig Ferguson hosted the brothers more recently, proving that they remain one of the greatest comedy duos of all time. Watch as they incorporate the same gag they did on Letterman a decade before but with a new twist.
Monday, October 18, 2010 - 8:45am
WOULD YOU LIKE TO RESPOND?


Read more TV Blog entries here!