* Classic & Current Television Blog *
NEW SHOW REVIEW
I just previewed a wonderful film that's coming to HBO this week. The Jazz Baroness is the amazing tale of one of the privileged Rothschild daughters (yes, those Rothschilds) who went from unimaginable wealth to throwing in her lot with struggling African-American Jazz great Thelonious Monk and the culture of Jazz in the 1950s. It's a mysterious story that takes you from Auschwitz to the small clubs of New York during the heyday of that city's Bebop scene.
From the program description: She was a beautiful British-born heiress from a powerful Jewish dynasty. He was a quirky African-American musical genius who helped pioneer the jazz revolution known as bebop. They met in Paris in the 1950s and were inseparable for the next 28 years, as she became a loyal friend and fiercely protective patron of some of the era's greatest musicians. THE JAZZ BARONESS chronicles this unlikely, controversial relationship.
This is another prime example of the finest documentaries of the day presented by HBO and it debuts tomorrow, Wednesday November 25th at 8:00pm. Don't miss it.
Tuesday, November 24, 2009 10:55am
WOULD YOU LIKE TO RESPOND?
DVD REVIEW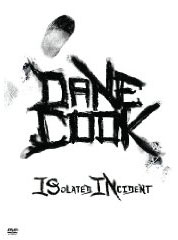 : Dane Cook: ISolated INcident
Dane Cook loves his big, fat cock - he must, he regales the audience with stories about his alleged large member with the glee of a schoolgirl playing out in a snow shower. Judging from the squeals coming from the audience every time he mentions it, he may have found a new hook for his act.
The almost unrecognizable comedian (what happened to those boyish looks?) rattles on about life, love and proctology in a TV hour taped at The Laugh Factory in LA, a smaller venue than he's been used to lately. He occasionally hits a funny patch but for the most part this is second rate stand up, a pale reflection of the comic that apparently peaked about a decade ago.
One of the main reasons fans buy these stand up DVDs is for the extras and there are two - an interview with Dane Cook and 30 Premeditated Acts where the comedian elaborates on the themes in his act. All for the low price of $11 if you order online now. Fans will be pleased I'm sure but this wasn't one of the funnier routines I've seen.
Tuesday, November 24, 2009 10:50am
WOULD YOU LIKE TO RESPOND?
STUFF
Jay Blotcher tells us about the 60th Anniversary of a very early television great: A classic example of the "Chicago School of Broadcasting," which featured intimate, improvisational entertainment in the early days of TV, Studs' Place starred Studs Terkel as the proprietor, with his, as The Complete Directory to Prime Time Network and Cable TV Shows puts it, "garrulous, philosophical ramblings the center of attention." The comedy-variety style show also featured a considerable amount of music, especially jazz performed by notable talents. In its Nov. 30, 1949 review of the show, Variety raved: "It proves that simple talk and straight pianologging can make topflight TV, where there's an understanding of people and a feeling for authentic jazz." The series ran from 1949-52 until Studs Terkel found himself a victim of the McCarthy era and the Hollywood blacklist.
One of the great Thanksgiving episodes of a 1970's sitcom - from All In The Family's 6th season - the Bunkers argue about religion.
Wanda Sykes has been on a roll with her new talk show, at least with her monologues (that's all I've seen). Looks like Fox might have a winner after a long losing streak. I can't embed but hop over and have a laugh at her take on Obama Care from her November 15th program.
Monday, November 23, 2009 12:45pm
WOULD YOU LIKE TO RESPOND?
I'M BACK!
Sorry for the light - or non-existent - blogging. I've been busy filming and things are going great but I'm left with little time for the finer things in life - like blogging! With a few days off for Thanksgiving I can relax a bit. I take back everything I ever said in my life about how easy film actors have it. I've only done minor roles before, and they are easy, but building a character from the ground up ain't so simple.

BBC Video's Fawlty Towers Lookalike Contest is now closed for entry, but the public voting stage has now started. You can easily vote (up to 10 times) for your favorite entries here until this Sunday (11/22). Want to share this with your Twitter followers too? Click here to do so!
Speaking of which, John Cleese will be on The Tonight Show With Conan O'Brien Monday (11/23). BBC Video announces the winners (11/26).
This anniversary surprisingly got a lot of play in the press and online and I'll bet you heard about it - Kevin Butler writes:
50 years ago TV's third original cartoon series Rocky & His Friends debuted on the ABC TV network, created by Jay Ward and his new producing partner Bill Scott Ward (who, with his first co-producing partner Alex Anderson, created and produced TV's very first cartoon series Crusader Rabbit ten years earlier).
Rocket J. Squirrel and his dim bulb but helpful Moose pal Bullwinkle aided many individuals and even the US government being threatened by Boris Badinov, Natasha Fatale' and their infamous bosses Fearless Leader and that mean little squirt Mr. Big.

Along with the serial like antics of our two heroes (replete with pun like titles at the end of each episode) the series featured additional segments - Fractured Fairy Tales (a parody of children's stories told by character actor Edward Everett Horton) and Mr. Peabody's Improbable History where the brilliant but pompous scientist/inventor/word historian canine Mr. Peabody (a dog-like parody of character actor Clifton Webb's screen persona Mr. Belvedere) and his son Sherman travel thru time via the Way Back Machine to aid many famous persons in history.
The show also featured Bullwinkle reciting poetry and nursery rhymes in "Bullwinkle's Corner." Rocky & His Friends was seen weekday evenings on the ABC network until the show was dropped by ABC in 1961 only to return via the NBC TV network as a Sunday night feature under the new title The Bullwinkle Show.

On that series Fractured Fairytales was dropped and replaced by Aesop & Son, a spoof on the famous Greek slave turned humorist and his attempts to tell tales to his wisecracking son Aesop Junior. The storyteller and the boy's voices were performed by Charlie Ruggles and Daws Butler. The Bullwinkle Show also featured a parody of Perils Of Pauline called The Adventures Of Dudley Do Right.
Dudley, a bumbling Canadian Mountie, forever tried to capture the infamous villain Snidely Whiplash but he was not always successful. The voices of Dudley and Snidely were performed by Bill Scott and Hans Conried. The voices of Police Inspector Fenwick and his daughter Nell were performed by Paul Frees and my dear friend and fellow performer June Foray.
The Bullwinkle Show also featured new adventures of Mr. Peabody and his son and their continuing treks thru time and a segment with Bullwinkle that spoofed do it yourself TV instructional shows (Mr. Know it All) and regular meetings of "The Rocky & Bullwinkle Fan Club."

For the first few episodes the series featured live film openings with a Bullwinkle hand puppet (Mr. Scott did the puppet's voice). The puppet segment was dropped and the cartoons were shown complete without any additional intros.
The Bullwinkle Show's airtime on NBC TV was brief but the series would return in reruns as a Sunday morning favorite on ABC during the late-1960s and remained popular in nationally syndicated reruns well into the 1980s.
Some network promos for Rocky & Friends and Bullwinkle shows:
Saturday, November 21, 2009 9:28am
WOULD YOU LIKE TO RESPOND?
TELEVISION'S GREATEST YEAR?
A few weeks ago back a reporter contacted me for an article he was writing - since I haven't seen the article pop up anywhere, I'll assume it's a no-go and share with you what I wrote to him. The premise was - if 1939 is considered the greatest year in motion picture history, which year would be television's finest? Here's what I thought:
There is definitely a consensus on 1939 being the greatest year for motion pictures. The fact that it's entirely accidental and completely against all odds only reinforces the notion.
As for a greatest year in TV history, I'm not sure that's so easy to pin down. It would depend on when a person was born, I suspect, as people tend to define their favorite shows as the ones they enjoyed as children.
In terms of sheer quality the 1951-52 season might be my pick—I Love Lucy, Amos 'n' Andy, Red Skelton Show, The Jack Benny Program, Your Show of Shows and You Bet Your Life, would be hard to beat. Add to that the occasional flash of brilliance on Studio One, Kraft Television Theater and Philco Playhouse and you have a banner year. Here you had all of radio's brightest talents scrambling to make some sense out of a new medium and every one of those almost 60 year old shows hold up extremely well.
1965-66 would rank high on my list with Batman, Lost In Space, The Lucy Show, Get Smart, Man From UNCLE, Green Acres, Dick Van Dyke Sow, The Munsters, Hank, Hogan's Heroes, Gilligan's Island, F Troop, and at least another dozen other classics. These are shows that are (mostly) familiar and loved by the modern generation thanks to years of repeats on Nick at Nite and other cable networks. It was also the golden age of the variety show.
If I was one a desert island and could only receive TV shows from one particular year it would have to be 1972-73. I could live happily ever after watching Mary Tyler Moore, Sonny & Cher, M*A*S*H, Dean Martin, Bob Newhart, All In The Family, Laugh-In, Carol Burnett, Room 222, Sanford & Son, Maude, Odd Couple and a handful of others; they would keep me blissfully entertained as I bashed coconuts against the rocks.
Monday, November 16, 2009 5:43am
WOULD YOU LIKE TO RESPOND?


NEW SHOW REVIEW
Super Dave's Spike-Tacular
The Super One is back with a series of four half-hour shows packed to the gills with spectacular stunts.
Some may ask - is Super Dave too old for this type of thing? Those fears will be put to rest when you see how agile the guy is on a motorbike, he does high flying twists and turns in midair so deftly you'd swear - if you didn't know better - that it was a teenager up there.

With Bob Einstein's renewed popularity on Curb Your Enthusiasm (where he really is in his element) it's only natural that his Super Dave Osborne character would be resurrected. Still, I can't help but wish the show was centered around Einstein's natural goofy nature rather than the more overblown Super Dave persona.

Jillian Barbieri guest stars, I actually like this gal and she does well with her challenging role as a Hollywood bimbo. Amazing acting chops. No, actually she is good.
Super Dave's Spike-Tacular premieres Tuesday, November 17th on Spike TV at 9:00pm.
Sunday, November 15, 2009 7:35am
WOULD YOU LIKE TO RESPOND?
OVERHEARD CONVERSATION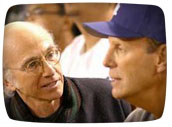 If you asked me for a list of people working in television that I'd most like to talk to, at the top of that list would be Bob Einstein. I've been a long-time fan, since The Smothers Brothers Comedy Hour where he played Officer Judy. Since that time he's been a television variety show writer / producer and is today best known for two roles - Super Dave Osborne and Larry David's nemesis Marty Funkhauser on Curb Your Enthusiasm.
Here's an excerpt from our talk about his variety shows of the 1970s:
Bob Einstein: We did some great stuff. We did Van Dyke & Company and Redd. I started as head writer of The Smothers Brothers when I was 22. I've been around a while, I'm still alive but barely, I think.

Billy Ingram: That was a great era, the whole variety show era.


Bob Einstein: You know, it really was. It really was. It was interesting, creative, talented television. You know, there were a lot of talented people.

I mean, television scares me now. You used to hear about this 'fifteen minutes of fame' but now it's fifteen months. To turn on my television and see Jon and Kate on the NBC Today show - who gives a shit about these people? And Octomom and the sisters, what have they ever done? I don't want to get started. But anyway, that's why I came back and I did Super Dave because I think it's time for something that's just pure fun.
Bob goes on to talk about Bizarre, writing with Steve Martin, why Dick Van Dyke's variety show ended, and then tells me a story about Redd Foxx that I had to clip out per Mr. Einstein's request.
He even gets around to talking about his brand new show, Super Dave's Spike-tacular which debuts on November 17th on Spike TV.
Listen to the 8 1/2 minute interview here.
Wednesday, November 11, 2009 8:00am
WOULD YOU LIKE TO RESPOND?
Read more Blog entries here!