* Classic & New Television Blog *
SAD PASSING
This is a shocker from the LA Times: '80s teen flick director John Hughes has died of a heart attack at age 59, a spokeswoman says. Hughes directed many teen comedies, including "Sixteen Candles."
Gosh, we worked on the ad campaigns for all of John Hughes' films back in the day - even the one's you don't remember like She's Having A Baby (or SHAB as we called it). One of the most memorable campaigns for me was for Hughes' Trains, Planes and Automobiles which I still think is one of the best holiday pictures ever - and one of the best movie posters of all time.
Friday, August 7, 2009 - 7:10am
WOULD YOU LIKE TO RESPOND?
RANDOM YOU TUBING
With the new fall season right around the corner, let's look at what the networks were offering the public in the way of new shows 35 years ago - here are some TV show openings from the fall of 1979 including Salvage 1, How the West Was Won, White Shadow, Harris and Company, Carter Country, Mrs. Columbo, The Dukes of Hazzard, The Ropers, and 13 Queens Blvd.
Batman and Robin cursing? Yeah, in this funny Adult Swim spot from a few years ago.
Friday, August 7, 2009 - 7:00am
WOULD YOU LIKE TO RESPOND?
ENTER THIS CONTEST
Don't miss the Burn Notice summer finale — "Long Way Back" — Thursday at 9/8C. Enter to win a Burn Notice Prize Pack! CONTEST OVER - THANKS!
Wednesday, August 5, 2009 - 8:38am
WOULD YOU LIKE TO RESPOND?
ROMPER BOMPER STOMPER BOO
Ed Golick solves the mystery: I understand that the Romper Room hats were given exclusively to children who appeared on the TV show. Since I've never seen one with a "Claster" or "The Romper Room" trademark tag, I believe that the hats were supplied to Romper Room shows across the country by Claster Television, strictly for TV use.
Since a Romper Room kid appeared on the show for only a week or two before being retired, the producers must have given out thousands of hats over the years.
I got mine from a former Romper Room kid. They usually go for about twenty bucks on eBay.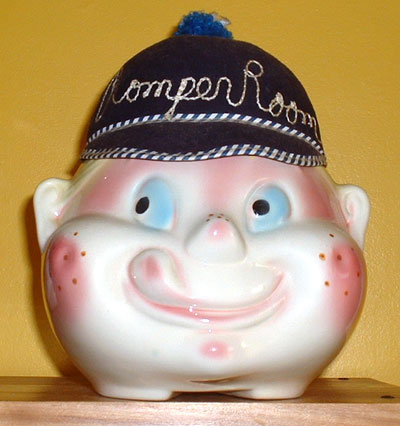 Tuesday, August 4, 2009 - 7:10am
WOULD YOU LIKE TO RESPOND?
LOCAL KID SHOW NEWS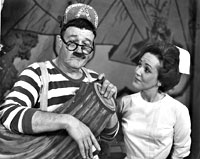 Julian West from the Twin Cities writes: Mary Davies (Carmen the Nurse) had emergency surgery on Saturday, August 1st, to clear a blocked artery. She's feeling a bit bruised, but generally doing pretty well. At 84, any kind of surgery carries risks, but her family feels fortunate that things went as well as they did.
Needless to say, this means that Mary will not be able to attend the book-signing at the Minnesota History Center tomorrow evening (August 4). If you'd like to send Mary Davies a get-well card, you can either give it to me at the book-signing tomorrow, or mail it to me at the address below and I will forward it to Mary. Thank you.
Julian West
3717 34th Avenue South
Minneapolis, MN 55406-2736

Don Stolz and I will still be at the Minnesota History Center tomorrow at 6:30 p.m. We hope to see you there!
Speaking of local kid shows, one of Philly's finest is being honored - The Reading Public Museum (Reading, Pennsylvania) is preparing for an exhibition for October 3, 2009 through May 30, 2010 titled "The Magic of Hollywood: The Gene London Costume Collection." It features selections from the extensive collection of Philadelphia-area kids TV show favorite, Gene London (60s &70s).
Monday, August 3, 2009 - 12:27pm
WOULD YOU LIKE TO RESPOND?
PETER MARSHALL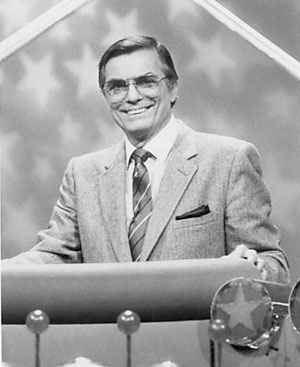 Since I brought it up in an earlier post, Kevin Butler writes: "There was a prime time edition of The Hollywood Squares that ran on Friday nights during the late-1960s. Peter Marshall, who hosted weekday morning version of the program, MC'd the prime time NBC TV network edition of the series as well.

"Most of the daytime stars appeared on the nighttime edition too but it was not a big hit and only lasted two seasons. The Hollywood Squares didn't return to nighttime until 1972, in national syndication. There was also a Peter Marshall syndicated nighttime version in the 1980s and Tom Bergeron's version. Of these, I prefer the Peter Marshall editions of the show."

Peter Marshall was one of those game show hosts that became so associated with the game that he probably wasn't in the running for other hosting gigs after his version of Squares went off the air in 1983 and the producers decided that the next incarnation of the show should have a new host, John Davidson. The combination of big name stars available for a day's taping and Peter Marshall's good-natured personality is what made Hollywood Squares an institution on NBC's daytime schedule during the late-1960s and 1970s. It really seemed like he was having fun up there and that shone through the screen.
For good measure, here are some of those funniest game show moments including a couple from Squares:
Sunday, August 2, 2009 - 12:07pm
WOULD YOU LIKE TO RESPOND?
ROMPER ROOM MEMORABILIA
Denise Price writes: "I just visited your website and took a trip down memory lane! Thank you for all the information. I was about to list a Romper Room Hat on ebay (see photos attached) that has been stored nicely for about 47 years. According to my Mom, I was a studio guest at about age five in 1957 and the hat is from that visit. The show aired in Birmingham, Alabama and was hosted by Benny Carl. Mom says there are photos of me at the show somewhere, so we'll look for them for you.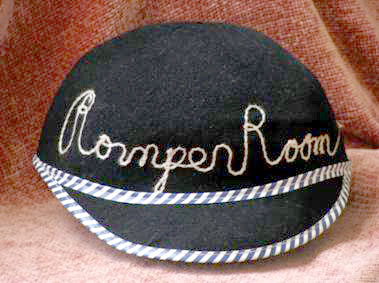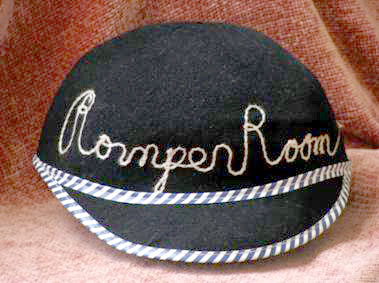 "I'm writing because I wonder about the child's hat. I haven't found it on any similar websites. Do you have any history on the little hat? I'd gladly exchange the photos of the hat for a little more information."
I've never seen one of these before, have you?
Sunday, August 2, 2009 - 11:12am
WOULD YOU LIKE TO RESPOND?
BLOG RERUN
In Real Player format, here are some random but rare video clips, like the closing to Pinky Lee's Gumby Show from 1955. This one's been posted before but now it's in a larger size. This is a really rare clip. The show was only saved because Michael Bitterman, who was celebrating his birthday on the show, got a copy of the film that day and preserved it for fifty years!
Sing Along With Mitch, 1961. A few minutes of the American Idol of the early-sixties. OK, that's a stretch - it was a sing along at home show where the words to the tunes were displayed at the bottom of the screen. The beginning of karaoke in America.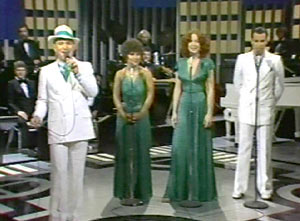 From the seventies, the closing of the third episode of The Manhattan Transfer variety show from August of 1975.
This was one of two series that filled in for the Cher show after her first season and it's a blast, a natural for DVD. Bob Marley and the Wailers were musical guests on this episode. Thanks to A.J. McWhorter for this, unseen since the summer of '75..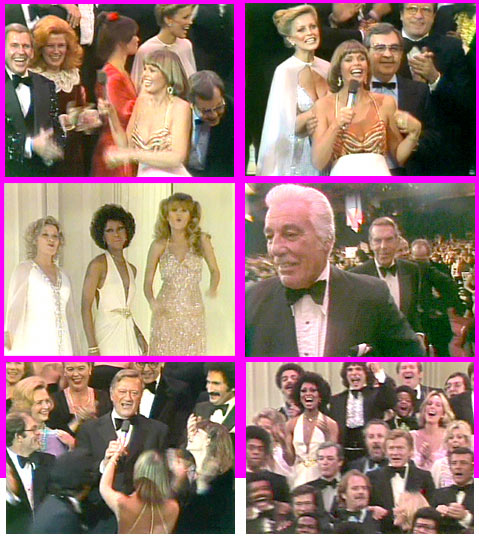 Was this the biggest collection of celebrities ever assembled for one TV show? Dozens of super (and less than super) stars gathered to celebrate ABC's 25th Anniversary for a special that aired in 1978. See for yourself:
As Toni Tennille twists the Rocky theme with new lyrics that extolled the network's virtues (like "Feelin' free is as easy as ABC") we see a pantheon of mighty luminaries that lit up the nights for ABC, from Lola Falana to Cesar Romero, Paul Lynde to Ricky Nelson. They gathered on the stage in an orgy of celebrity corporate goodwill, even John Wayne got in the spirit of things by singing along. And is that Billie Hayes (Witchiepoo) palling around with Chuck Connors?
Sunday, August 2, 2009 - 10:50am
WOULD YOU LIKE TO RESPOND?
Curb Your Enthusiasm
The entire regular cast of Seinfeld - Jerry Seinfeld, Jason Alexander, Julia Louis-Dreyfus and Michael Richards - will reunite on Curb Your Enthusiasm this season. It all builds up to the the season finale that will center around a Seinfeld reunion. The actors will each be seen in four or five episodes out of the ten show season that starts September 20th on HBO.
Friday, July 31, 2009 - 10:10am
WOULD YOU LIKE TO RESPOND?
Read more Blog entries here!