* Classic & Current Television Blog *
SATURDAY MORNINGS
Here are some classic TV commercials from around 1970. The first is for Funny Face drink mix followed by Jack Gilford in a Cracker Jack spot.
Remember the Hudson Brothers, they had a Saturday morning variety show in the mid-1970s. Someone has taken one of their songs and married some images from that period into a video.
The Hudson Brothers had a summer replacement show in 1974, here's a skit from that series with guest Andy Griffith.
More on the Hudson Brothers here.
Friday, January 2, 2010 9:20am
WOULD YOU LIKE TO RESPOND?
STUFF
From an old fan of Romper Room, now a current middle school teacher comes this question: My question is with regards to the syndicated (filmed) version of Miss Nancy, Romper Room in Baltimore. Were the syndicated versions the same films sent to various studios around the country who needed "replacement" Romper Rooms during emergencies and when the local hostess took a holiday? I just remembered the "letter/mail" segment of our local Romper Room out of Milwaukee, WI. The mailbox on the set gave the actual address in Milwaukee. However, when the local hostess was on vacation, and we had the filmed segments of Miss Nancy, I noticed that the mailbox was "blank" or just said "Romper Room". Why didn't it have a local Baltimore address? Or, was the Baltimore address on the mailbox for the local version (unadulterated) of Miss Nancy? I hope my questions are clear. Thanks for your advice.

I don't watch many TV commercials, I watch almost all of my TV on DVD, but I understand the McDonaldland commercials are history. Let's look back at the beginning of the wildly popular series, from 1970, as Ronald takes us on a tour of the almost edible wonderland. By the way, did you read about the person who saved a McDonald's hamburger from 1996 and it still almost looks like it's new?
Now watch the very first Ronald McDonald commercial - it's down right creepy! Smartly they ditched the paper cup nose and the food tray hat and toned down the smile a bit. Weird!
Voted BEST RADIO DESCRIPTION of the Pasadena ROSE PARADE for 10 Years Running! Your jovial hosts Anne Nicholson, Jodie Kepple and Bob Mills will be mike-side on NEW YEAR'S DAY to broadcast the 121st ROSE PARADE to 2.7 million listeners nationwide over the facilities of the Los Angeles Radio Reading Service, NPR and the RADIO TALKING BOOK NETWORK. The live program, themed this year "A Cut Above the Rest," gets underway at 8am PST and concludes at 11 am. Grand Marshal, US Airways Captain Chesley "Sully" Sullenberger, will accompany the first all-blind marching band, The Banda Musical Latina Pedro Molina from from Coatepeque Quetzaltenango, Guatemala. Access all the fun online at: LARRS.ORG or TOURNAMENTOFROSES.COM
Friday, January 1, 2010 7:55am
WOULD YOU LIKE TO RESPOND?
ELVIS LIVES
Celebrate New Year's Eve with the King - here's Elvis from a concert on this very occasion back in 1976.
Thursday, December 31, 2009 12:52pm
WOULD YOU LIKE TO RESPOND?
HAPPY NEW YEAR
Thirty years ago back in 1979 American were still being entertained by the dulcet tones of Guy Lombardo and The Royal Canadians on New Year's Eve on CBS. Well, the The Royal Canadians anyway, Guy himself passed away in 1977 but it was a testament to his popularity on New Year's Eve that the program went on without him for two more years. The live broadcast was so entrenched no other network could compete. Their recording of 'Auld Lang Syne' is, to this day, the first song of the new year heard in Times Square. Here's a bit from that last special, it all looks so quaint compared to our modern frenetic rockin' New Year's Eve shows.
Speaking of quaint, check out these Holiday messages that ran in movie theaters in 1959.
Wednesday, December 30, 2009 7:42am
WOULD YOU LIKE TO RESPOND?
I'M HARDROCK, I'M COCO, I'M JOE
I hope you and yours are having / had a wonderful Christmas - now on to New Years!

Friday, December 25, 2009 4:15pm
WOULD YOU LIKE TO RESPOND?
MERRY CHRISTMAS
In regards to some earlier posts Sean Dougherty of Friends of Old Time Radio adds: Edgar Bergen's last appearance was in The Muppet Movie, which I always thought was nice, all things considered. And if you called Mortimer, Charlie or Effie "puppets" to his face, he might have hit you. My understanding is that ventriloquists hate that.

Which reminds me of this appearance Edgar Bergen did on Jack Paar Tonight, the series that ran briefly on ABC in the 1970s. I believe this was on one of the last Paar programs, from 1973. Remember what a great job he did as Grandpa Walton in The Homecoming, the TV movie that spawned The Waltons? Wonder why he didn't get the series gig? It sure was good for Will Geer's career.
Thursday, December 24, 2009 1:30pm
WOULD YOU LIKE TO RESPOND?
ARNOLD STANG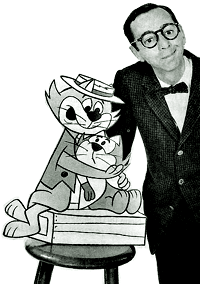 Kevin Butler writes: Character actor and movie and TV cartoon voice over performer Arnold Stang died recently in a hospital in Newton, Ma. He was 91 years old and suffering from Pneumonia.

Born in NYC in 1918 (although some sources say that he was born in Chelsea, Ma.) he auditioned for the NBC network radio version of "The Horn & Hardadt Children's Hour" doing a dramatic reading of the Edgar Allen Poe poem "The Raven". His reading came out more comedic than serious so he became a comedy performer.

His appearances on "The H&H Children's Hour" led to other roles on numerous radio shows like "Let's Pretend", "The Archie Andrews Show" and "The Milton Berle Show".

He also appeared in many movies - "My Sister Eileen" (the original 1940's version with Roz Russell, Allyn Joslyn, George Tobias, Gordon Jones and The Three Stooges), "The Man With The Golden Arm"(his only onscreen dramatic performance with Frank Sinatra), "Dondi", "It's A Mad, Mad, Mad, Mad World!"and "Dennis The Menace".

He was also the on camera spokesman for Chunky Candy Bars back in the late-1950s, Mr. Stang was the one who made famous the catch phrase "What A Chunk Of Chocolate!".

He also appeared on many TV shows, among them "Texaco Star Theater", "The Milton Berle Show", "Chico & The Man", and "The Cosby Show" (his last TV appearance where he played the english teacher who encourages Sammy Davis, Jr. to learn to read).

But Arnold Stang will be best remembered for his work as a cartoon voice over performer. He did the voice of Herman Mouse for "The Herman & Katnip" movie cartoons.
He was also the voice of Hadji Baba The reformed cannibal in "Alakazam The Great", "Nerdle The Twerdle", the alien space agent in "Pinocchio In Outer Space" and as the NYC based feline con man (Top Cat) in "Top Cat", "Yogi's Treasure Hunt" and the animated TV movie "Top Cat & The Beverly Hills Cats".

During his later years Mr. Stang left TV acting to perform in summer stock and dinner theaters and to do voice overs for radio commercials.
His last project was being interviewed for a documentary about the creation of "The Top Cat" cartoons for the DVD collection.

I was lucky enough to meet and interview Mr. Stang in NYC years ago and he was kind enough to give me, a young writer, info about his work as a character actor and cartoon VO artist.
CLICK HERE TO SEE THE RARE ARNOLD STANG SHOW PILOT.
Tuesday, December 22, 2009 10:00am
WOULD YOU LIKE TO RESPOND?
MY FINAL CHRISTMAS SONG PICK
Nothing irks me more than today's pop stars ripping off the great Christmas classics - like the way Madonna did with Eartha Kitt's 'Santa Baby'. I mean, that was Kitt's only shot at airplay every year and that slutty ghoul steals it right down to the arrangement and catty delivery. Shameful! Kinda like what Beyonce did recently with Etta James' 'At Last'. It's meant to replace the original like New Coke. Or what Clay Aiken tried to do with the David Bowie / Bing Crosby Christmas medley - sacrilege! Like I would rather hear Clay Aiken's voice than Bowie's! When Perez Hilton comes out with a Christmas album, then I'll really be pissed!
Anyway, here's my final Christmas tune recorded since 1964 that I enjoy hearing each year (I can only think of five) - 'Same Old Lang Syne' by Dan Fogelberg. Released in 1981, this song is both sweet and sour, reflecting the same mixed feelings I have around the Holidays. Dan Fogelberg died almost exactly two years ago on December 16, 2007.
Tuesday, December 22, 2009 7:21am
WOULD YOU LIKE TO RESPOND?
HOLY COW - AMAZING!
Monday, December 21, 2009 2:06pm
WOULD YOU LIKE TO RESPOND?

CHRISTMAS QUESTION
H. York wants to know what happened to his Christmas classic: I am in search of a very old (early to mid-1950s), 30 minute black and white TV show that aired every Christmas on TV in New York. I believe at that time it was WOR-TV, perhaps channel 9. The show was titled either "Silent Night" or "The Story of Silent Night." It showed how Franz Gruber came to compose the song on guitar when the church organ had been invaded by mice. It is not a cartoon, had real actors, and that's about all of the information I can give you. It disappeared from the air waves when the 50s ended.
Any ideas?
Sunday, December 20, 2009 1:06pm
WOULD YOU LIKE TO RESPOND?

RIP Connie Hines
Kevin Butler writes: Actress Connie Hines, who played Mrs. Carol Post on the "Mr. Ed" TV show, is dead, she passed away at a Beverly Hills hospital on Friday December 18, 2009.

Ms. Hines had made guest appearances on many TV shows like "Perry Mason" but she will always be remembered for playing Alan Young's (Wilbur Post's) wife who never believed that her husband had a trouble making, talking horse named Mr. Ed.

In recent years Ms. Hines had retired from acting, her only public appearances had been at nostalgia conventions with Mr. Young and appearing on TV and radio talk shows like "Entertainment Tonight", "Hour Magazine" with Gary Collins and "Stu's Show".
Sunday, December 20, 2009 1:00pm
WOULD YOU LIKE TO RESPOND?
Read more Blog entries here!