MEL GIBSON RANT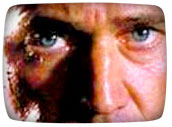 I confess I love Mel Gibson's movies - The Patriot, Braveheart, Ransom, Conspiracy Theory, Lethal Weapon 1-4, I love 'em all.
But has Mel Gibson gone too far with his latest racist rants? His agents have dumped him, that's a big deal. I've even heard insiders say he should be shunned. When was the last time there was a good shunning in Hollywood? Even the Menendez brothers could get a good table at Spago and a three picture deal if they were out on parole.
What does it take to get drummed out of that business, anyway? Charles Nelson Reilly famously said, "Who do you have to fuck in this town to get OFF television?" A few taped phone messages sprinkled with drunken derogatory references to Jews and Blacks and a call to TMZ should do it for most anyone. But Mel Gibson is in a class all his own. Not only is he still one of the hottest movie stars in Hollywood but he has a franchise that any studio would love to have another installment of.
If Mel wants a comeback traditional wisdom suggests that he has to lay low for three years, go to 'rehab' and announce he'll do Lethal Weapon 5. IF he can get Danny Glover to go along with it. Glover, you might be aware, is a tireless defender of minority rights around the world so he might not be so open to the idea of working with someone who tosses the N word around like a softball.
Then again, Mel doesn't need the money and is unlikely to in the future, he made close to a billion dollars on that Jesus snuff flick due to the fact that he put his own bucks up to distribute the thing. He can piss off Hollywood by releasing his own darn movies if he wants. On the other hand, the mother of his child that he's directing these invectives at is going to walk away with a hefty portion of his fortune, especially if the judge turns out to be Sammy Davis, Jr.
This is what I find so disturbing about the far right Christian conservatives, they're always so quick to fall in line behind whomever the media says is in their camp. It had to backfire in this instance because I knew what everyone else in Hollywood that worked on Mel's projects understood - the man's nuts!
Look at all of the disgraced Christian leaders (and Mel became just that to so many) in just the last decade - if I had worshipped (for lack of a better word) person after person that turned out to be the opposite of who I thought they were I'd seriously reassess my life choices and shut off that information source. But this doesn't seem to happen with most hard core conservatives, they just move on to the next media attraction - leading me to think that our own Nazi Germany moment is inevitable. All courtesy of the flashy stranger we invite into our homes every day, the television.
You just know there has to be a Mel Gibson movie somewhere in post-production right now and the producer has a loaded handgun lying next to his Wheaties this morning. Mel Gibson is about to define just how badly you can fuck up in Hollywood and still get invited back to play.
What to take away from this:
- Who will be the first to make a ringtone out of Mel's racists phone messages?
- What humanitarian group serving the African continent will Mel contribute a million dollars to?
- Has J. Randy Taraborrelli already written a book on Mel - if not, how long until it hits the stores?
- Who will make more money this week, a prostitute selling her story about having sex with Mel or your child's teacher?
- Mel who?
Saturday, July 10, 2010 - 8:22am
WOULD YOU LIKE TO RESPOND
TV BLOG RERUN - TV KID STUFF
Don't miss Kevin Butler's tribute to Ray Heatherton, known to millions as The Merry Mailman. He would have been 101 years old this month.

If you were a kid 35 years ago, here are the show's you had to look forward to for the fall of 1974 on the ABC network.
In 1970 ABC had a Friday night line-up that was a magnet for kids - it included the first season for Nanny & The Professor and The Partridge Family; year two for Love, American Style; and the final years for That Girl and This Is Tom Jones. Poor Ann Marie, one more year and she'd have been married! Here's a fall preview:
The most popular show on Saturday mornings in 1970? Archie - here's the intro to a fall, 1969 primetime special where Sabrina the Teenage Witch was introduced. One reason Archie was so popular on Saturdays were the top ten pop hits generated by the show beginning in 1968.

Friday, July 9, 2010 - 12:25pm
WOULD YOU LIKE TO RESPOND
STUFF YOU MAY HAVE MISSED
Roy Rogers' trusty horse Trigger was stuffed and mounted after his death in 1965 and now the post-mortem Palomino is on the auction block. It's expected to earn $100,000-200,000.
Dexter season 4 arrives next month on DVD. Everyone's told me this is the best year yet so I'm really looking forward to falling under Dexter's spell again. And I have Lost season 6 to look forward to next month (I only watch TV shows on DVD). I know, you've seen them already, but I still have the pleasure ahead of me. Jealous?
The Christian Coalition has come out against Twilight. Big surprise, huh? If they didn't like Spongebob...
TV Land picked up the Betty White sitcom Hot In Cleveland (I always want to say Hot L Baltimore for some reason). Ms. White will do a pin up calendar for 2011, proceeds to benefit The Morris Animal Foundation.
The seventh and final season of The Mary Tyler Moore Show hits the stores October 5th.
Saw this actual headline: Tired Gay Succumbs to Dix in 200 Meters.
Here's a clip from Sunday night's episode of Entourage on HBO.
Thursday, July 8, 2010 - 8:04am
WOULD YOU LIKE TO RESPOND?
SHOULDA COULDA WOULDA
I meant to post this over the weekend, but here's my favorite Captain America comic Captain America's Bicentennial Battles. Released in the summer of '76, this oversized extravaganza contains an epic tale written and illustrated by Jack Kirby with inks by three of the best guys who ever put brush to paper - Herb Trimpe, John Romita and Barry (Windsor) Smith. This was Kirby at the end of his peak performances, the beginning of his return to Marvel from DC, and one of the last things he did that excited me at all.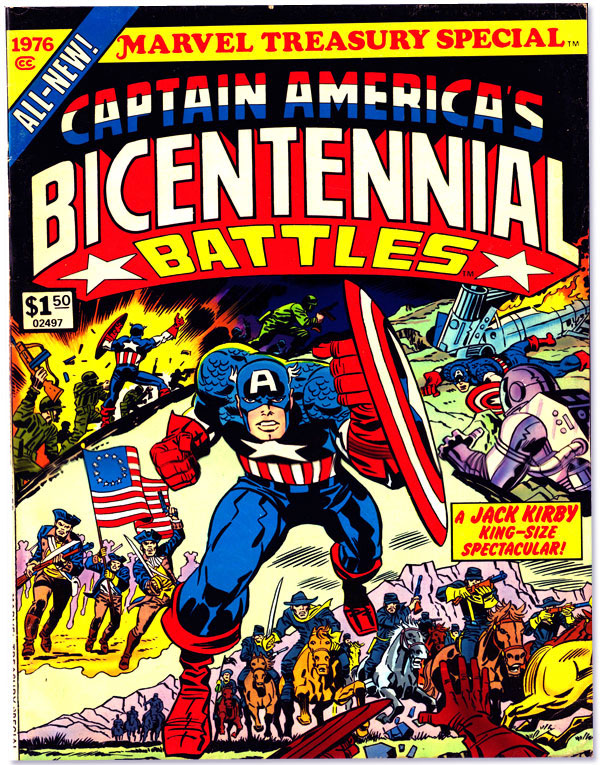 Although I continued to follow his work at Marvel and beyond, Kirby clearly had lost his way and was flailing about, rehashing old ideas and striking out almost incoherently with new original concepts like Devil Dinosaur, Mister Machine, Silver Star and the like. But this 80+ page spectacular gave Kirby plenty of room to roam and an opportunity to exploit his bombastic, explosive layout style to full effect and I'm still blown away by it. I might even read the damn thing one day.
Tuesday, July 6, 2010 - 9:00am
WOULD YOU LIKE TO RESPOND?
30 YEARS AGO TODAY
Let's rev up the TVparty time machine (Okay, it's You Tube) with a few commercials from NBC primetime on July 4th, 1980. Back when Kentucky was proud their chicken was fried and the Colonel was still around.
Sunday, July 4, 2010 - 11:00am
WOULD YOU LIKE TO RESPOND?
NOW YOU KNOW THE REST OF THE STORY
Times being what they are people are searching for any way to make some extra money. (Extra money - what a concept!) Naturally, there are all kinds of schemes and scams ready to take advantage of desperate people. Stop me if you've seen this one on TV.
I can set you up with an internet business that will make thousands of products available to anyone on the internet to purchase. A custom designed store tailored especially to your tastes.
You don't have to buy or keep an inventory of products, it's all done for you so there's no way you can lose money once you're up and running. You'll get daily reports on what you've sold and you'll receive around 7-8% of the total purchased as your commission. Your store is open 24/7 and readily available to the millions of people who shop the net.
What would that be worth to you? $500? More? After all, the potential is limitless, the more people buy the more money you'll make.
If everything I told you is true - and it is - then what could the catch possibly be?
Let's put it in 'real world' terms - let's say I set you up with a fully stocked Wal-mart store, all you have to do is collect your percentage on what's sold every month and I'll do the rest for your investment of $500. Pretty sweet, until you realize the store is in the middle of the Mojave desert with no roads in or out. Damn!
But I can build a road to your store and promise at least 50,000 people will come through the door for only $300 more. Well, with 50,000 people coming to your Wal-mart you're bound to make money, right? Until you realize those people were told what they're looking for is out the back door so they just streamed through without looking at or buying anything. Then I sell you another worthless package that makes sense on the surface and them you realize you've been had.
No one lied to you or blatantly misrepresented anything (by today's definition, anyway) but you've been had none the less. You'll also be pretty miffed when you discover you could have done this all yourself - for free.
So how can you open a turnkey internet business that provides you with a decent income these days? Easy. Go back in time 10 years and get started!
Saturday, July 3, 2010 - 12:31pm
WOULD YOU LIKE TO RESPOND?
TIDBITS
John Eimen was a child star back in the 1960s and had a regular role on McKeever and the Colonel back in the day. He's a musician now and TV Guide has one of his music videos on their site. Check it out!

Holy Ghost Tent Revival will play at Beat Kitchen in Chicago Saturday night at 8:00pm.
Remember how you could call a phone number to get the time? Here's the web site, time.gov. Probably only cost a billion dollars of your tax money.
Amazon was down for three hours yesterday resulting in an estimated loss of more than $51,000 a minute.
Thursday, July 1, 2010 - 8:26am
WOULD YOU LIKE TO RESPOND?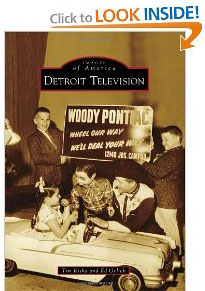 RICKY THE CLOWN
Yesterday I mentioned a new book called Detroit Television - co-author Ed Golick has written a tribute to his local TV mentor Irv Romig aka Ricky the Clown. He passed away last month and somehow I misplaced this article - I swear I'd fire me if I could! Read the entire article on Ricky the Clown here, this is an excerpt: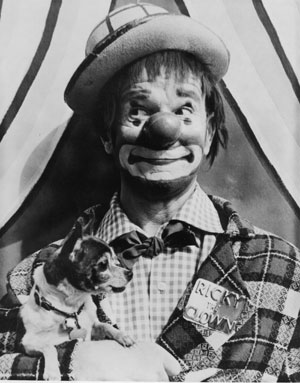 Ricky the Clown was also a popular guest host, filling in for other WXYZ kid show personalities who were on vacation or too ill to perform. When Romig subbed for a vacationing Soupy Sales, he insisted that Soupy's puppeteer Clyde Adler be allowed to show his face on the air, something that Soupy had never done before. Romig wrote a sketch where an incompetent plumber, played by Adler, was sent to Soupy's house to fix a leak. By the end of the show water was cascading everywhere. Read the rest here.
Monday, June 28, 2010 - 3:20am
WOULD YOU LIKE TO RESPOND?
Read more TV Blog entries here!