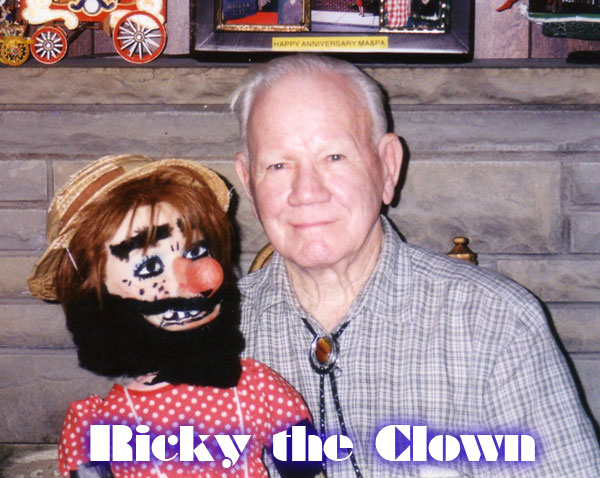 by Ed Golick
Author (with Tim Kiska): Detroit Television
Irv Romig, known to a generation of Detroit baby boomers as TV's Ricky the Clown, died of congestive heart failure at the age of 90 on May 22, 2010. A second-generation circus performer, his father, Carl Romig was a performing cowboy and horse trainer for the Ringling Bros. Circus. His mother, Catherine Rooney, was a bareback rider and aerialist in the family circus act, The Riding Rooneys.
Romig made his big top debut at the tender age of five, in the Frank McIntyre Circus, when resident clowns Ed Raymond and Marcus Hunkler decided to make young Irvin a part their act. They gave him a clown face, swallowtail coat and a huge frying pan and spoon. When Raymond and Hunkler played "It's Three O' Clock In The Morning" on the trombone and clarinet, young Irvin ran around frantically banging the frying pan with the spoon. The crowd loved it, and so did Irv.

Throughout the 1920s, the Romig family traveled with various circus shows and rodeos from Canada to Mexico and across the United States. At the end of the season they would return to their home in Detroit, Michigan. In the spring, the routine started all over again.

By the age of fifteen, Romig was a full-fledged circus performer. Known as "Irvie- The Circus Buffoon", the young clown specialized in trick riding, a comedy mule act and clown gags. Working with the top circus performers of the day was like a "Clown College" for Romig. He learned the old routines from veteran clowns, and invented many new ones.

While performing with the Jay Gould Circus, he got his induction notice from the Army. Corporal T-5 Romig was the camp bugler, horse and dog trainer and also formed the Section 8 Gang, a troupe of clowns who entertained the servicemen. When he was discharged in 1945, Romig decided to leave the family circus, and strike out on his own.

Performing with several small circuses, Romig's reputation as a clown was growing. In 1946 while in New York with the Jimmy Cole Circus, Romig had his first brush with a new medium called television. Cole made a deal with a TV producer to televise his show, which was the first live telecast of a circus.

Romig signed on with the Shrine Circus, an association that lasted for twenty-two years. Knowing that people wanted to see something new, he was constantly inventing new routines. The old-time clowns were "suitcase clowns", meaning that their entire act would fit into a suitcase. They did the same tried and true gags over and over again. Romig, being a clever clown, knew he could do better. The young performer created many elaborate gags that are still being used by clowns today. Romig also trained animals for his act, something few clowns had the knowledge or patience to do. Trick horses, donkeys, llamas, a miniature buffalo and various other critters were all part of his act at one time or another.

The Ringling Bros. invited Romig to join the "Greatest Show On Earth." While with the Ringling show Romig got to work with such classic clowns as the great Emmett Kelly, Lou Jacobs, Felix Adler and Ernie Burch. Romig was even asked to perform his trick riding routine for Cecil B. DeMille's classic 1951 circus film, "The Greatest Show on Earth."

Looking to settle down and raise a family, Romig decided to try his hand at TV. He got an appealing offer from station WXYZ in Detroit, home of Soupy Sales. Romig went on the air in October of 1953 with the "Ricky the Clown Show," which featured cartoons, games, a peanut gallery, animals and Romig as Ricky the Clown. Whenever his circus friends were in town they made it a point to stop by and perform.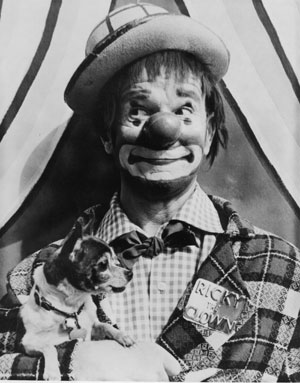 Ricky the Clown was also a popular guest host, filling in for other WXYZ kid show personalities who were on vacation or too ill to perform. When Romig subbed for a vacationing Soupy Sales, he insisted that Soupy's puppeteer Clyde Adler be allowed to show his face on the air, something that Soupy had never done before. Romig wrote a sketch where an incompetent plumber, played by Adler, was sent to Soupy's house to fix a leak. By the end of the show water was cascading everywhere.

In 1965 Romig packed up the old clown shoes, greasepaint and bulbous red nose, ending a twelve-year run at WXYZ.
Romig continued his association with the Shrine Circus and still did many personal appearances, parades and industrial shows. In 2001 Romig was inducted into the International Clown Hall of Fame in Milwaukee, Wisconsin, joining other performers like Charlie Chaplin, Red Skelton and Emmett Kelly.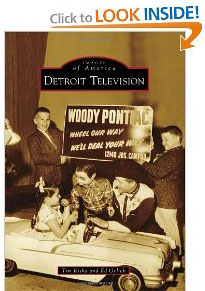 In an era where most local stations recruited their weathermen to reluctantly don a clown suit and introduce cartoons, Irv Romig was the real deal, a true blue, bona fide Circus clown.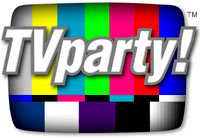 RICKY THE CLOWN