* Classic & Current Television Blog *
GOOD NEWS & BAD
- The Daily Show and The Colbert Report have been renewed by Comedy Central through 2012.
- Mad Men creator Matthew Weiner says that series may end after six seasons; I just finished watching season 3 on DVD, the show just gets better and better. Mad Men returns to AMC July 25.
- Leonard Nimoy is retiring. When was the last time someone in show business announced that they were retiring? Frank Sinatra in the 1970s would be my guess, and that was a big boost to his career - when he came out of retirement two years later. Hmmm, the new Star Trek movie is two years away...
- Michael Douglas' son got 5 years in prison for his drug issues.
- Finally got around to watching the Land of the Lost movie. Gaaaak! Why do they keep making lousy films out of TV shows?
- Speaking of which, look for Stretch Armstrong in movie theaters next year based on the stretchy toy from the 1970s & '80s.
- A movie I am enjoying now - The Out-of-Towners with Jack Lemmon and Sandy Dennis from 40 years ago.
- Ron Howard's Parenthood has been picked up for season 2.
- A U.S. version of Britain's hit show Top Gear is on its way to the History Channel hosted by Rescue Me star Adam Ferrara, stunt driver Tanner Foust and racing analyst Rutledge Wood.
- Curb Your Enthusiasm has been renewed for another 10 episodes by HBO; it's the network's longest-running scripted series. Yeah!
Wednesday, April 21, 2010 6:00am
WOULD YOU LIKE TO RESPOND?
THIS 'N' THAT
Sean Carolan found what I couldn't the other day: Bit of a transpose there - the informative Saturday morning CBS news series you're thinking of was called "In The News". The voice on the series was provided by Christopher Glenn, whose primary claim to fame otherwise was in CBS' radio news division (which makes sense, given the magnificent voice he possessed.) He retired from CBS in 2006, and died of liver cancer shockingly soon thereafter, as documented in the Wikipedia entry on him. Here's that elusive video link: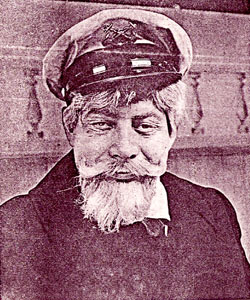 Kevin S. Butler brings us the news of the death of a NYC kiddie show legend: Allen Swift - entertainer / voice-over performer / scriptwriter / songwriter/ producer/ former "Howdy Doody Show" character actor & puppeteer and the first sea captain host of WPIX TV Ch. 11's "Popeye Show" died April 19th at his home in NYC. Mr. Swift was 86 years old and he had been suffering from diabetes and other ailments. Read Kevin's obituary of Allen Swift with rare pictures here.
Sometimes stars apppear before the camera and it's clear they've had a few too many. This was true back in the day when the legends still roamed the earth. Here's some raw footage of Joan Crawford in 1968 getting off an airplane and she's a bit sloppy. "I always pick up children."
I've got another Blog going at BestofTVblog.com - more entertainment news and past postings from this site. You can waste some time today reading and watching stuff there; you'll find articles and visual entertainment so lightweight they fairly float off the screen.
Sometimes stars apppear before the camera and it's clear they've had a few too many. This was true back in the day when the legends still roamed the Earth. Here's some raw footage of Joan Crawford from 1968 getting off an airplane and giving an interview - she's a bit sloppy. "I always pick up children" - ?!?
Gosh, people don't get drunk like that anymore do they? Where they purr like a kitten? Not the drunks I know!
You could win a framed display featuring a cape swatch worn by TV's Superman George Reeves.
Tuesday, April 20, 2010 7:10am
WOULD YOU LIKE TO RESPOND?
SEGUE SUNDAY
A friend asked if I had ani In The Know segments, the news spots that ran between CBS' Saturday morning shows in the 1970s & 1980s. I remember seeing one last year on You Tube but I guess it's been removed. (Turns out I spaced out on the name of the segment - see above!)
It reminded me to search again for The Manhattan Transfer TV show, I've never been successful before but lo and behold someone just last month loaded most of the the songs from that musical series onto the Tube.

The Manhattan Transfer had a spectacular summer TV series in 1976 filling in for Cher. One of the regular segments was an old-time gospel song sung in their harmonious swinging be-bop style. I remember taping the tunes off of those four shows with an 8-Track recorder and driving around for a couple of years singing along with them. (I did a lot of driving then. Today I know the lyrics to hundreds of standards but what good does that do me?) Since it's the Sabbath, for some of us, let's take a listen to 'In A Little While'.
Lastly a tune that was on The Manhattan Transfer's first album and the song they closed the series with - 'Operator'. Better nail down the floorboards for this one!
The group closed their first three shows with a little ditty called 'Sunday' originally recorded by Jean Goldkette & His Orchestra. If you were watching in 1976 the next sound you would have heard would have been the opening to the Bicentennial Minute.
Oh, you wanna hear the original, with vocals by the Keller Sisters? That's the version you remember from the 1920s? Here you go old timer...
Sunday, April 18, 2010 7:10am
WOULD YOU LIKE TO RESPOND?