CAPTAIN ALLEN SWIFT
by Kevin S. Butler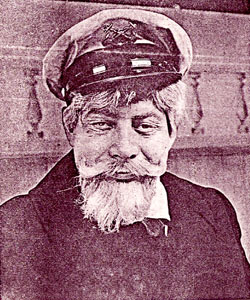 Allen Swift - entertainer / voice-over performer / scriptwriter / songwriter/ producer/ former "Howdy Doody Show" character actor & puppeteer and the first sea captain host of WPIX TV Ch. 11's "Popeye Show" died on April 19th 2010 at his home in NYC. Mr. Swift was 86 years old and he had been suffering from diabetes and other ailments.

Born Ira Stadlin in NYC in January of 1924 he showed signs of talent by imitating his father (a realty agent), members of his family and his father's clients as a kid. He would later win a drawing contest in school, perform magic tricks for his family and friends and while he was in his teens. He enrolled into NYC's High School of Music And Art. Swift left school to accept a booking with some Catskills hotels as a stand-up entertainer.

He performed magic tricks, mentalisim, told stories, did satires of radio commercials and drew pictures for the audiences at the hotels in the upstate New York resort area.

Swift left the Catskills and returned to NYC where he would divided his time between performing on radio crime dramas and appearing as a stand up entertainer in nightclubs. (By this time he was performing under the name of Allen Swift, he took the name from radio humorist Fred Allen and from literary satirist Jonathan Swift, the author of the book "Gulliver's Travels".)

His performing career was interrupted by serving in the US Army Air Corps overseas during WWII. After his stint in the military he returned to performing in nightclubs and on radio until the early-1950s.
Swift made his TV debut performing on the CBS network version of "The Robert Q. Lewis Show". He also did some VO's for TV commercials; he would later appear on "Howdy Doody" where Swift played numerous live characters- "Sandy McTavish", "Abra K. Dabra", "Pooh Bah And Bah Pooh" and he voiced and manipulated the puppets, especially "Howdy" when "Buffalo Bob" was unavailable during his convalescence from his heart attack in 1954.

He even found the time to take on the job of writing scripts for the show when Edward Kean, the show's first scriptwriter and songwriter, left the program abruptly.
Swift also did voice overs for the nationally syndicated kid's puppet show "The Adventures Of Blinky" in 1954. He worked on that series with Donald Soams, Lucy Emerick, Doris Brown and Paul Ashley. Swift left "Howdy Doody" in 1956 following a downsizing of the show. He would continue to work for NBC TV writing, producing and performing in live dramas for the network's weekday afternoon anthology series "Matinee Theater".

Swift left NBC TV in the fall of 1956 when he joined NYC based TV station WPIX TV to serve as the first MC of Ch. 11's "Popeye Show". Seen weekday evenings starting on Monday, September 10, 1956 "Captain" Allen Swift would engage "His Mateys" in games, craftmaking, hobbies, stories, songs, contests, informational segments, drawing lessions, perform magic tricks and interview guest performers and personalities between reruns of Popeye movie cartoons. (Entertainer/ radio/ TV broadcaster and WOR TV's former "Merry Mailman" Ray Heatherton would MC the weekend evening edition of "The Popeye Show" for two 1/2 years as "Captain Ray.")
"The Popeye Show" was a hit and Captain Allen became a popular kid's personality with NYC's young viewers. He did personal appearances at a few venues and he recorded two kid's records "The Official Popeye Album" with Ms. Mae Questel for Cabot Records and "Popeye's Favorite Sea Shanties" for RCA Camden Children's Records (the latter album was nominated for a Grammy). Swift's "Popeye Show" was also nominated for a NYC Emmy as "Best Children's TV show" in 1957 but lost out to WCBS TV Ch. 2's "On The Carousel" and WRCA TV Ch. 4's "Children's Theater".
Unfortunately Swift's version of the show soon fell prey to creative interference from station management. They objected to his doing disclaimers about the violence and racial content within the films. They also objected to his doing entertainment and informationial segments on the show and tried to discourage him using these ideas on the show.

Swift tried to prevent the station execs from interferring with his program but his efforts were for naught. By late September of 1960, when he needed the time to create, produce, direct and perform in his own plays and musicials for the theater, Swift asked the station execs at Ch. 11 if he could pre-tape his shows in advance. They refused his request and that lead to his being fired from the show, following the Friday September 23, 1960 broadcast.

Former radio broadcaster/actor and Ch.11's co-founder Jack McCarthy took over as the third and last sea captain host of WPIX TV's "Popeye Show" on Monday September 26, 1960 and Swift went to work in the theater as a performer and craftsman during the 1960s and '70s.

During the 1960s Swift did VO's for many TV cartoon series and commercials; he was the voice of "Ducky Drake" for Drake's snack cakes and he did voice work for "King Leonardo & His Short Subjects", "Tennessee Tuxedo & His Tales", "Underdog" and "The Beagles". He was also the voices of "Captain Cupcake", "Twinkie The Kid" and "Chief Big Wheel" for the Hostess snack cakes TV commercials. Swift also did voices for the "Diver Dan" TV puppet films that were syndicated in the early-1960s.

Swift wrote, produced and performed in a play that has since become famous - "Checking Out" - a stage drama based upon the stories of a former Yiddtish theater actor that he met while working as a stand up entertainer in the Catskills.

He briefly appeared as an on-camera performer in the 1980s on the TV crime dramas "Law & Order", "The Equalizer" and he played a not too understanding father of a struggling actor and singing telegram delivery man on an episode of the CBS sitcom "Kate & Allie". Swift would also be interviewed by former NYC based cable TV host and producer Ira Gallen and did voices for two puppet projects for Rankin/Bass - "Mad Monster Party" and "The Enchanted World of Danny Kaye".
His last appearance was an interview for the documentary of the making of "Mad Monster Party" when the film was re-released on DVD not too long ago.

Swift continued to work in the theater and doing voices for commercials until his failing health forced him to cut back on his work. His last project was being interviewed for two books, one written about the creation of the "Underdog" TV cartoon show and another one about the creation of Leonardo & Total TV animation studios.
I was lucky enough to do an interview with him in NYC back in December of 1983. Although the information that he gave me was brief he was kind enough to provide me with some insight into his career. He is survived by his second wife, two daughters and his son entertainer Lewis J. Stadlin.