by Billy Ingram
I ran across this video yesterday while doing some research and it blew me away! It's a promo for an episode of TV's Racket Squad (1951-53).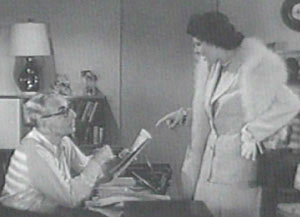 The plot of the episode - a down and out Broadway producer is sick of losing money on productions and decides to produce a play so bad, so offensive (it's called Uncle Tom's Penthouse) that the show will be a sure flop. The producer will make money not by selling tickets but by selling a great deal more than 100% interest in the show to unknowing investors. When the play inevitably folds on the first night he can pocket a fortune. Unexpectedly, the play becomes a massive hit and there's no way to pay back the investors.
Sound familiar? Substitute Springtime For Hitler for Uncle Tom's Penthouse and you've got the plot of The Producers.
Did Mel Brooks get the idea for The Producers from this show? Probably. He was writing for a comedy program (Your Show of Shows) at the time that spoofed other TV shows so it makes sense that he might have seen that episode of Racket Squad and tucked away the idea until 15 years later when he was writing The Producers.
It's true you can't copyright an idea and there are only so many plotlines - besides, Racket Squad claimed that, "What you are about to see is a real life story taken from files of the police racket and bunco squads, business protective agencies and similar sources all over the country."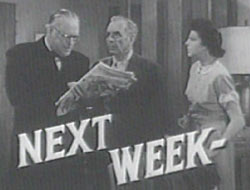 Watch for yourself:
Quicktime Download / Real Player Format
iPhone Download (.m4v)
iPhone Cell Download (.3gp)
Please consider a donation
so we can continue this work!

Amazon Prime - unlimited streaming
of your fave TV shows and movies!
Get your FREE 30 Day Trial!
PR4 & PR5 Pages for Advertising
---
'TVParty.com, a TV history website... its links to Amazon.com help sell TV DVDs."
- Boston Globe,
1 / 07

"All the coolest, strangest, most absurd shows and peculiar tube trends ever -- they're all part of the wallow that is TVparty!"
- Diane Wertz, Newsday, 7 / 07

'A twisted walk
down memory lane!'
- Sharon Edry, TV Guide

'Top Five Sites - Interviews and articles... are must reads.'
- London Sunday Times

'It's too good to be true. Put together by Billy Ingram, TVparty.com has gossip, scandal, sex, singing, dancing, action, drama and celebrities with their 'original parts''
- LA Times

'An ingenious tribute that elevates the TV past to artlike proportions. Site guru Billy Ingram has compiled features both over-the-top and museum worthy, blissful nostalgia for those born in the '40s or the '80s. A+
- Entertainment Weekly

'Every decade expresses its kooky collective unconscious on the tube, celebrated affectionately at Billy Ingram's TVparty. Ingram provides a hilarious glimpse into the American pop psyche.'
- Yahoo

'TVparty is hands down the best site on the Web for classic TV.'
- Discovery Channel