THE ADVENTURES OF FU MANCHU: Evil Has a Series!
by Cary O'Dell
Throughout media history, with a few notable exceptions—the gangster-filled careers of James Cagney and Edward G. Robinson come immediately to mind—the line between the hero and anti-hero, the good guys and the bad guys, has always been pretty clearly drawn. We always knew the good guy was the main character and he was the one we were supposed to root for.
Which makes the 1956 half-hour syndicated series "The Adventures of Dr. Fu Manchu" all the more interesting, if not rather remarkable.
In the case of Dr. Fu Manchu, though this was his first foray into series television, he had by this time, already been a frequent multi-media presence--in fact, he had already been one for several decades. The man described in the TV series's opening as "evil incarnate" was the creation of British writer Sax Rohmer who came up with the character after consulting—yes—his Ouija board about what or who was the greatest threat to the modern world. And his board supposedly spelled back "C-H-I-N-A-M-A-N."
Further inspired by the near panic over the spread of yellow fever then gripping much of Europe, Rohmer crafted this character (dubious and racist though it was) into a series pulpy novels that first debuted in 1913. The book series and the character proved so popular they began appearing in nearly yearly installments published well into the 1930s. The character even lent this name to the type of mustache he sported: the "fu manchu" entered the lexicon of facial hair thanks to Rohmer's infamous creation.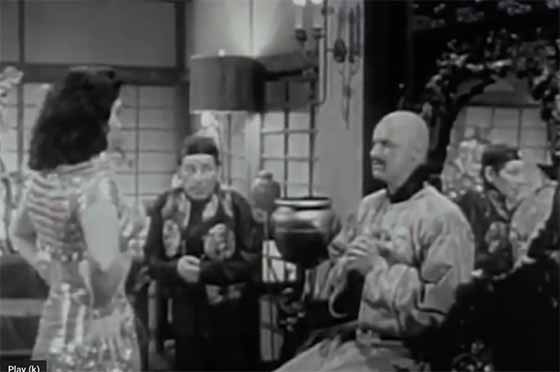 Besides Fu Manchu, Rohmer's works introduced other reoccurring characters that became part-and-parcel of the Fu Manchu multi-media legacy. If Fu Manchu was evil, he had his counterparts in two good guy characters that often appeared opposite him and take him down—lawman Nayland Smith and medic Dr. Petrie.
After his great literary success, "Fu Manchu" and company quickly migrated to other mediums. He was in British films starting in 1923; in American films beginning in 1929; on US radio from 1927 and on the comic pages beginning in 1931. And he's never been absent from any medium for very long since then….
Over the years, the character of the evil doctor has been portrayed by a long list of genre-friendly (and uniformly non-Asian) actors including Warner Oland, Boris Karloff, John Carradine, and John C. Daly. Later, the character would be portrayed by other non-Asian actors like Peter Sellers, Christopher Lee and Nicholas Cage.
Considering "Fu Manchu's" endurance it seemed inevitable, one supposes, that he would finally skulk his way onto television. And he did. In 1951, NBC shot a pilot, with John Carradine in the lead, but it failed to go to series. Four years later, though, in 1955, Republic Pictures decided to try again and even ponied up $4 million for the rights to bring the character to the small screen.
It was an interesting undertaking. Yes, Fu Manchu had proved enduring on the page and up on the big screen but would viewers tune in week after week to watch a bona fide villain? Would a program built around the weekly, world-ending plans of a diabolical genius play, not just in Peoria, but in primetime?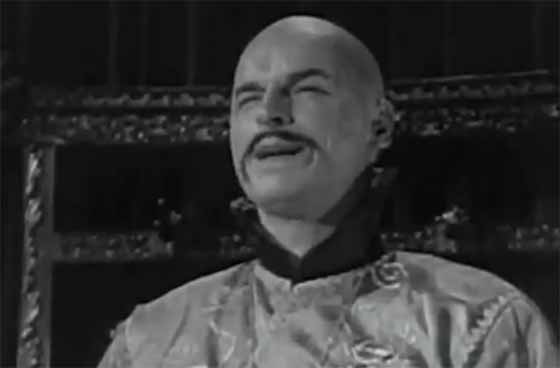 In keeping with tradition up to that time (and for some time after), for TV, the character of Fu Manchu would be played by a non-Asian actor. Glen Gordon strapped on the droopy mustache, the fake cheek scar, bald cap and silky robes to play the title role. Though the NY-born Gordon had a career in film and TV that stretched from 1947 to 1975, "Fu Manchu" remains his most notable role.
Along with the ornate make-up and apparel (which obliterated any recognizability the actor hoped to gain in this role), Gordon also—as he was expected to, I'm sure—adopted a very stereotypical accent and stilted speech pattern.
Additionally, for Gordon, the role might not have been that challenging. Fu Manchu seldom took part in too much of the action himself; he was just seen lurking around in his evil lair, which was adorned in ornate Oriental flourishes, alongside his pet spider monkey and his prominently-displayed chess board. (The latter the series's symbol of Fu's moves and counter moves to achieve world domination.)
Also in the show's cast and appearing in every one of the show's episodes were: Lester Matthews as Nayland Smith and Clark Howat as Dr. Petrie. Also featured: Carla Balenda as Nurse Betty Leonard; John George as Fu Manchu's dwarf-ish henchman, and the sultry Laurette Luez as Fu Manchu's moll, Karamaneh.
Luez's Karamaneh (a character first introduced in the books) added significantly to the series. The Hawaii-born Luez (nee Loretta Mary Luiz) made her film debut in 1944. She subsequently had minor film roles playing all sorts of exotics from Africa, Asia, and India, usually with names like Orena and Anatta. Luez was also a former magazine model and was stunningly beautiful. In fact, so much so that legend has it that a young Elizabeth Taylor once refused to pose in the same photo as Luez, as she didn't want her own beauty so completely overshadowed by L.L.'s
Though her character seldom had much to say on the series, Luez was a commanding and sexy presence on it, no doubt an additional reason to watch for many boys--and their fathers. But as Fu Manchu himself seldom left his lair, always preferring to send out others to carry out his devilish acts, it often fell to Karamaneh to actually do many of Manchu's dirtiest deeds, hence, making her an odd sort of female anti-hero. (Which almost makes up for some of the other dated sexism that's found in the program.)
Still, for all the gung ho-ness of its cast, and though "Fu Manchu" had been a success before and would again in the movies, TV wasn't among the worlds Fu was set to conquer. Only 13 episodes of "The Adventures of Dr. Fu Manchu" were produced and syndicated in 1956.
Reasons? First-run syndication is always a rather dicey, difficult market and in '56, it was already a pretty crowded field with a variety of other action-oriented series. And, as mentioned, a program built around a villain, one who was, in every half-hour, doomed to fail so that there could be another episode the next week, began to feel a little redundant after a while.
Furthermore, for every mom and dad who saw in the program a kind of escapism that their kids could indulge in, others, no doubt, were turned off by some of the show's—still arresting—violent visuals, like in one episode where a knife goes right into the back of one criminal (albeit without any blood spill) or another episode where the camera barely cuts away before a man is branded with a bar of heated gold.
And those were just a couple of the dastardly endeavors of the evil doctor! During this baker's dozen of installments Fu Manchu would also: attempt to release poison gas onto the masses, create a massive economic collapse, launch chemical warfare, devalue the gold standard, create mass panic in the world's biggest cities, deploy a nuclear bomb and undermine world trade talks by sending in disguised delegates! Considering this show's arrival on the airwaves so soon after WWII and during the rise of the Cold War, some of these threats, though fictional of course, still could have seemed a little too real for many viewers.
Today, "Fu Manchu" suffers and stumbles quite a bit due to its rampant stereotypes. Additionally, when watching it now, one can't also help but also feeling sorry for the actual Asian actors who appear sometimes in the series. It was, surely, a double-edged sword for them: play a stereotypical character or be unemployed.
But, as discomforting as that racism is, the show, accessed as a product of its time, remains interesting in its harmless naughtiness and exoticism.
Furthermore, today, bolstered by such "love to hate" "heroes" as J.R. Ewing and Alexis Carrington Colby Dexter, our appetite and appreciation for such up-front small screen "anti-heroes" are not only highly tolerable, they are almost the norm. Consider the title characters of such recent and semi-recent series as "Hannibal," "Dexter," "The Blacklist," and "Lucifer." Hence, it's, perhaps, easier to tolerate and even like Dr. Fu Manchu, if only for his perseverance, the fact that, episode after episode, after his latest diabolical plan has failed ("Foiled again!"), he kept on plotting over his chess board, still twirling away on his famous namesake mustache.
1950's TV Shows / Fess Parker & Davy Crockett / First Sitcom Couple To Share A Bed / Jack Benny Program / Highway Patrol / Betty Hutton Show / 1952 Olympics Telethon / Amos 'n' Andy / Little Rascals & Our Gang / Howdy Doody / The First Batman Movie From 1943 / Who Was the REAL Aunt Jemima? / Freedomland USA / John Wayne Won Lassie in a Poker Game! / Lucy's Sitcom Before I Love Lucy / The Lone Ranger / It's Always Jan / 1950s Shows I NEED To See / Jack Lemmon & Billy Wilder on Marilyn Monroe / So This Is Hollywood / Audrey Meadows Refused To Do This For Jackie Gleason / When Jerry Lewis Ceased To Be Funny / The Plainclothesman / Buck Rogers in the 25th Century / Remembering Tony Dow / First Solo Female Series / Kuda Bux / Was the 1959 Santa Claus Movie Too Christian?!? / When Judy Garland's Daughters First Saw The Wizard of Oz / TV During WWII / Top Ten TV Shows 1950s / Jack Larson's Suprising Life As Superman's Jimmy Olsen in the 1950s / Judy Garland's 2nd TV Special and Las Vegas Debut / Early Network News Broadcasts / Lost Desilu Sitcom: Those Whiting Girls / Lost Superboy Pilot / The Shadow 1954 Pilot / KTLA News / / Kid Show Pioneer Herb Sheldon / Aline Saarinen / Tribute to Sandy Becker / The Adventures of Dr. Fu Manchu / / O.Henry Playhouse / NYC's First Bozo Bill Britten / The Magical Land of Alakazam! / 1950s and 60s Bloopers / TV's First Working Woman / Cannonball - 1950s Trucking Drama / Sonny Fox Kid Shows / Lauren Bacall on Bette Davis / Sunset Boulevard Explained / Abbott & Costello TV Show / The Three Stooges: The Where They Were / The First 'Black' Show - Beulah / Women on TV in the 1950s / The Today Show / Hey Jeannie / The Jeannie Carson Show / TV's First Educator Paul Tripp / Ernie Kovacs / Soap Opera Miss Susan / Adventures of Superman Lost Episode / Bette Davis vs Ronald Reagan / Captain Z-Ro / Obscure Actress Mary Castle / Serious 1950s TV shows / Remembering David Susskind / TV's First Rerun Series / The Ken Murray Budweiser Show / Saturday Morning Serials / Two Variety Shows of the Fifties / Game Shows of the Fifties /1950's TV Wrestling / Greensboro's Soda Pop History / Mr. Adams and Eve / TV's First Star / Oh Susanna! the Gale Storm Show / Bob Hastings / TV's First Star / History of the Laugh Track / The First Interactive Video Game / Designing Winky-Dink / Buffalo Bob Smith / The McKimson Brothers & Animation / Interview with a Show Business Legend / The Soundies / Snaders Telescriptions / Steve Allen Interviewed / Racket Squad / December Bride / The Big Show / Beverly Garland & Decoy / Richard Crenna & The Real McCoys / Roger Muir / Noel Coward's 1955 TV Special / Jon Provost Interview / 1950's TV Shows on DVD / Oh Susanna! The Gale Storm Show / 1950's Old Time TV Thanksgiving / Outrageous 1950's Commercial! / The Real Superman? / Mickey Mouse Club's Cheryl / Gale Storm / Captain Allen Swift / NYC's St. Patrick's Day Parade Telecasts / Julie London / The Goldbergs / 1950's Female Singers / The Dead End Kids / Bowery Boys / Fred Allen / Ed Wynn / Mr. Belvedere Movies / Art Linkletter / The Bickersons / Marty & Live TV / George Gobel & Red Buttons / Barbara Billingsley / Billy Gray Interview / Abbott & Costello Show / The Honeymooners / Three Stooges' Joe Besser / Whirlybirds / Burns & Allen Show