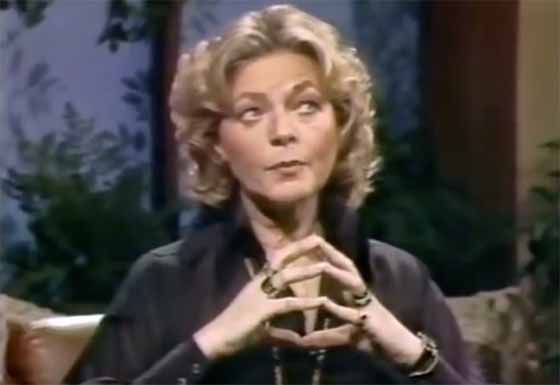 LAUREN BACALL on BETTE DAVIS
In a series of interviews, Lauren Bacall shares her thoughts on her idol Bette Davis, whose 'All About Eve' Margo Channing role she adapted in the Broadway musical 'Applause'. Bacall is best known for her film roles in 'The Big Sleep' (1946), 'How to Marry a Millionaire' (1953), and 'The Mirror Has Two Faces' (1996), for which she was nominated for an Academy Award for best supporting actress.
Dick Cavett: You did 'Applause' and that's the Margo Channing role from 'All About Eve.' Did you dread that some night Bette Davis, the original creator of the role, would be sitting out front? "I hope they don't tell me when it is?"
Lauren Bacall: Oh, well, they knew not to tell me.
Dick Cavett: That's one of your rules.
Lauren Bacall: Oh yes, terrified, absolutely. And apprehensive and, I mean, Bette Davis was my heroines from the time I was in my early teens. I was very apprehensive about her coming to see the show and she did come see it and I wrote about that as well. I was glad that I didn't know, and I must never know when someone is out front, because that makes me a nervous wreck.
The book she's referring to is her 1978 autobiography 'Lauren Bacall By Myself,' about which The Boston Globe said: "In a word, LAUREN BACALL BY MYSELF is terrific... one of the real-life heroines of our time... and she wrote this book as she lived it."
The Bette Davis Foundation awarded Bacall with their Bette Davis Medal of Honor in 2008. The presenter was Davis' son Michael Merrill. In her speech Lauren Bacall said, "There have been other great actresses, but no one else could ever touch her, and no one else ever will. I watch every one of her movies as though I've never seen them before, and I've probably seen some of them 40 or 50 times. She had a quality that you


Bette Davis as Margo Channing in All About Eve uttered this famous quote: "Sooner or later we've got to work at it no matter how many other careers we've had or wanted. And in the last analysis nothing is any good unless you can look up just before dinner or turn around in bed and there he is. Without that you're not a woman."
1950's TV Shows / Fess Parker & Davy Crockett / First Sitcom Couple To Share A Bed / Jack Benny Program / Highway Patrol / Betty Hutton Show / 1952 Olympics Telethon / Amos 'n' Andy / Little Rascals & Our Gang / Howdy Doody / The First Batman Movie From 1943 / Who Was the REAL Aunt Jemima? / Freedomland USA / John Wayne Won Lassie in a Poker Game! / Lucy's Sitcom Before I Love Lucy / The Lone Ranger / It's Always Jan / 1950s Shows I NEED To See / Jack Lemmon & Billy Wilder on Marilyn Monroe / So This Is Hollywood / Audrey Meadows Refused To Do This For Jackie Gleason / When Jerry Lewis Ceased To Be Funny / The Plainclothesman / Buck Rogers in the 25th Century / Remembering Tony Dow / First Solo Female Series / Kuda Bux / Was the 1959 Santa Claus Movie Too Christian?!? / When Judy Garland's Daughters First Saw The Wizard of Oz / TV During WWII / Top Ten TV Shows 1950s / Jack Larson's Suprising Life As Superman's Jimmy Olsen in the 1950s / Judy Garland's 2nd TV Special and Las Vegas Debut / Early Network News Broadcasts / Lost Desilu Sitcom: Those Whiting Girls / Lost Superboy Pilot / The Shadow 1954 Pilot / KTLA News / / Kid Show Pioneer Herb Sheldon / Aline Saarinen / Tribute to Sandy Becker / The Adventures of Dr. Fu Manchu / / O.Henry Playhouse / NYC's First Bozo Bill Britten / The Magical Land of Alakazam! / 1950s and 60s Bloopers / TV's First Working Woman / Cannonball - 1950s Trucking Drama / Sonny Fox Kid Shows / Lauren Bacall on Bette Davis / Sunset Boulevard Explained / Abbott & Costello TV Show / The Three Stooges: The Where They Were / The First 'Black' Show - Beulah / Women on TV in the 1950s / The Today Show / Hey Jeannie / The Jeannie Carson Show / TV's First Educator Paul Tripp / Ernie Kovacs / Soap Opera Miss Susan / Adventures of Superman Lost Episode / Bette Davis vs Ronald Reagan / Captain Z-Ro / Obscure Actress Mary Castle / Serious 1950s TV shows / Remembering David Susskind / TV's First Rerun Series / The Ken Murray Budweiser Show / Saturday Morning Serials / Two Variety Shows of the Fifties / Game Shows of the Fifties /1950's TV Wrestling / Greensboro's Soda Pop History / Mr. Adams and Eve / TV's First Star / Oh Susanna! the Gale Storm Show / Bob Hastings / TV's First Star / History of the Laugh Track / The First Interactive Video Game / Designing Winky-Dink / Buffalo Bob Smith / The McKimson Brothers & Animation / Interview with a Show Business Legend / The Soundies / Snaders Telescriptions / Steve Allen Interviewed / Racket Squad / December Bride / The Big Show / Beverly Garland & Decoy / Richard Crenna & The Real McCoys / Roger Muir / Noel Coward's 1955 TV Special / Jon Provost Interview / 1950's TV Shows on DVD / Oh Susanna! The Gale Storm Show / 1950's Old Time TV Thanksgiving / Outrageous 1950's Commercial! / The Real Superman? / Mickey Mouse Club's Cheryl / Gale Storm / Captain Allen Swift / NYC's St. Patrick's Day Parade Telecasts / Julie London / The Goldbergs / 1950's Female Singers / The Dead End Kids / Bowery Boys / Fred Allen / Ed Wynn / Mr. Belvedere Movies / Art Linkletter / The Bickersons / Marty & Live TV / George Gobel & Red Buttons / Barbara Billingsley / Billy Gray Interview / Abbott & Costello Show / The Honeymooners / Three Stooges' Joe Besser / Whirlybirds / Burns & Allen Show
"It's better to be hated for who you are than to be loved for someone you're not. It's a sign of your worth, sometimes, if you're hated by the right people."
- Bette Davis