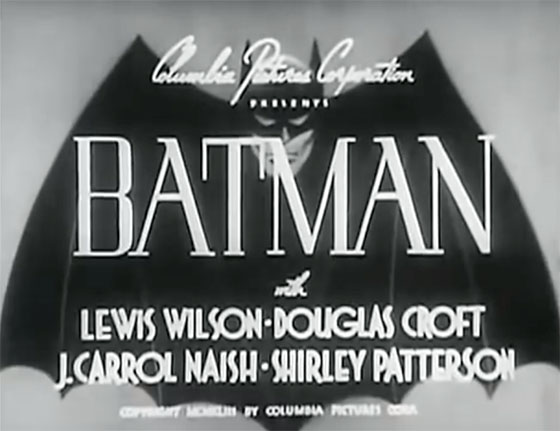 The Very First Batman Movie!
by Billy Ingram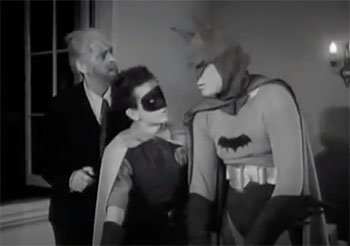 Created by Bob Kane and Bill Finger, Batman made his first appearance in Detective Comics #27 in 1939, just four years later the character was introduced to the movie going public in The Batman (on the poster, more often referred to as Batman). Heck, he beat Superman, an arguably more popular character, certainly in terms of comic book sales, to the big screen by 5 years.
Superman was also a big hit on network radio, there was no Batman primetime radio series although Batman and/or Bruce Wayne appeared in more than a dozen Superman story arcs ranging from 5 to 35 episodes each.
The very first Batman movie came in 15 weekly chapters from Columbia Pictures, each ending with a life or death cliffhanger as was the style of these movie serials. Batman is one of the better superhero serials, it's a slicker production than most serials of this period.
Directed by Lambert Hillyer, Lewis Wilson stars as Batman with Douglas Croft as his sidekick Robin who, in this iteration, is old enough to drive. Shirley Patterson was seen as Linda Page, Bruce Wayne's unsuspecting girlfriend with William Austin playing Wayne Manor's butler Alfred.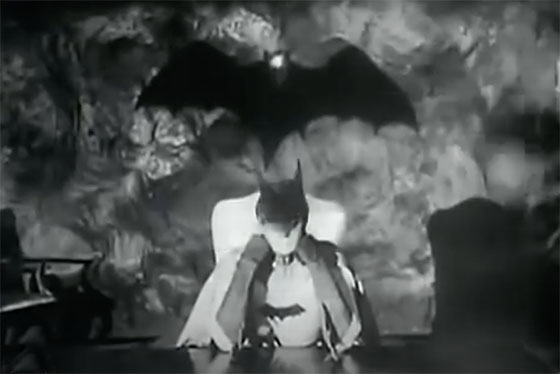 This movie had a lasting impact on the comics and Batman legend. In the Caped Crusader's four color adventures, Alfred was drawn as a rolly polly, clean shaven man. In the serial he's tall, thin, with a mustache which led to a permanent change in the comic's Alfred depiction. The movie series also introduced The Bat's Cave, with access from behind a grandfather clock, which was adopted in the comics as The Batcave.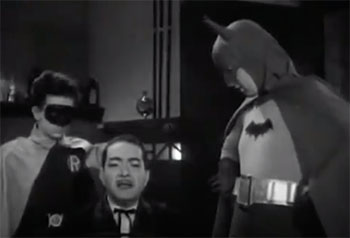 The villain in Batman was an original character, not adapted from the comics, named Dr. Daka, a saboteur from the Japanese Imperial government with a radium-powered death ray, a deadly alligator pit, and a device to create electronic zombies out of people. Dr. Daka was portrayed by J. Carrol Naish who played Boris Karloff's assistant in House of Frankenstein (1944).
During pre-production it was decided the villain would be The Joker portrayed by J. Carroll Nash, this is reflected in Dr. Daka's wardrobe and carnival like lair. What a missed opportunity! As a result, this 1943 series is loaded with insulting Japanese stereotypes. The country was at war with Japan in 1943 so that was par for the course when it came to movies, radio programs, and most especially comic books.
Batman was a box office hit, for 15 weeks no less, which led to a sequel, Batman and Robin in 1949 with Robert Lowery as the not so Dark Knight and Johnny Duncan as the Boy Wonder.
Legend has it that late night showings of the two Batman serials during the '50s and '60s were so popular it prompted ABC to launch the Batman TV show in 1966.
On the subject of The Batcave, in a 1954 issue of Detective Comics (#205 'The Origin of the Batcave') Batman tells Robin he didn't know the cavern existed when he bought the house, discovered by accident when Wayne fell through the floor of an old barn on the property, dropping him into a cave populated by bats.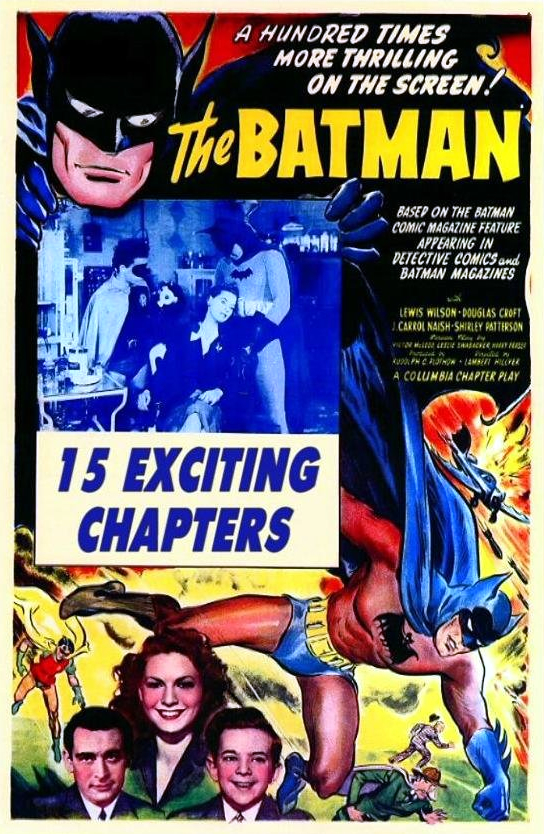 1950's TV Shows / Fess Parker & Davy Crockett / First Sitcom Couple To Share A Bed / Jack Benny Program / Highway Patrol / Betty Hutton Show / 1952 Olympics Telethon / Amos 'n' Andy / Little Rascals & Our Gang / Howdy Doody / The First Batman Movie From 1943 / Who Was the REAL Aunt Jemima? / Freedomland USA / John Wayne Won Lassie in a Poker Game! / Lucy's Sitcom Before I Love Lucy / The Lone Ranger / It's Always Jan / 1950s Shows I NEED To See / Jack Lemmon & Billy Wilder on Marilyn Monroe / So This Is Hollywood / Audrey Meadows Refused To Do This For Jackie Gleason / When Jerry Lewis Ceased To Be Funny / The Plainclothesman / Buck Rogers in the 25th Century / Remembering Tony Dow / First Solo Female Series / Kuda Bux / Was the 1959 Santa Claus Movie Too Christian?!? / When Judy Garland's Daughters First Saw The Wizard of Oz / TV During WWII / Top Ten TV Shows 1950s / Jack Larson's Suprising Life As Superman's Jimmy Olsen in the 1950s / Judy Garland's 2nd TV Special and Las Vegas Debut / Early Network News Broadcasts / Lost Desilu Sitcom: Those Whiting Girls / Lost Superboy Pilot / The Shadow 1954 Pilot / KTLA News / / Kid Show Pioneer Herb Sheldon / Aline Saarinen / Tribute to Sandy Becker / The Adventures of Dr. Fu Manchu / / O.Henry Playhouse / NYC's First Bozo Bill Britten / The Magical Land of Alakazam! / 1950s and 60s Bloopers / TV's First Working Woman / Cannonball - 1950s Trucking Drama / Sonny Fox Kid Shows / Lauren Bacall on Bette Davis / Sunset Boulevard Explained / Abbott & Costello TV Show / The Three Stooges: The Where They Were / The First 'Black' Show - Beulah / Women on TV in the 1950s / The Today Show / Hey Jeannie / The Jeannie Carson Show / TV's First Educator Paul Tripp / Ernie Kovacs / Soap Opera Miss Susan / Adventures of Superman Lost Episode / Bette Davis vs Ronald Reagan / Captain Z-Ro / Obscure Actress Mary Castle / Serious 1950s TV shows / Remembering David Susskind / TV's First Rerun Series / The Ken Murray Budweiser Show / Saturday Morning Serials / Two Variety Shows of the Fifties / Game Shows of the Fifties /1950's TV Wrestling / Greensboro's Soda Pop History / Mr. Adams and Eve / TV's First Star / Oh Susanna! the Gale Storm Show / Bob Hastings / TV's First Star / History of the Laugh Track / The First Interactive Video Game / Designing Winky-Dink / Buffalo Bob Smith / The McKimson Brothers & Animation / Interview with a Show Business Legend / The Soundies / Snaders Telescriptions / Steve Allen Interviewed / Racket Squad / December Bride / The Big Show / Beverly Garland & Decoy / Richard Crenna & The Real McCoys / Roger Muir / Noel Coward's 1955 TV Special / Jon Provost Interview / 1950's TV Shows on DVD / Oh Susanna! The Gale Storm Show / 1950's Old Time TV Thanksgiving / Outrageous 1950's Commercial! / The Real Superman? / Mickey Mouse Club's Cheryl / Gale Storm / Captain Allen Swift / NYC's St. Patrick's Day Parade Telecasts / Julie London / The Goldbergs / 1950's Female Singers / The Dead End Kids / Bowery Boys / Fred Allen / Ed Wynn / Mr. Belvedere Movies / Art Linkletter / The Bickersons / Marty & Live TV / George Gobel & Red Buttons / Barbara Billingsley / Billy Gray Interview / Abbott & Costello Show / The Honeymooners / Three Stooges' Joe Besser / Whirlybirds / Burns & Allen Show

Text from the Batman DVD release: See how BATMAN really began. BATMAN started it all, and it's now available on DVD for the first time ever! Watch as mild-mannered Bruce Wayne (Lewis Wilson) becomes Batman, the classic superhero who, with Robin (Douglas Croft), protects Gotham City from the evil schemes of Dr. Tito Daka (J. Carrol Naish).