Art Linkletter
by Kevin S. Butler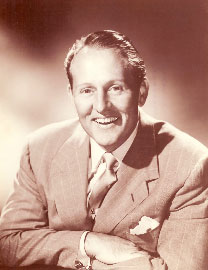 Born illegitimately as Arthur Gordon Kelly in Moose Jaw Saskatchewan, Canada on July 17, 1912. His unwed mother had to put the boy up for adoption and was eventually adopted by Rev. Gary and Mrs. Linkletter at age 7.
The couple changed the boy's name to Art Linkletter and the family soon moved to Southern California where Rev. Linkletter had his foster son work at a variety of odd jobs.
Young Art was not very successful at those jobs and ran away from home. He hopped aboard a freight train and, for a time, lived the life of a hobo as he went from town to town, working at a variety of odd jobs to support himself.
He returned to California where he enrolled into San Diego State College with the hopes of becoming an english teacher but an opportunity to work as a part time announcer on a local radio station sidetracked his plans. Before he graduated from San Diego State College in 1934 Linkletter was mc'ing several radio programs in California and in Texas.
His first real break came in 1942 when radio producer John Gudel invited him to audition for an NBC comedy game show People Are Funny. Linkletter won the audition, the show became a hit and remained on the air until 1961. A TV version also aired on NBC and was also successful.
Linkletter also appeared in a movie version of the series which was produced and released by Paramount Pictures on January 1, 1946 starring Ozzie Nelson, Frances Langford and future "Three Stooges" member "Curly Joe" De Rita.
Two years later Linkletter would host a second series, Art Linkletter's House Party heard over the CBS radio network. Unlike his previous program House Party was a talk/variety show where Linkletter would engage his studio audiences in lively conversations, try to find the heirs of lost and vast fortunes with the aide of a private detective, interview guest personalities, play games with the studio audiences, and talk with a group of witty and unpredictable school kids.
The "Kids Say The Darndest Things" segment became the most popular and widely watched part of the program. According to an interview on a ABC TV talk show in 1997. Linkletter pointed out that the conversations with the kids were spontaneous and not rehearsed but he met with the kids prior to the taping where he played with the kids and got a chance to get to know each child personally.
(The kids segments were recorded and sold as an lp and later edited and sold as a VHS cassette)
He also co-hosted many TV specials - The opening day festivities of Disneyland with actor Bob Cummings, former radio sportscaster and movie star turned politician Ronald Reagan and Walt Disney himself (the Disneyland Opening aired on ABC on July 17, 1955); Disneyland 59; The Eaton's Santa Claus Parade on The CBS TV Thanksgiving Day Jubilee; and a 50th Anniversary tribute to Disneyland which aired in 2005.
Art Linkletter's House Party remained on the air on CBS until it was cancelled in 1969. During it's final run the show was re titled The Linkletter Show.
A year later he returned to co-host a daily talk show Life With Linkletter with his son Jack on NBC. Despite the appearances of Richard Nixon and former kid actress Lisa Gerritsen the show was not a hit and was quickly cancelled.
Art Linkletter left TV broadcasting to concentrate on his many investments. He made some guest appearances on shows like the ABC TV variety show version of"Donny & Marie but he didn't return to regular tv hosting until the 1990s when he did a cable talk program for senior citizens, Old Age Is Not For Sissies. (The title of the show was taken from one of Mr. Linkletter's self help books.) The show was not a hit and it was quickly cancelled.

His last regular TV appearances were on Kids Say The Darndest Things, a comedy conversation program with comic storyteller and actor Bill Cosby serving as the host. Mr. Linkletter would screen clips of the original segments with the kids from his House Party series.

The show which was seen Friday nights on CBS in 1997 was also a failure due to Mr. Cosby's arrogance towards the kids and to the viewers. Following the departure of Kids Say The Darndest Things Art Linkletter left TV hosting and worked on other projects, one of them was being interviewed for the TV Academy's "Living Archives" project which can still be viewed on "You Tube". He was also honored by The Walt Disney Studios as a"Living Legend", he was interviewed for Walt Disney: The Man & The Myth narrated by entertainer Dick Van Dyke and aired on the Disney Sunday Movie on ABC TV A few days after the September 11, 2001 tragedy. He also hosted The 50th anniversary TV tribute to Disneyland.

Mr. Linkletter also wrote many best-selling books some were self help instructional manuals, some were memoirs that talked about his life experiences and three of them were based upon the letters and conversations that he had with kids - "Kids Sure Write Funny" , "Kids Say The Darndest Things" and "Kids Say More Of the Darndest Things".
Despite his many successes on radio, TV and in literature, Art Linkletter was not immune to tragedy. His daughter Diane, who was a troubled drug addict, killed herself while in a drugged up state (according to Linkletter but there was no proof of drugs) in 1969, his son Robert was killed in a car crash in 1980 and not too long ago his second son radio and TV host Jack succumbed to Cancer in 2007.
Art Linkletter died at 97 years old in May, 2010.