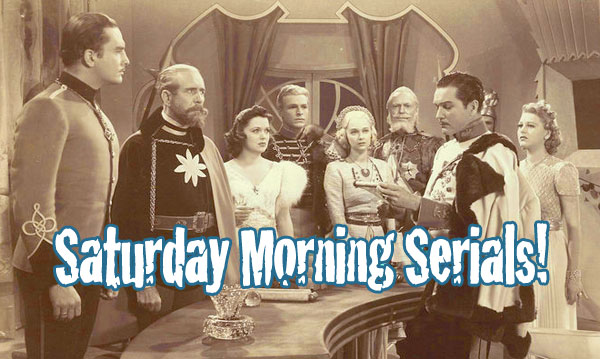 by Billy Ingram with James H. Burns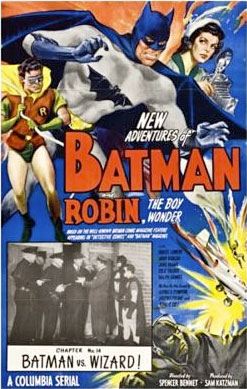 Ever considered checking out some of the Saturday Morning Serials of the 1930s & 1940s but don't know which ones are cool and which are a bore? This guide should help.
Recently James H. Burns brought up the Flash Gordon serials in a blog post and, in an email, asked me which of the Saturday morning shorts I enjoyed as a kid. That's when I had to tell him my sob story.
I had only seen one serial growing up. I'm too young, as is James, to have experienced going to the movie theater on Saturdays to see the latest 20 minute chapter of a 12-15 episode storyline starring Captain America, Superman, Blackhawk, Batman, King of the Rocketmen, or The Shadow.
Too young to know what a pain it must have been to wait a week to find out how the hero and his girl survived being in a house that exploded into a load of lumber. Too young to guess what a ripoff it must have felt like to plunk my nickel down the next week only to find they left out a key scene in the last chapter - the part where the good guys all beat it out the back door, get in their Packard, and speed away!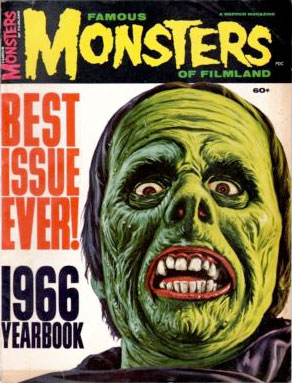 I knew about the serials as an avid reader of Famous Monsters of Filmland, a magazine that often featured splashy photo layouts on those classic sci-fi and superhero chapter plays of the '30s and '40s. I was envious. You mean I missed out on the exciting adventures of Batman & Robin (no matter how silly their costumes looked compared to Adam West)? I'd heard of Captain Marvel but here he was, big as life, in what looked like a first class production.
When a handful of serials became available in the mid-1960s, TV stations snapped up the rights to this cheap entertainment as a way to fill time and keep the children tuned in. Kiddie shows around the nation, especially in larger cities like Boston, New York and Chicago, happily gave over time to these black and white gems and a new generation devoured them.
(Just as a guess I would say the three Flash Gordons, Dick Tracy, Buck Rogers, and some western serials were the bulk of what was available to TV, if you have more info please let me know.)

(Years after their release serials were often chopped up and turned into feature films
like this version of Buck Rogers called Planet Outlaws.)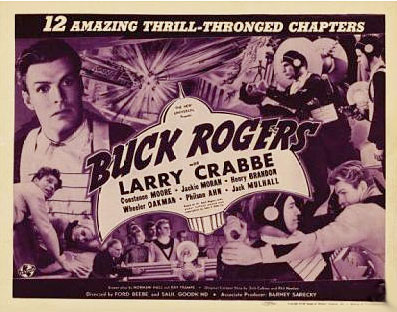 And so it happened that one day in 1968 Bob Gordon of The Bob Gordon Theater on WSJS (now WXII) in Winston Salem announced he would start showing the Buck Rogers serial two episodes at a time beginning the next week. I just about leapt into the atmosphere.
Buck Rogers was cool, Frank Frazetta drew Buck Rogers. (What I didn't know at the time was that this was one of the lamer serials.)
It was only natural that Bob Gordon would broadcast these cliffhanger shorts - he possessed a vast knowledge of entertainment of that era and he had from 3 to 6 hours to fill on Sunday and sometimes Saturday afternoons. And fill it he did, with sitcom and western reruns like Cheyenne, Sugarfoot, Dobie Gillis, 77 Sunset Strip and the like (later sci-fi shows like The Invaders and Time Tunnel replaced the westerns).
I loved it when Bob Gordon was on - it meant there was something on TV to watch for one thing! His studio segments were always fun, when he brought on a middle aged comic book collector my friend John Hitchcock and I were gobsmacked that there were adults who collected comics like we did!
When the Sunday of my Buck Rogers dreams came I stared into that picture trying to absorb every aspect the crude production, from the cookie cutter characters to the bizarre obviously miniature space ship effects (costumes and props borrowed from the Flash Gordon productions). Still, Buster Crabbe and the cast were fun to watch even if it did have a backyard production feel to it and very little actually happened story-wise.
I looked forward to the announcement of what the next serial might be and... that was it. Six months later Bob Gordon ran the same Buck Rogers serial and then again the next year but no others.
In the mid-1970s one of our local movie theaters, The Terrace, had midnight showings of classic TV shows like Topper; they ran the first Batman serial one episode a week and I was able to catch a couple of those but that was it until VHS copies came along.
Wind back around with me to that email exchange with Jim Burns, I told him my sad lack-of-exposure-to-serials story and asked what he thought were the best of the bunch. One that might be enjoyed today. Here's his list with some comments of my own.

James H. Burns: I think the problem with many of the serials is that they're meant to be seen -- when we're young! ;-)

I had such great memories of growing up with the FLASH GORDON serials (the first two, the last, with the snow sequences is just kind of so-so).

Some part of me must have been spooked to watch them again, except for occasionally seeing one of the feature versions. But, last year, I finally rewatched the first FLASH GORDON--and was stunned to realize I hadn't seen it in its entirety since those Beachcomber Bill days. And it was kind of mesmerizing. Now, much of that probably had to do with buried childhood memories but there was a lot of fun--and surprisingly adult--stuff in it.

I actually haven't seen a lot of serials, but can recommend:

The first chapter of ATOM MAN VS. SUPERMAN, the second Kirk Alyn serial, is just incredibly action packed.

(Billy here: I agree, awesome effects and fast paced. I never warmed to Kirk Alyn as Superman but you get sassy Noel Neill as Lois Lane so it's a winner right there.)

CAPTAIN AMERICA actually has nothing to do with the comic book, but, surprisingly, if you grew up with the comic, its action scenes are kind of neat, because it's the ONLY time--even with the recent feature!--you actually get to see a live-action Cap, in his costume, having adventures!


The BATMAN serials--although oddly paced, and cast--can have similar pleasures.

THE NEW ADVENTURES OF TARZAN (1935), while certainly a tad slow, also has some very neat sequences, and for a time, if my memory serves, it has the odd but not unpleasant feeling that you're actually watching home movies, or rather actual footage of Greystoke, the Lord of the Apes...

CAPTAIN MARVEL (1941) has a sterling reputation among aficionados, it may be the best of the superhero serials. Genuinely exciting and charming as well.


THE ADVENTURES OF SMILIN' JACK also has some terrific action--but actually plays more like an unofficial sequel to ACE DRUMMOND, which had been Universal's most successful serial, up until FLASH GORDON--rather than an adaptation of a then successful comic strip!

I've enjoyed chapters of ROCKET MAN, GREEN HORNET... But I'm not sure if they're actually any good! (Actually, there are moon sequences in COMMANDO CODY: RADAR MEN FROM THE MOON, including a moon-car chase (!), that are pretty spiffy.)

THE DRUMS OF FU MANCHU, with BABES IN TOYLAND's Silas Barnaby, Henry Brandon, had some neat, if politically incorrect, sequences.

I'm sure there's more! I think the everlasting appeal of the serials is really that entire WORLD they created on the screen, and later on TV, and which--in bits and pieces, anyway--can still be wonderful to engage.

Thanks Jim!
As an adult I've seen: Undersea Kingdom (1936) and it was pretty wild, with some crazy robots and impressive sets. Don't remember much about the story but it stars Ray "Crash" Corrigan and it's a interesting mix of cowboys and sci-fi.
The three Flash Gordon movies, culled from the serials, are available on Netflix streaming. Watching The Purple Death from Space, remixed in 1966 from Flash Gordon Conquers the Universe, was a thrill with a super clean print and a fine editing job. The production values were quite good on this shoot. The Flash Gordon serials are also on Netflix (or were).
The Spider's Web (1938) I haven't seen but it looks amazing.
The Green Hornet (1940) based on the radio drama, this bored me to death, all buzz no sting. Although that hornet struggling to get free in the opening is mesmerizing.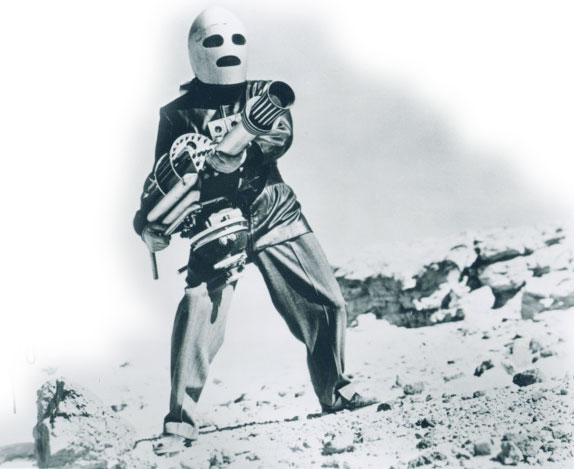 Commando Cody: Radar Men From the Moon (1952) you should probably see just for the shear ridiculousness, one of the last of the genre, a true sci-fi film classic.
There you have it, a monochromatic world of entertainment awaits you where supervillains are morbidly obese, everybody's a fedora wearin' tough guy, and the landscape reflects the end of the depression and the start of the booming 1940s, wide open spaces now undoubtedly covered in condos and superstores.