Buck Rogers in the 25th Century TV Show 1950-51
by Billy Ingram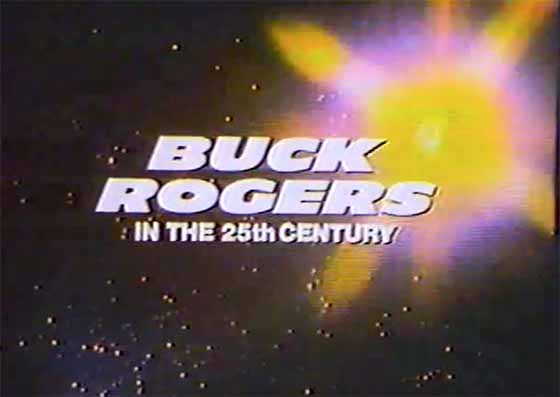 Buck Rogers in the 25th Century rocketed onto the small screen twice, most recently in the 1979-81 NBC series starring Gil Gerard as Captain William "Buck" Rogers.
The pilot episode was actually released theatrically on March 30, 1979. Benefitting from post-Star Wars fever, it performed well at the box office leading to a weekly hour. Co-starring in the series was Erin Gray as Starfighter pilot Colonel Wilma Deering.
Less well-known was a previous television incarnation, also titled Buck Rogers in the 25th Century, from almost 30 years earlier.
Created by Philip Francis Nowlan, Buck Rogers debuted in the pulp magazine Amazing Stories in 1928 but rose to peak popularity when the character appeared as a daily newspaper comic strip, Buck Rogers in the 25th Century A.D., for the National Newspaper Service syndicate in 1929, written and drawn by Philip Nowlan (w) and Dick Calkins (a). Hand-colored with watercolors, a full page Sunday installment began in 1930.
Buck is a man from modern times (1927 originally) who wakes up in the year 2419 following a mine cave-in where he was exposed to radioactive gas causing him to fall into "a state of suspended animation, free from the ravages of catabolic processes, and without any apparent effect on physical or mental faculties."
From the first daily strip: "I was 20 years old when they stopped the world war and mustered me out of the air service. I got a job surveying the lower levels of an abandoned mine near Pittsburgh, in which the atmosphere had a peculiar pungent tang and the crumbling rock glowed strangely. I was examining it when suddenly the roof behind me caved in and..."
A highly rated radio drama beginning in 1932 led to a 12-chapter movie serial in 1939. While Flash Gordon inspired three 12-chapter adventures, Buck Rogers never spawned a sequel, likely due to not being nearly as well produced. Oddly, both space explorers were played by the same actor, Buster Crabbe, Buck Rogers was filmed between the second and third Flash Gordon serials.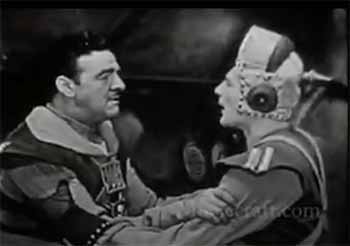 Airing on ABC from April 15, 1950 until January 30, 1951 on Tuesdays at 8:30pm(et), this 1950 episode of Buck Rogers in the 25th Century is your standard 'reading of the will / this house is haunted' plotline with a slight twist. Buck's costume looks more like a gladiator than a spaceman but whatever.
For a show taking place centuries in the future the setting isn't very futuristic, in fact another low budget sci-fi puppet show called Space Patrol was decidedly more high tech looking with a very exciting opening sequence for a product of the earliest days of television.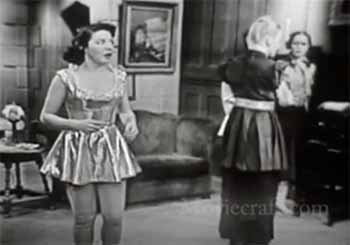 From the episode description: "The time is 2430. We are in Buck Rogers secret lab behind Niagara Falls. Abner Thorn, inventor, has died and left a secret formula to manufacture platinum in his safe at Thorn Manor. It is essential to the economy of the world that this formula be registered immediately with the Science Council. A seance is held to contact Abner Thorn before the reading of the will, which contains the combination to the safe. Can he return from the curtain of everlasting sleep? Stars Robert Pastene, Lou Prentis, and Harry Kingston. Air Date: 12-19-50"
Contrast with Space Patrol (1950-1955) broadcast live, as was Buck Rogers:
WIKI: The Buck Rogers serial had a small budget and saved money on special effects by reusing material from other stories: background shots from the futuristic musical Just Imagine (1930), as the city of the future, the garishly stenciled walls from the Azura palace set in Flash Gordon's Trip to Mars, as Kane's penthouse suite, and even the studded leather belt that Crabbe wore in Flash Gordon's Trip to Mars turned up as part of Buck's uniform. Between 1953 and the mid-1970s, this film serial was edited into three distinct feature film versions.

The Buck Rogers in the 25th Century comic strip ended in 1967 but was revived in 1979, produced by Gray Morrow and Jim Lawrence. That version ran for 4 years.