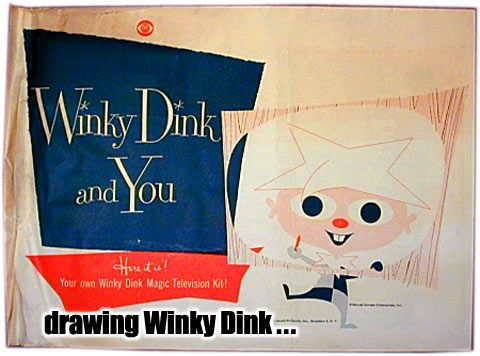 by Norm Blumenthal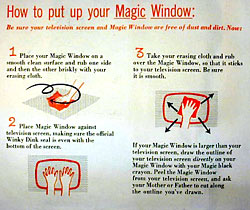 Winky Dink and You was the first interactive video game.
Boys and girls watching television at home were asked to help Winky-Dink out of a jam by drawing whatever the cartoon character needed (rope, ladder, bridge, etc.) on the TV screen. This was done with the aid of a Winky Dink Screen which came with the Winky-Dink Kit, sold by mail for fifty cents.
/ / / Classic TV Blog / / / TV Shows on DVD / / / TV Show Reviews
Winky Dink and You aired at 10:00am Saturday mornings from October 10, 1953 until April 27, 1957 on the CBS network - with a short syndicated revival in the late-sixties.
Winky Dink was known for its distinctive graphic style - Norm Blumenthal was one of the artists who defined that look. Later, as a producer for the classic NBC game show, he also devised and illustrated those wonderful rebus puzzles seen on Concentration.
---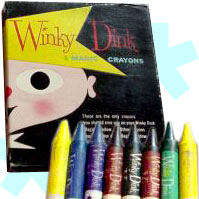 There are still some of us around today who lovingly recall Winky Dink & You. It was my baptism of fire in the TV industry.

As a young graphic artist, along with Norman Mazin, I drew Winky. Not only for the CBS show, but all of the licensed products -- coloring books, record album covers, jig-saw puzzles, etc.

From that beginning, I did several shows and produced and made up all the puzzles for Concentration. My last credit is for creating and producing Cable's American Music Classics.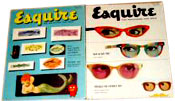 While working my way up to Assistant Art Director of Esquire Magazine, I became concerned about what the future held for me. I was in my early twenties, and noticed that none of my fellow artists were much older.
Commercial art was a young person's field. Would I be washed up before I turned forty? I started looking for another way of utilizing my artistic abilities.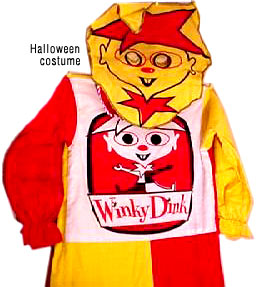 Fortunately, I heard about an opening for a graphic artist on a children's TV show, called, Winky Dink & You. I got the job. I wondered if this career change was a smart move. Guess it was, it lasted more than forty years.
Television was in its infancy and we had little to work with. The shows were shown live in glorious black and white. If only we had video tape, instead of Kinescope recordings, those shows would still be available for viewing.
Because of the limited availabilty of special effects, we had to be very creative. In many ways, the inventiveness we came up with, was much like those employed by the legendary comedic genius, Ernie Kovacs.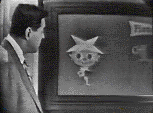 One of our favorite tools, was key insertion. This was the forerunner of today's Chroma-key insertion (used to place a weather forecaster standing in front of a green wall, appear to be in front of a map or other picture, etc.)
In those colorless days, we used a black background. By dressing host, Jack Barry in a white suit, we could make it look like he was anywhere in the world, or even having a conversation with an elephant drawn by the children at home. He could even fly through the air, just like Superman does on film.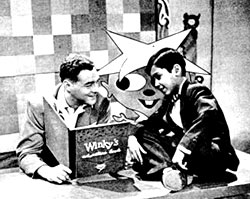 Utilizing the participation of the children at home, we would ask them to draw something like a boat on their magic screen. Through chroma-key, we would place Jack in it, and he'd go off on an adventure.
Involving the kids at home, through their participation, is something that has never been duplicated. No one needed a decoder ring to get one of those secret messages, all you needed was a Winky Dink plastic screen and some magic crayons.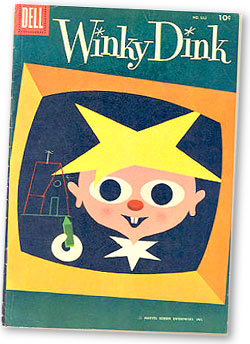 With today's unbelievable magic technology, imagine how great a modern day version of Winky Dink would be. And it would be in full color.