THE SEARCH FOR THE SOLO FEMALE LEAD
By Cary O'Dell
The (one-would-think) simple question of "What actress was the very first to helm her own dramatic TV series?" isn't as simple as it sounds. It is one that—like many in TV—gets very tangled very quickly.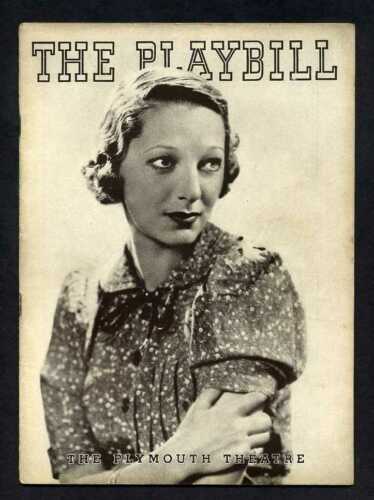 Well, actually, though, that honor, First Female in an Ongoing Drama, probably belongs to actress Vera Allen (not to be confused with movie star/dancer Vera-Ellen). Allen (1897-1987) was, mainly, a New York stage actress who did some soap operas over the years including a major role on the 1958-59 daytime drama "From These Roots." But, earlier, in 1949, she starred in the DuMont network's half-hour primetime serial "The O'Neils." In it, she had the lead role of Peggy O'Neil, who was a fashion designer and widowed mother of two children.
Via "The O'Neils" then, Allen can lay claim to various feminist TV firsts—network TV's first leading woman in a primetime drama, network TV's first working woman, network TV's first working mother, and network TV's first single mother! "O'Neils" ran from September 1949 to January of 1950.
After that, though, women as the solo lead in a drama would be a bit few and far between. Oh, of course, women figured in some dramatic programs—like the newspaper drama "Big Town"—but they were always part of an ensemble, not really front and center.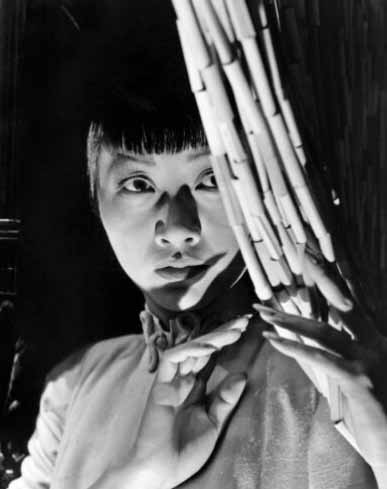 Two early woman who were very much at the helm of her very own early dramatic series were women who are, today, far better known for other roles and other things. Filmdom's Anna May Wong was a gallery curator and amateur crime solver on the series "The Gallery of Madame Liu-Tsong."
This half-hour detective drama aired on DuMont from August to November 1951. The series marks Wong as not only as TV's first female detective but also the first Asian-American star, male or female, to helm their own American TV series.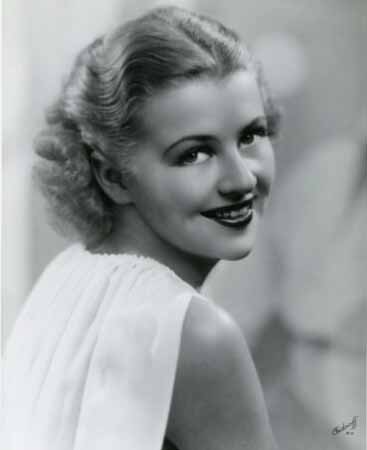 Also in 1951, the great Betty Furness (today, far better known as a reporter, political appointee and as Westinghouse's one-time peerless pitchwoman) starred in ABC's 30-minute "Byline" series. In it, she was a crusading and often daring reporter. That show, sponsored by your friendly local Kaiser-Frazer dealer, aired in November and December of 1951. Blink, and you might have missed it. (Sadly, no episodes of either "Gallery" or "Byline" are known to have survived to present day.)
At this time, if the big networks weren't really providing women with any enduring dramatic programs, first-run syndication was. And often these women were some of the most heroic that TV have ever seen!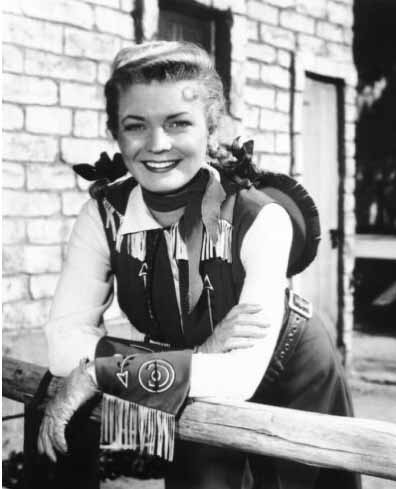 In 1954, Gail Davis became the Wild West's "Annie Oakley." That same year Ella Raines was "Janet Dean, Registered Nurse." In 1955, Beverly Garland was an often undercover cop on "Decoy," and that same year Irish McCalla was "Sheena of the Jungle."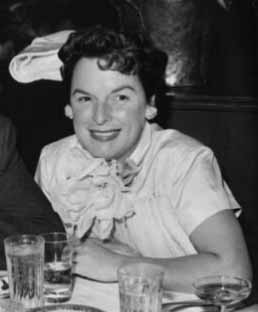 In 1956, network TV finally welcomed an independent, headlining woman—at least one third of the time—on the series "Wire Service." On "Wire," Oscar-winning actress Mercedes McCambridge appeared in every third episode of the one-year, one-hour series, as intrepid newswoman Kathrine Wells. (George Brent and Dane Clark rounded out the rotation of actors.)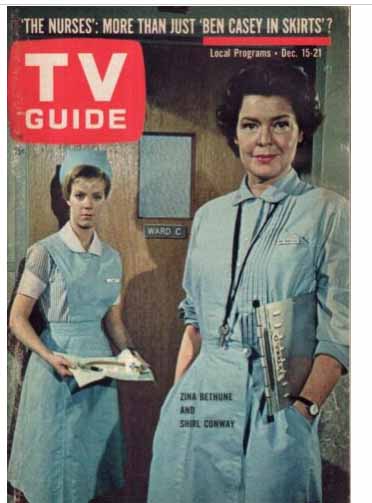 Then…in 1962, network TV finally got some women front and center—in every episode and one-hour in length. They arrived by way of the medical drama "The Nurses" which debuted in September 1962.
It starred Shirl Conway as head nurse Liz Thorpe and Zina Bethune, as her young charge, Nurse Gail Lucas. (It was a character dynamic that would be largely replicated in the Showtime series "Nurse Jackie" several decades later.) "The Nurses" worked at the fictional Alden Hospital.
"The Nurses" was critically acclaimed…and poorly rated. Still it was on the air—over CBS—from 1962 to 1965.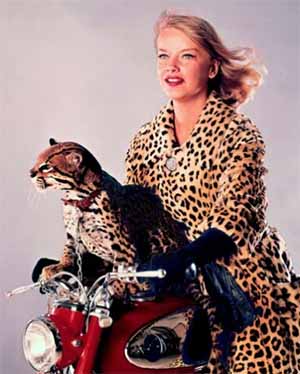 Then, on ABC in 1965, Anne Francis debuted as private eye "Honey West." She had a male business partner—the late actor John Ericson—but the show was all about her! Francis's iconic series—30 minutes in length—aired in primetime time for 30 very cool episodes.
NOW… for those that insist that "TV drama" has to mean one-full hour in length and on network primetime (and if you overlook "The Nurses"), then the actress who can claim to being the first star of her own solo-starring hour-long, network primetime vehicle is none other than…Stefanie Powers.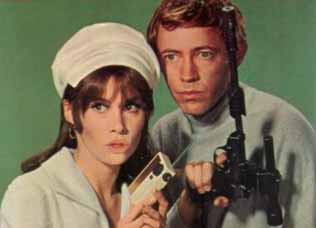 A spin-off, of course, of the successful spy adventure "The Man From UNCLE," the 60-minute "Girl From UNCLE," starring Powers, debuted on ABC in September 1966. It would run for a full year and produce 29 episodes. And though Powers's secret agent character, April Dancer, had a full-time male co-star (Noel Harrison as dashing Mark Slate), it was her name (and her name alone) that was in the program's title.
Interestingly, in the 1970s, not long after the eruption of the second wave of modern feminism, the TV networks did decide it was time to feature more women, alone and in the foreground, headlining their own hour-long, primetime drama series.
If it is rather surprising that Stefanie Powers was TV first hour-long solo heroine, it might be even more surprising that its second was an African-American woman.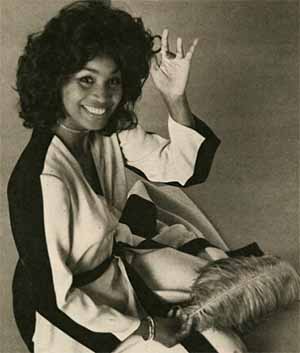 The formable Teresa Graves debuted in the hour-long cop drama "Get Christie Love!" on September 11, 1974. "Love" earned her place as primetime's first full-time female police officer only by a matter of days.
Angie Dickinson arrived in "Police Woman" only two days after "Christie" did, when the Dickinson series debuted on September 13, 1974. Still, "Police Woman" would last much longer. "Woman" went on for four seasons; "Christie" expired after just one. (By the way, TV's first full-time TV cop in a co-lead role was probably Peggy Lipton as one third of the "The Mod Squad"; it aired 1968-1973.)
But Angie and Teresa weren't the only ladies on the police force in primetime in 1974. That same year, Jessica Walters debuted in a spinoff of "Ironside." Walters played "Amy Prentiss," the newly-appointed chief of detectives for the San Francisco PD, and the first woman in the job. Walters would go on to win an Emmy for her work on the series but the series' run was brief: it aired only three episodes between December 1974 and February 1975.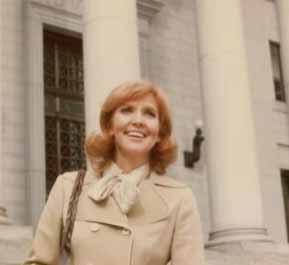 To their credit though, the networks didn't totally give up on dramatic series with women in primetime. In 1975, Anne Meara took on a dramatic role in the hour-long series "Kate McShane." Kate was a crusading attorney. She had a brother who was a priest and a dad who was an ex-cop. The show had several things in common with "Amy P.," including its very short run. "Kate" debuted in September 1975 and aired its last episode in November 1975.
If certain women of the law weren't clicking with viewers, the networks then tried going, quite literally, old school. In February 1976, Brenda Vaccaro debuted as single school teacher in "Sara." The show was a Western; it was set in Colorado in the 1870s. Like "Amy" and "Kate," though, "Sara" wasn't a hit. It aired only from February through May of '76.
Far more successful, of course, were some other female-focused shows (all also one-hour in length) that exploded on the airwaves in the mid-1970s.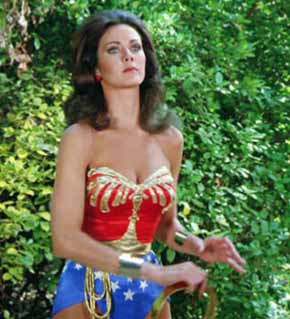 America's first true "Wonder Woman" (the one with Lynda Carter) made her small screen debut in a TV movie which aired in November, 1975. The "Wonder Woman" series began its weekly run in April of 1976. It would air for three seasons, before coming to an end in 1979.
"The Bionic Woman" began in January 1976. "Bionic" was a spin-off the "The Six Million Dollar Man." (Note, interestingly, the number of these series—"UNCLE" to "Amy"—that have a male series "parent.") Helped by Lindsay Wagner's deeply humanistic performance, "Bionic Woman" was a hit and aired until 1978.
Then there of course there was "Charlie's Angels," where we got three female leads instead of just one. After a March of 1975 pilot movie, the "Angels" series began proper on September 22, 1976 and became a controversial phenomenon, one that, today, manages to be both beloved and still hotly debated. The show would undergo a variety of well-publicized cast changes but would remain on the air until 1981. (And, of course, see itself often resurrected on both TV and in film.)
Why some of these female-centered network dramas succeeded and others perished quickly seems—not even in retrospect—sort of obvious. When these female-focused series (especially those in the 1970s) mixed their elements of intrigue and action-adventure with elements of, well, sex via the glamourous images of their leading ladies (Lynda Carter, all of the "Angels"), the shows were hits. When the series played as straight drama, they were flops.
There was once a long-held maxim of the TV industry (one with, perhaps, more than a grain of truth to it) that, back when most households had only one TV (and families were a little more traditional), mom controlled the dial during the day, the kids controlled it in the late afternoon and early evening and dad had it in primetime.
Does this explain then why hard-boiled cops and PI's as well as dusty Westerns were so dominate on the small screen for so long? It certainly seems explains why "Wonder Woman" or "Charlie's Angels" could find a cross-sectional appeal among both male and female audiences, even very often right in the same households.
It might go on to explain why, too, other late 1970s and early 1980s attempts to launch other female-centered dramas like "Julie Farr, MD," in 1978, "Dear Detective" (again with Brenda Vacarro) and "Kate Loves a Mystery," both in 1979, and "Jessica Novak" in 1981 also endured for only alarmingly short runs.
Though not exactly at the turn of the decade, the 1980s and later, the 1990s, brought women into their own with hour-long drama series where they were not only front and center but also…successful! Think: "Murder, She Wrote" and "Cagney & Lacey." Later, consider "Dr. Quinn." And, back in the world of first-run syndication, remember "Xena."
But these latter ladies owe some of their success to those who—though perhaps short-lived—nevertheless paved the way for them, thanks to the determination of the often misrepresented, misunderstood one-time "big three" networks and a few dedicated viewers who, like the women they were watching, never gave up.