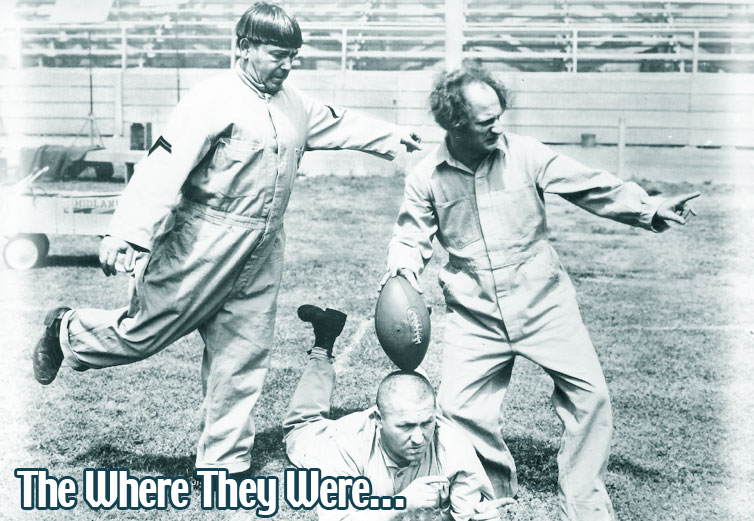 by Billy Ingram
I'm fascinated by motion picture making during Hollywood's golden age... and Los Angeles architecture. So, for instance, when a book came along like 'Silent Echoes' by John Bengtson, a look at existant LA locales used in Buster Keaton movies, I was thrilled. But I wanted more.
Just released from Santa Monica Books comes the ultimate movie locale book - 'The Three stooges Hollywood Filming Locations' by Jim Pauley.

Most of the boy's films were shot on Columbia's main lot in Hollywood (now the Gower Studio) and the Columbia Ranch in Burbank (now Warner Bros.) and this book offers the reader an intimate look at those sprawling film studios. But the author doesn't stop there, meticulously tracking down even the barely recognizable locations around Los Angeles on those occasions when the Stooges ventured outside the studio gates.
It's miraculous to see what is still standing today, almost three quarters of a century after Moe, Larry, Curly and Shemp sent barrels rolling down the boulevards, flopped into wet cement, took a cake to the face, exploded automobiles, dangled precariously out of windows, played rough and tumble football at USC, tee-d off golf balls, and just generally wrought their brand of mayhem and havoc.
See what these places look like today: the steps where the boys struggled to get a block of ice to the top in 'An Ache in Every Stake' (I used to know someone who lived there); the Echo Park street where beer barrels tumbled into traffic in 'Three Little Beers'; the intersections on Larchmont, Third, and Melrose Avenues used in 'False Alarms'; the Providencia Ranch where 'Goofs and Saddles' and several others were filmed.
'The Three stooges Hollywood Filming Locations' is presented in a horizontal format and is beautifully designed and laid out, making this the ultimate Three Stooges companion. Also included are maps of the Columbia Studios as they were in the 1930s, along with maps of the various locales around LA the boy's frequented.
This is a massive tome, 300+ pages filled with photos from all of the Stooges' shorts that utilized outdoor locations. That's well over a thousand stills, vintage photos, family snapshots, and screen captures to bring back to life the City of Angels... as demolished by The Three Stooges and company.
Having read several books on The Three Stooges this one in particular tells me more about the famous trio than I ever knew, candid photos of the comedians hard at work are a revelation... it looked like they were having so much fun! No wonder these comedic hit-and-runs still stand the test of time.
To say that this is the ultimate Three Stooges book is no exaggeration, I can't imagine any fan wouldn't fall backward in ecstasy (into wet cement, natch).
---
BOOK REVIEW:
'The Three stooges Hollywood Filming Locations' by Jim Pauley.
Book Description:
Publication Date: December 15, 2012

Exploring the film settings of one of the most popular comedy teams in American history, The Three Stooges: Hollywood Filming Locations documents the sites of the Stooges' most famous Columbia Pictures short films made in and around Hollywood between 1934 and 1958. These famous and hilarious shorts are covered in detail through a wealth of archival photographs, many of which are rare and previously unpublished. Also included are candid shots, vintage publicity stills, screen captures from films, contemporary photographs, aerial views, and maps detailing the various filming locations. Featuring exclusive quotes from the Three Stooges' directors, supporting actors, and family members, this collection is a treasure trove of memorabilia for the Stooges fan and an important document in Hollywood's cinematic history.
Amazon Prime - unlimited streaming
of your fave TV shows and movies!
Get your FREE 30 Day Trial!
PR4 & PR5 Pages for Advertising