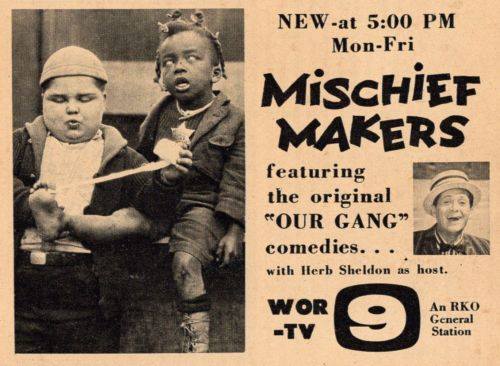 The Unique Personality of Herb Sheldon

By Kevin S. Butler

2023 marks the 100th birthday of radio & TV broadcaster, puppeteer, actor and N.Y.C. based kid's TV host Herb Sheldon.
With his unique and gentle, soft spoken personality and wit, he informed and entertained women and children in the Metro NYC area.
The son of a former trick bike rider and vaudeville entertainer turned textile salesman. Herb Sussman was born in Brooklyn, New York in January of 1913. After attending Erasmus Hall H.S. in Brooklyn, New York, Herb's father was grooming his son to follow him in the textile business.
But a scholarship with The American Academy Of Dramatic Arts made him switch his career to show biz. He played small character roles in Broadway shows. When the character roles became few and far between he became a radio broadcaster.
Changing his last name to Sheldon, he made his debut on WINS Radio (then a commercial station) in 1941. There he hosted a talk/variety show.
The show became a hit with listeners and Herb went on to mc other programs including co-hosting "Sheldon and McNeill's At The Latin Quarter" with another popular broadcaster Maggie McNeill.
Sheldon continued to host other radio shows..until 1946 when he made his TV debut on WNBT (WRCA now known as WNBC) Ch.4 in NYC. At Ch.4 he mc'd several children's shows "Kids Today", "Saturdays with Herb Sheldon", "Sheldon At Six", and "One Is For Sheldon" (which he presented live from the rooftop of the first RCA Building at W.61st Street and Columbus Ave.).
On these kids' TV series he manipulated and voiced two puppets, "Egbert the Bookworm" and "Ummley the Steam Shovel". Unlike the other local kiddie TV personalities, Herb always talked intimately and sincerely to his viewers. He treated his young fans as equals.
Unfortunately, his tenure at WNBT was short lived, he violated his contract by hosting other radio and TV series for competing stations which resulted in the station execs at Ch.4 terminating his services.
Herb wasn't out of work for long. In the fall of 1956, he joined WABD (WNEW now WNYW) TV Ch.5 in NYC where he succeeded Sandy Becker as the second host of the station's long running kids' variety program "Wonderama" and he also took over "The Looney Tunes Show" and "The Bugs Bunny Theater" (which was later retitled "Bugs Bunny Presents").
He became popular with the young viewers and he also hosted a rock and roll dance and music show for teens "Studio Party", two more kid shows, "Speaking Of Animals" (where he introduced reruns of film comedies featuring talking critters) and "Adventures In Comics".
Sheldon also mc'd a late night old movie show "Ricky Tickey Playhouse" and a daily talk show for adults, "Herb Sheldon's Playland" / "Herb Sheldon At Noon". He co-hosted the first "Wonderama Christmas Cartoon Party" with Sandy Becker and with kid TV's first futuristic space hero "Capt.Video" (Al Hodge) on WABD TV Ch.5 in NYC on Tuesday December 25,1956. Herb went onto mc the second annual "Wonderama Christmas Cartoon Party" on Ch.5 on Wednesday, December 25, 1957.
But he again got into trouble with the station execs at Ch.5 when he began hosting TV program for competing stations and he also served as an mc for nightclubs.
Herb Sheldon left Ch.5 in the summer of 1958. (Bill Britten took over the hosting duties on "Wonderama" & "The Looney Tunes Show" and Britten and "Uncle Fred" Scott serves as the last two mc's of "Bugs Bunny Presents" / "Nuts And Bugs" which continued until 1959)
For a time Sheldon hosted a late night TV game show for adults, "Hold That Camera" on WNTA Ch.13 in Newark,N.J. (Then a local independent commercial television station) and he was one of the hosts/performers for Ch.13's Saturday morning kiddie variety program "Funderama" for the 1958/1959 season. (The other mc's of "Funderama"were Morey Amserdam, Arnold Stang & Sonny Fox.)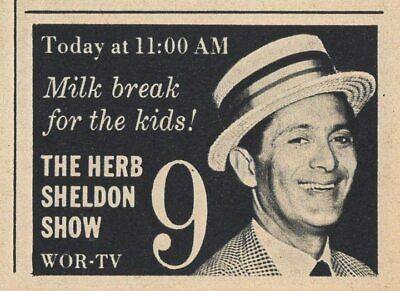 In the fall of 1959, Herb would host his last two NYC based kid's series for WOR TV Ch.9, another "Looney Tunes Show" weekday mornings starting on Monday, September 14, 1959 (the first two mc's of the program were Ms. Ginger Macmanus and Paul Tripp) and he hosted "The Mischief Makers" where he would entertain and inform his young viewers between reruns of the silent "Out Gang" / "Little Rascals" films. (The title of "The Looney Tunes Show"would later be changed to "The Herb Sheldon Show).
On these two series, Sheldon would sport a straw skimmer hat, a striped or checkered blazer, a white shirt and a bow tie or a necktie. And on "The Mischief Makers" he would drive onto the set in a Model T car. "The Mischief Makers" debuted on Monday evening, September 19,1960.
The Silent "Our Gang" films were not as popular as the sound versions of the series that Hal Roach's studio produced for movie theater in the 1930's and despite Sheldon's efforts, the program was cancelled following the Friday, June 9, 1961 broadcast.
Sheldon continued to host"The Looney Tunes Show" at WOR TV until heart problems forced him to leave the program following the May 18, 1962 broadcast. (Chubby Jackson took over "The Looney Tunes Show" at WOR TV which later became known as "The Chubby Jackson Show" for the 1962/63 season.)
During his retirement years Herb Sheldon became involved in other projects. He co-owned a restaurant in Hempstead, New York, although some sources have stated that he co-owned a steakhouse in Hempstead. He also staged, produced and performed in plays at two theater in Long Island, New York and worked with many charities, including The United Cerebral Palsy Telethons with Jane Pickens Hoving, Dennis James, Steve Lawrence & Eydie Gorme' on Ch.9.
Sadly, his hectic work pace finally caught up with him following a performance in a summer stock production of Herb Gardner's "A Thousand Clowns" at the "Tinker-Pond Playhouse" in Syosset, New York. He died of a massive heart attack on July 21, 1964.
Herb Sheldon's efforts as children's TV mc would pave the way for Sonny Fox, Sandy Becker, Ray Forrest, "Officer Joe" Bolton, "Capt. Allen" Swift, "The Merry Mailman" (Ray Heatherton) and "Captain Kangaroo".