A 110 Birthday Tribute To Kids TV's First Educator Paul Tripp
by Kevin S. Butler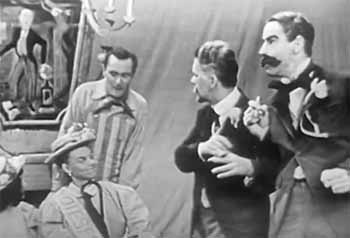 This past February 20, 2021 marked the 110th birthday of kids' TV's first educator Paul Tripp who created and emceed "Mr. I Magination" It was a series that recreated events in history and dramatized popular children's tales and introduced young viewers to the many innovations of the post WWII era while encouraging them to utilize their imaginations.
Born in NYC, Tripp wanted to become an actor and singer in grand opera however when he found out that his voice was unable to perform arias he switched to sppearing in comic operas.
For a time, he studied at City College as a teen, but he had trouble dealing with school's strict curicullum and left. He later enrolled in Brooklyn Law School but his tenure there was also short lived and Tripp returned to the theater where he took on a supporting role in a revival of "Cyrano de Bergerac".
Following his stint in "Cyrano", he performed in vaudeville, burlesque, radio and in nightclubs. Paul also directed the Broadway and national stage productions of "The Army Play" by John Golden.
Paul Tripp's show biz career was interrupted when he was inducted into the USA Army Signal Corps during WWII. After the war, he returned to the states.Where Paul appeared in a number of dramatic TV anthology series. He also collaborated with composer George Kleinsinger on creating the musical children's story of "Tubby The Tuba" in 1945.
Musical Stories for Children (Cricket Records LP) - complete side 2
For a time, both he and his wife Ruth served as volunteer school teachers for a settlement program "Christian Dora House" on NYC's Lower East Side. It was during their stint with "Christian Dora House" that the concept of "Mr. I Magination" was first utilized.
The Tripps wanted to created plays for their students however the supervisor of the program pointed out that there wasn't enough funds to purchase props, costumes and other materials for such productions.
Seeing that there was an easier way to deal with the situation, Paul & Ruth decided to have the children use their imaginations to create the settings for these plays. The idea worked and the supervisor was impressed with Tripp's concept.
News of this novel idea came to the attention of talent agent Ted Ashley who saw potential in Tripp's concept and he suggested that they take it to the three TV networks NBC, CBS, and Dumont for their children's line up.
CBS's founder William S. Paley like the idea and "Mr. I Magination" made his debut on Sunday evening, April 24, 1949.
Mr. I Magination (1949)
"Set against the backdrop of magical village and clad in stripped overalls Tripp's fanciful character would take a group of kids - Alice White, Butch Cavell, Ivan Curry, Clifford Sales, Robin Morgan and Donnie Devlin on treks thru history where they would portray famous people recreating their accomplishments via their acting talents and using simple props, songs and wit and also using their imaginations.
While staying in the accurate historical context of the events of the well known individuals that they portrayed like Annie Oakley, Christopher Columbus, Abe Lincoln and P.T. Barnum.
They even depicted the fights for women's rights and recreated the Alaskan gold rush of 1849. They also did their own versions of such popular stories as "Alice In Wonderland." Up and coming performers like Simon Oakland, Walter Matthau, and Richard Boone appeared with the Tripps and their stock company of fellow child actors. Even Yul Brynner worked on the series as one of the program's directors.
Unfortunately, the series lacked a sponsor so for 80 weeks the show was sustained by the network. In the summer of 1951, CBS TV dropped "Mr. I Magination" which infuriated parents, teachers and the show's young viewers.
Mr. I Magination with Paul Tripp. This episode is about "Annie Oakley" and aired on March 16, 1952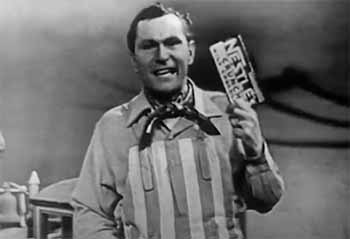 TV critic Jack Gould lead a letter writing campaign to get "Mr. I Magination" back on the air. The letter writing protests worked out and "Mr. I Magination" magic railroad started running again in the winter of 1952 sponsored by Nestles candy company.
However, the show's time slot was moved from 6:30 P.M. to 6:00 P.M. where it faced tough competition from "The Roy Rogers Show" and "Space Patrol". By the start of the summer of 1952, "Mr. I Magination" was moved to Saturday mornings where he completed his last train ride on June 28,1952.
Paul Tripp didn't stay off the air for too long. On Sunday evening July 31, 1955 he introduced his young viewers to the wonderful world of magic on a summer replacement series titled "It's Magic" Here he presented the top illusionists of the day while Paul also performed some magic himself.
It's Magic - Harry Blackstone Jr. 1956
"It's Magic" remained on CBS' Sunday schedule until September 4, 1955. When TV game show host Allen Ludden gave up his stint as the mc of CBS TV's Saturday morning news magazine for teens "On The Carousel" following the May 29, 1954 broadcast.
The Tripps succeeded him as the series second hosts/performers and instructors. They made the show more engaging by giving it a lighter and more fun tone. The approach worked and kids would watch the show and see how Paul and Ruth and their young guests created science projects, how music enhanced news reports and how an atom smasher keep foods in the refrigerators fresh.
They even presented TV adaptations of "Tubby The Tuba" and "The Christmas That Almost Wasn't" (the live action version of "Tubby The Tuba" aired on Saturday October 2, 1954).
"On The Carousel" became a hit and in 1957, it shared the 1957 NYC Emmy award for "Best Children's TV Series" with WRCA TV 4's "Children's Theater" (hosted by Ray Forrest).