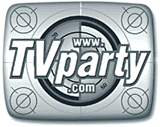 PR4 & PR5 Pages for ads - CHEAP!
Everything you're looking for is here:
Paul Tripp wrote, produced and performed in children's shows.
Read About
Birthday House
here and see rare
video from the show!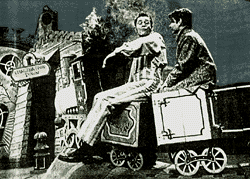 "I've been reading and haven't seen any mention of Birthday House with Paul Tripp (he went on to do 'The Christmas That Almost Wasn't').
" I got to celebrate my 5th birthday there and remember singing "Hi Mike," which must have been the scourge of existence of any kid named Mike for the next 10 years ("Hi Mike, Hi Mike, I like to say Hi Mike. Hi Mike, Hi Mike, I like you very much")."
- Lisa Winston
---
"Like Lisa, I too made an appearance on "Birthday House" in 1965 for my fourth birthday.

"From that day forward, Paul Tripp could do no wrong in my book. This impression was slightly diminished when in 1971 a touring production of the play "1776" came through our town.

"Upon finding out that this production featured Mr. Tripp in the role of Ben Franklin, I made a general pain in the neck of myself until my parents agreed to purchase tickets for this production.

"At the conclusion of the show, I managed to get myself backstage to say hello, only to have an annoyed Paul Tripp wonder why any parent would bring their child to such a production (given the profanity in the script). "

- Greg G
---
Paul Tripp also hosted a NYC based TV cartoon show, from Monday January 12, 1959 to Friday, July 10, 1959.

Mr. Tripp became the second host/performer of WOR TV Ch.9 NYC's "Looney Tunes Show", succeeding Ms. Ginger Macmanus (Ms. MacManus MC'd the series from Monday September 15, 1958 to Friday January 9, 1959). Mr. Tripp entertained and informed his viewers with games, songs, stories, craftmaking, hobbies, magic tricks, informational segments and interviews with guest performers and personalities.

I guess the idea of hosting the zany "Looney Tunes" movie cartoons didn't seem an appropriate concept for Mr. Tripp. He left the show on Friday July 10, 1959. He was succeeded as the host/performer of the series by Herb Sheldon who began hosting WOR TV's "Looney Tunes Show" weekday mornings (Ms. MacManus and Mr. Tripp hosted the show weekday evenings) from Monday, September 14, 1959 to Friday, May 8, 1962.

Former Jazz bandleader/songwriter and entertainer Chubby Jackson served as the fourth and last host/performer of WOR's "Looney Tunes Show" weekday afternoons from Monday, January 15, 1962 to Friday, June 14, 1963.

Ironically, during the times that Sheldon and Jackson hosted the series, the show was retitled: "The Herb Sheldon Show" and "The Chubby Jackson Show".

- Kevin S. Butler
---
Read About
Birthday House
here and see rare
video from the show!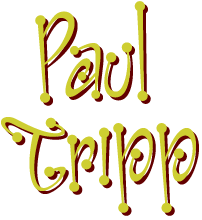 "From the very early fifties, are there any readers out there who remember "Mr. I-magination"? It featured a host sitting atop the scaled-down studio-sized version of a locomotive on a circular track. Do not recall name of host, but he seemed to convey a blend of Don Herbert, the original "Mr. Wizard", and Sonny Fox ("Let's Take A Trip"-from the latter fifties)."
- Steve B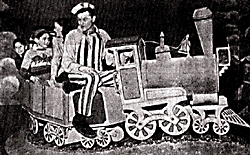 Paul Tripp was known as Mr. I Magination on television in the early Fifties. A gifted writer/producer, he was the creator of the very successful children's record 'Tubby the Tuba' (in 1942) - the story of a little tuba that wanted to play music like the other instruments. The album was so well received it was made into a short film and a best-selling book.
That's when Norman and Irving Pincus asked Tripp to devise a television show. Tripp had been used to working on shoestring budgets and achieving remarkable results with his theatrical productions, which made him a natural for the early days of television. 'Mr. I. Magination' ran on a loose network of CBS stations located in New York, Washington, Baltimore and Philadelphia starting in 1949.
Paul Tripp plays a magical train engineer who can make a kid's dreams come true - just say the words "I wish I were" and travel with Paul to Imagination Town.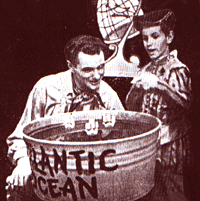 Tripp wrote his own scripts and original tunes for the show each week, as children act out high dramatic moments in the lives of famous historical people like Christopher Columbus, George Washington or Betsy Ross.
He made imaginative use of the simple props available - a washtub became the Atlantic Ocean, painted backdrops and bluescreening were used to suggest exotic locales.
"We want to entertain by getting people to use their imaginations" was Paul Tripp's very practical philosophy.
'Mr. I. Magination' also featured Ted Tiller and Ruth Enders (Tripp's wife). These two would don costumes and play all of the secondary characters in the children's fantasy plays. The show was a hit with the critics and with parents who were looking for more intellectual fare for their kids.
When 'Mr. I. Magination' was cancelled in 1952 after a three year run, New York Times critic John Gould lamented: "An advertiser may want to reach out to the largest audience, but a broadcaster... has many different obligations, among them serving the minority.
"Without continuing efforts to that end, the broadcaster's concept of majority rules programming is only an illusory jest and a form of cultural totalitarianism."
During the summer of 1955 Paul Tripp hosted his first kids TV show without his wife and regulars. Unlike his first venture into educational TV, 'It's Magic's aim was to entertain viewers, on this program Tripp and guest illusionists would perform magic tricks and escapes. It was seen Saturday nights on the CBS network beginning July 31, 1955. 'It's Magic' continued to entertain loyal viewers until the magic ended on Saturday, September 4, 1955.
Later Paul Tripp hosted another children's show called Birthday House, a local New York City production where each day one lucky child got to celebrate his or her birthday in a grand way on the show.
Paul Tripp died on August 29, 2002, his wife died in 1999.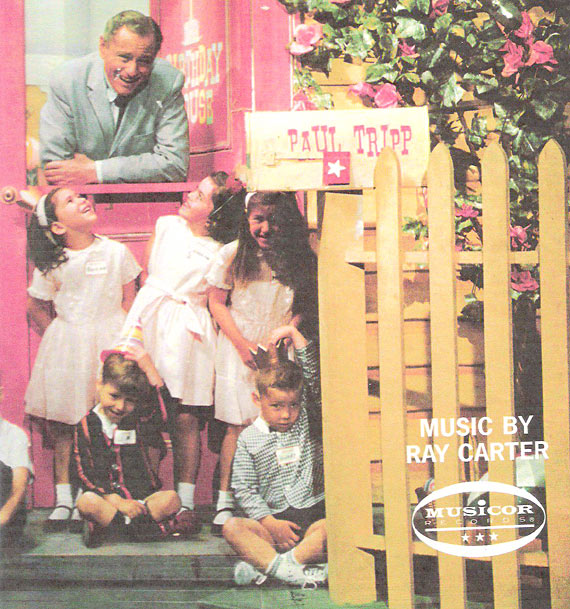 Read more about Birthday House and see rare video from the show!